Communication is the key to success in any business. Whether you are reaching out to potential customers, nurturing existing relationships, or providing support and service, you need a fast and reliable way to connect with your audience. Email has been the dominant communication channel for Microsoft Dynamics 365 CRM users for a long time, but it has its limitations. Email can be slow, cluttered, and impersonal. It can also be easily ignored or deleted by the recipients. That's why more and more Microsoft Dynamics 365 CRM users are looking for alternative ways to communicate with their contacts, such as WhatsApp.
WhatsApp is the world's most popular messaging app, with over 2 billion users in more than 180 countries. WhatsApp offers a simple, secure, and free way to send and receive text messages, voice messages, photos, videos, documents, and calls. WhatsApp is also widely used by businesses to communicate with their customers and prospects, as it allows them to send personalized, timely, and relevant messages that can boost engagement and loyalty.
However, juggling between these two platforms can become a hassle. And integrating WhatsApp with your CRM system can be challenging. That's where Inogic latest app WhatsApp4Dynamics comes in.
So, lo and behold, the latest addition to Inogic's successful suite of innovative apps:

WhatsApp4Dynamics by Inogic is a productivity app that allows you to seamlessly integrate WhatsApp with your Microsoft Dynamics 365 CRM system. With WhatsApp4Dynamics, you can send and receive WhatsApp messages from within your CRM environment, without leaving your records or workflows. You can also view and manage all your WhatsApp conversations and data in one place, and sync them with your CRM records and activities. WhatsApp4Dynamics helps you to improve your CRM communication by enabling you to reach more leads, close more deals, and provide better customer service using WhatsApp.
In this blog, we will showcase the top features of WhatsApp4Dynamics and their benefits, and how you can get started with it today. Read on to learn more about how you can boost your CRM communication with WhatsApp4Dynamics.
Top features of Whatsapp4Dynamics:
WhatsApp Conversation Manager in CRM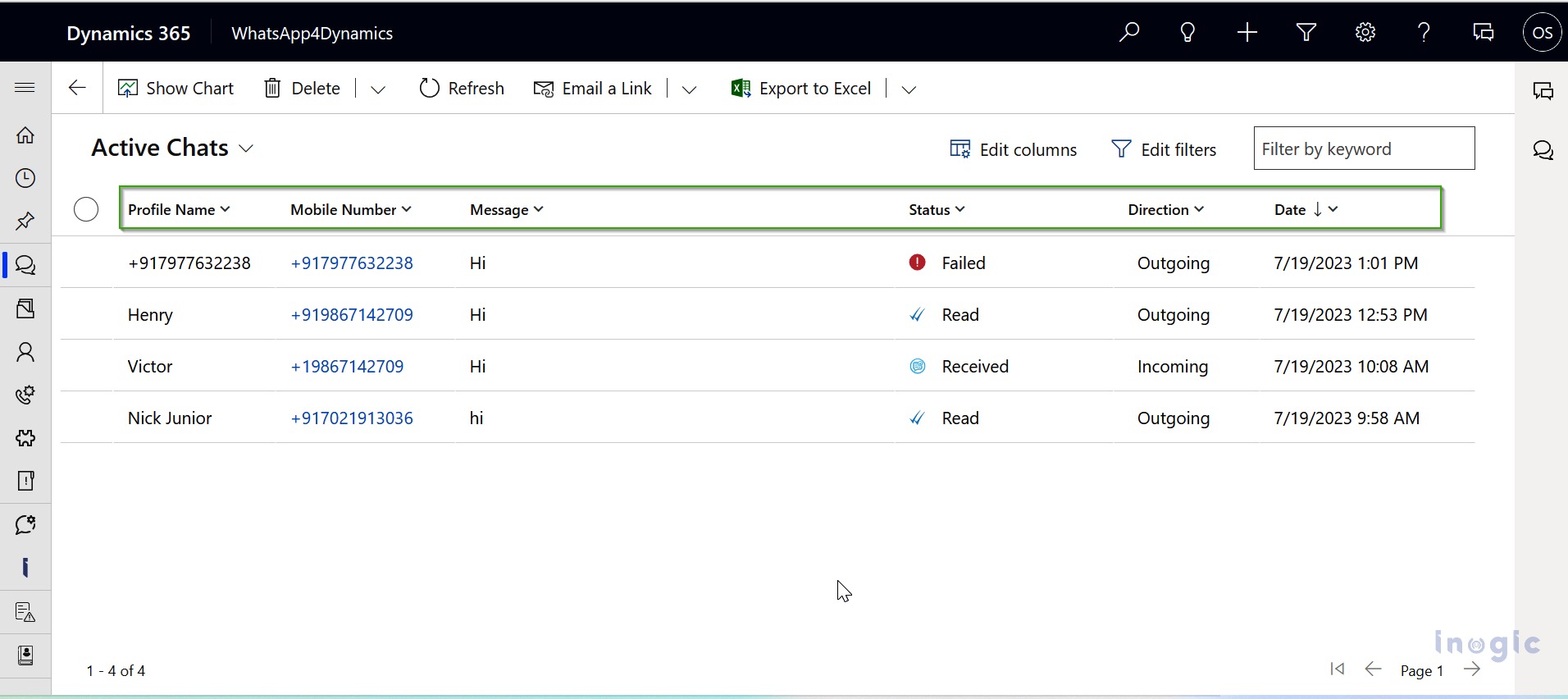 With the help of WhatsApp4Dynamics, you can view all details your WhatsApp home screen provides as a CRM view. Manage all of your WhatsApp conversations right from within your Dynamics 365 CRM by having a concise view of all your recent chats, their status, and the date and time of the last message.
Get instant chat alerts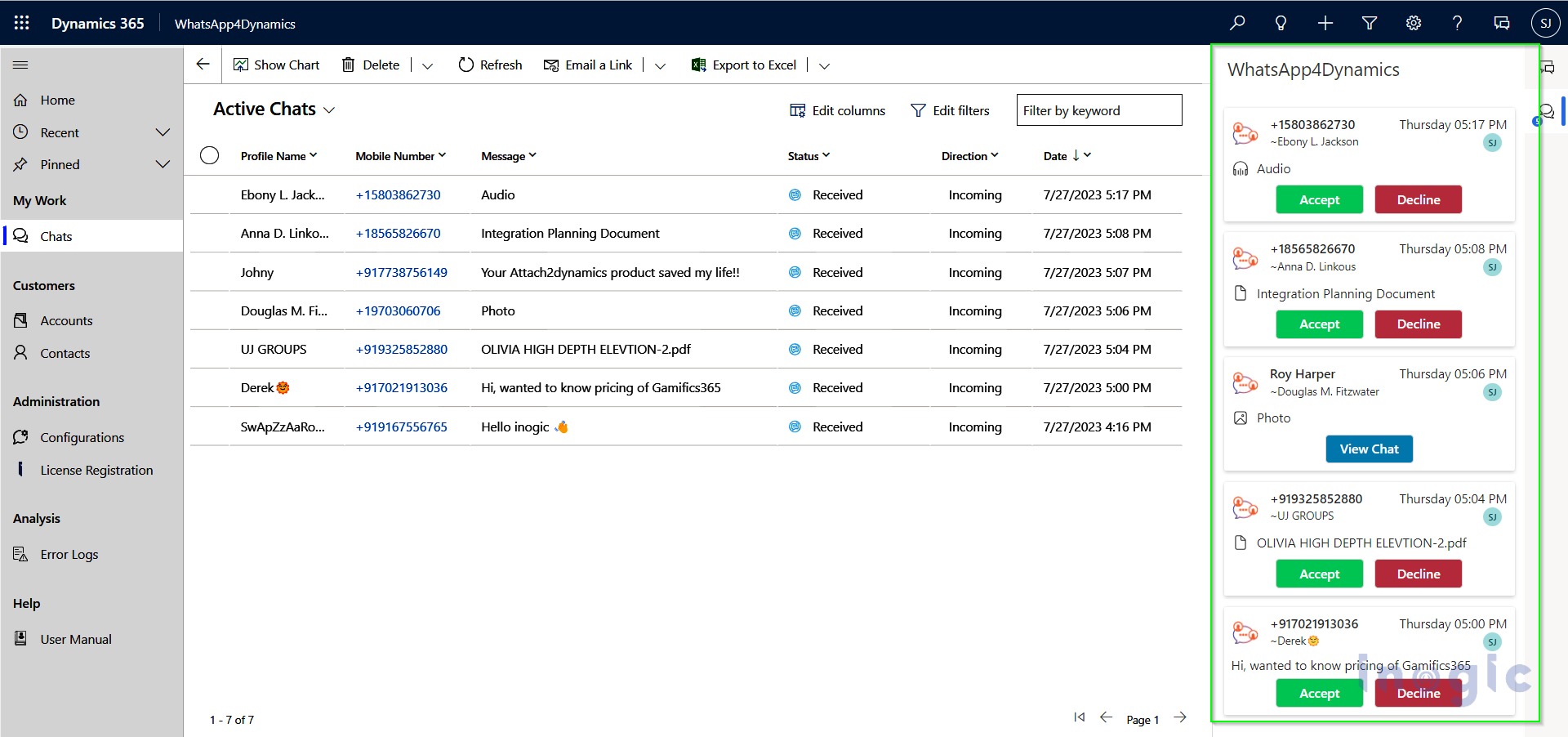 Working on a critical deal and worrying about missing any of the prospect's messages or updates? Well, no more of that now! With WhatsApp4Dynamics, get instant alerts on messages received on your WhatsApp right within your CRM. The notification bubble will give you the luxury of declining unknown spam if any, allowing you to go to the chats directly even if you working on a different entity and a lot more.
User-friendly chat interface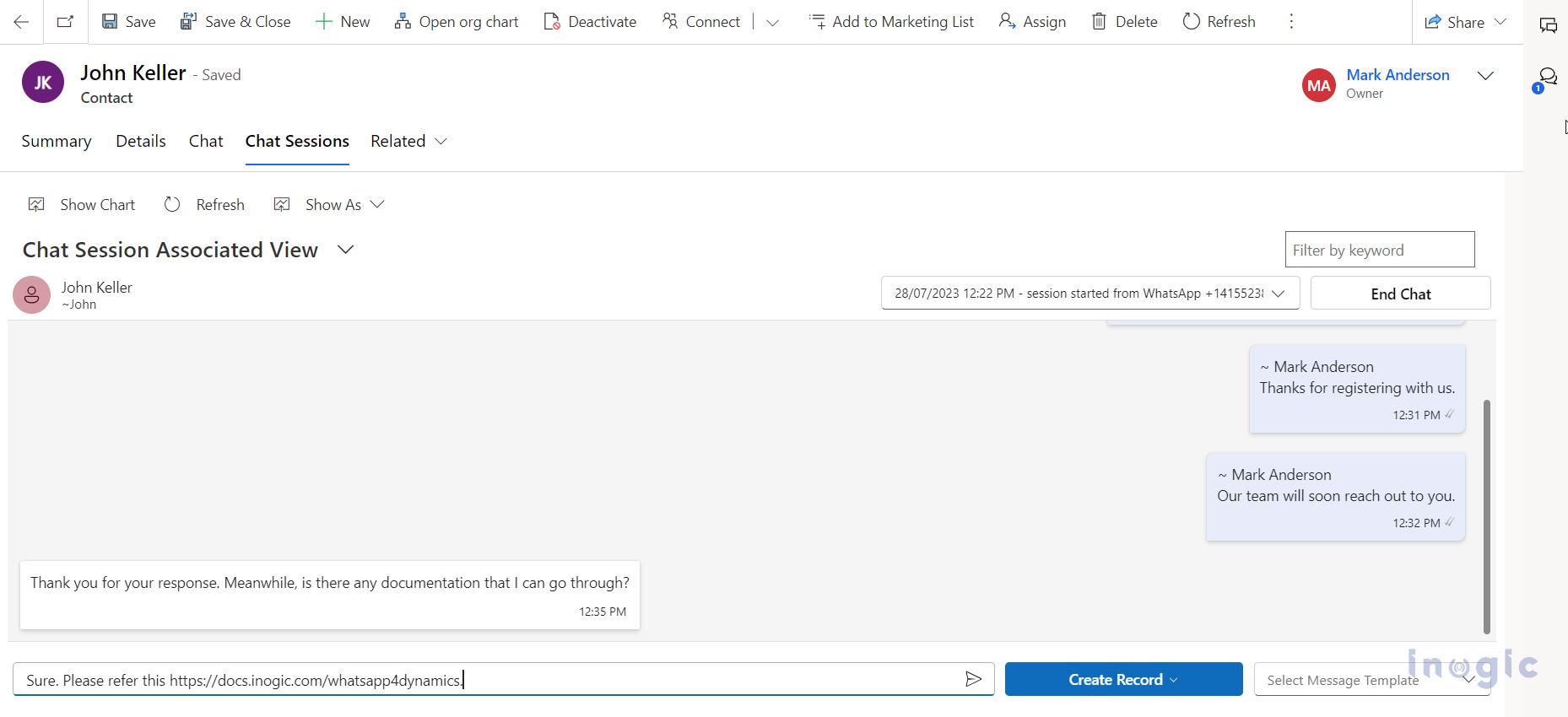 No more juggling between the two platforms now. Get all of your WhatsApp messages right within your Dynamics 365 CRM. And that too in your favorite WhatsApp UI.  Send messages to your clients, partners, prospects, etc. right from your CRM. Get instant updates, send replies, have a greater context with the help of CRM data, and a lot more.
Track communication with historical chat sessions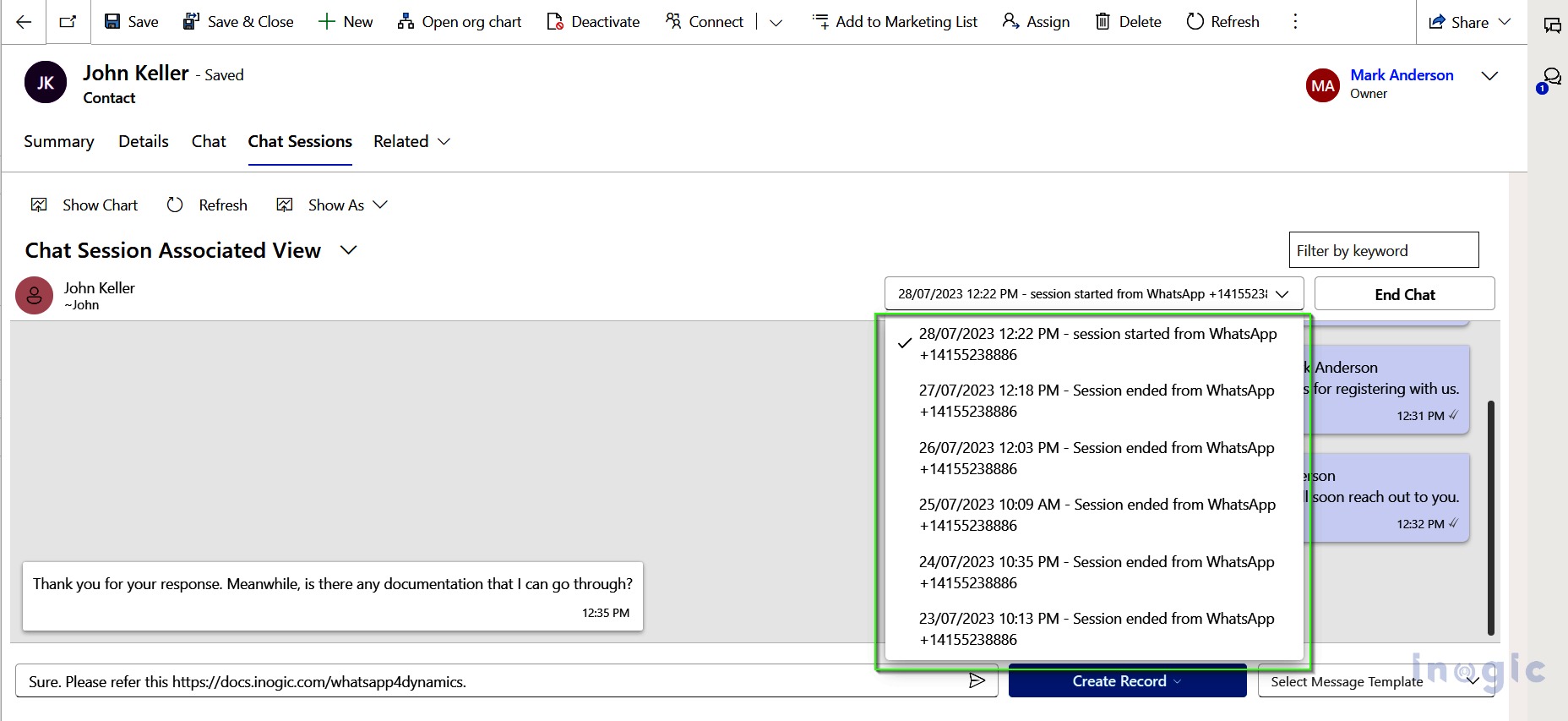 With WhatsApp4Dynamics, store all your history chats in the form of chat sessions. With this, you will be able to refer to previous chats to get a better context of the customer thereby enabling you to deliver the best customer experience.
Automate sending WhatsApp messages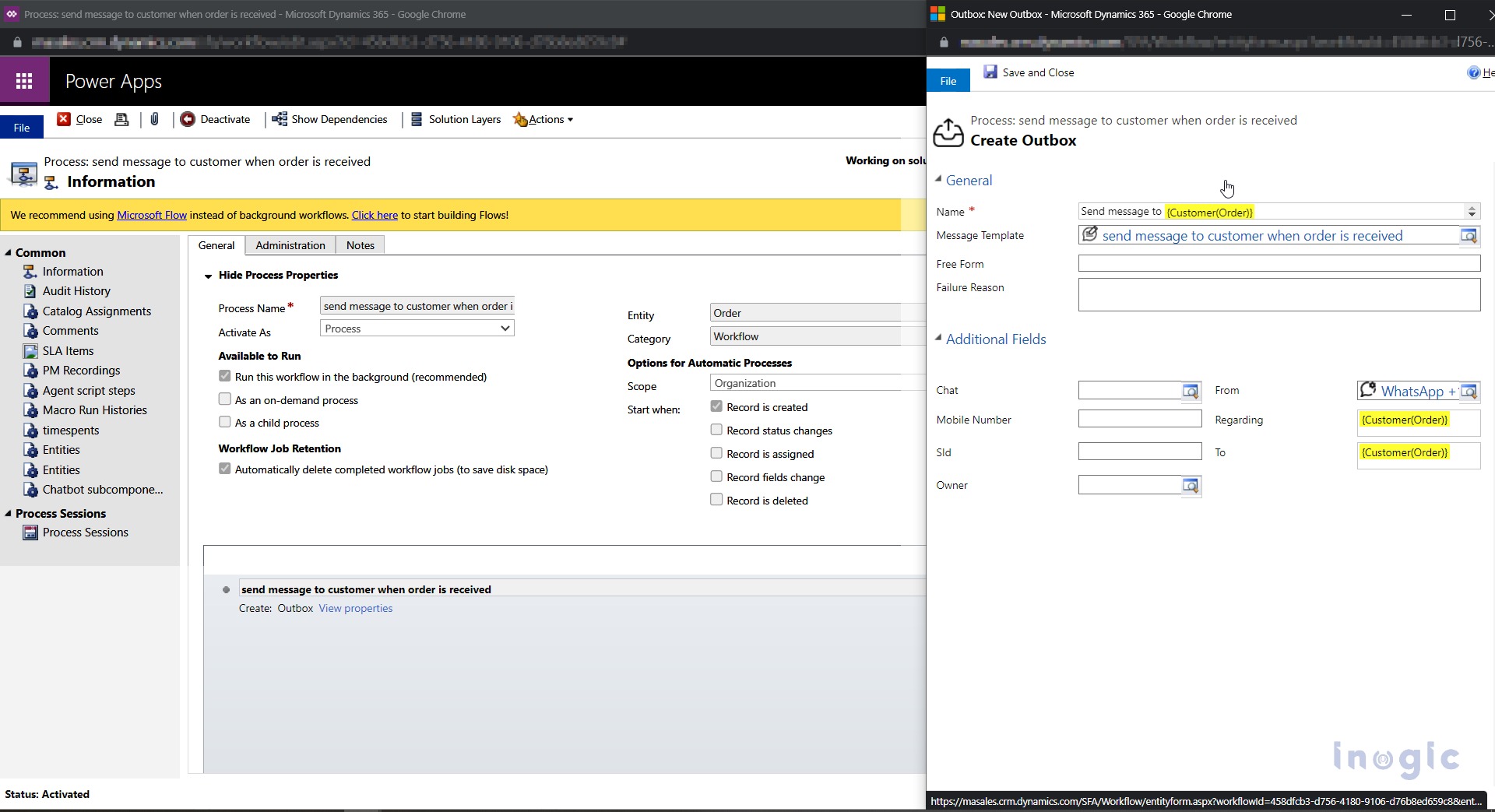 Set up triggers to automatically send WhatsApp messages to your contacts right from within your CRM using workflows. Want to send your client a 'Thank You' message when they accept your Quote? Or want to send them a reminder of the order details? Automate all of such actions and save your sales and service reps time.
And these are just the top features. WhatsApp4Dynamics can also:
Create new records on a new WhatsApp message
Fetch names from CRM on WhatsApp messages
Support WhatsApp Languages & Formats
So, what are you waiting for? Get your communication channel upgraded and take your sales and customer service to the next level. The first 15 days are on us. Download the solution right within your Microsoft Dynamics 365 CRM today from our website.
And this is just the first release of Inogic's latest app. Inogic is working to bring in more advanced capabilities to make this integration app WhatsApp4Dynamics your favorite one. Want to check out what we are working on? Mail us at crm@inogic.com today.