http://www.inogic.com/blog/wp-content/uploads/2023/01/Undo-and-retrieve-deleted-history-records.png
Imagine the first day of 2023, and Brad just realized, "oh my god, just before we closed for holiday's someone has accidentally deleted some records from Dynamics 365 CRM." unfortunately, once records are deleted in Dynamics 365, they cannot be recovered, as there is no "Trash" or "Recycle Bin" that you can use to undo or restore deleted records.
However, if you have a recent backup of your Dynamics 365 database, you may be able to restore the deleted records from the backup. Otherwise, there is no out-of-the-box functionality to retrieve deleted history records in Dynamics 365 CRM.
Brad just remembered before the holidays he had attended Inogic Webinar Series of their Microsoft AppSource Preferred Apps to Boost Productivity this Holiday Season, and Inogic has an app called Undo2Restore to recover deleted CRM records.
But let's first understand the impact of unintentionally deleting or losing your data on the business.
Accidentally deleting important CRM data can put your business in a messy situation and result in dire consequences.
Here are some statistics that can help you grasp the impact of poor data management on your business:
Results from various studies conclude that, in any company, approximately 30% of all resources are expended on avoidable data-related activities.
60 percent of employees could save six or more hours a week if repetitive tasks like manually restoring unintentionally deleted data were to be automated. In fact, cloning CRM data and Setting up a proper export routine within CRM also acts as a productivity booster.

Undo2Restore is a Microsoft AppSource preferred 1 click productivity app for Microsoft Dynamics 365 CRM that enables users to undo changes and restore records in the CRM. Undo2Restore can restore changes made to a record recently or changes made a few weeks ago, on single or multiple records. Be it OOB or custom entities, all entities for which auditing has been enabled in CRM can be restored using Undo2Restore.
Sounds useful, isn't it?
Key features of Undo2Restore:
Undo Changes with a Click
Once undo2Restore is integrated with Dynamics 365 CRM, you can undo unwanted changes to records by simply clicking on the Undo2Restore button, which will restore the records to their previous state.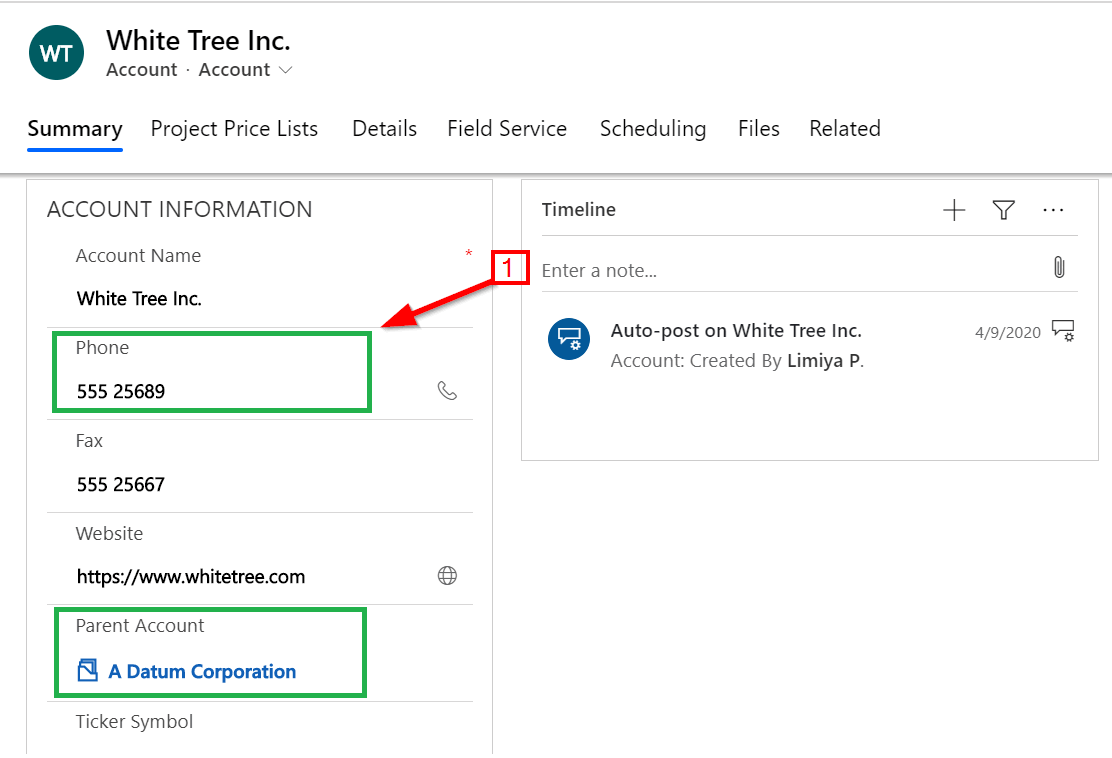 Undo Changes in multiple records at once
Undo2Restore allows users to undo unintentionally made changes to multiple records at the same time. To achieve this, you just have to select multiple records in CRM and click on the Undo2Restore button, and all your selected records will be reinstated to their previous state.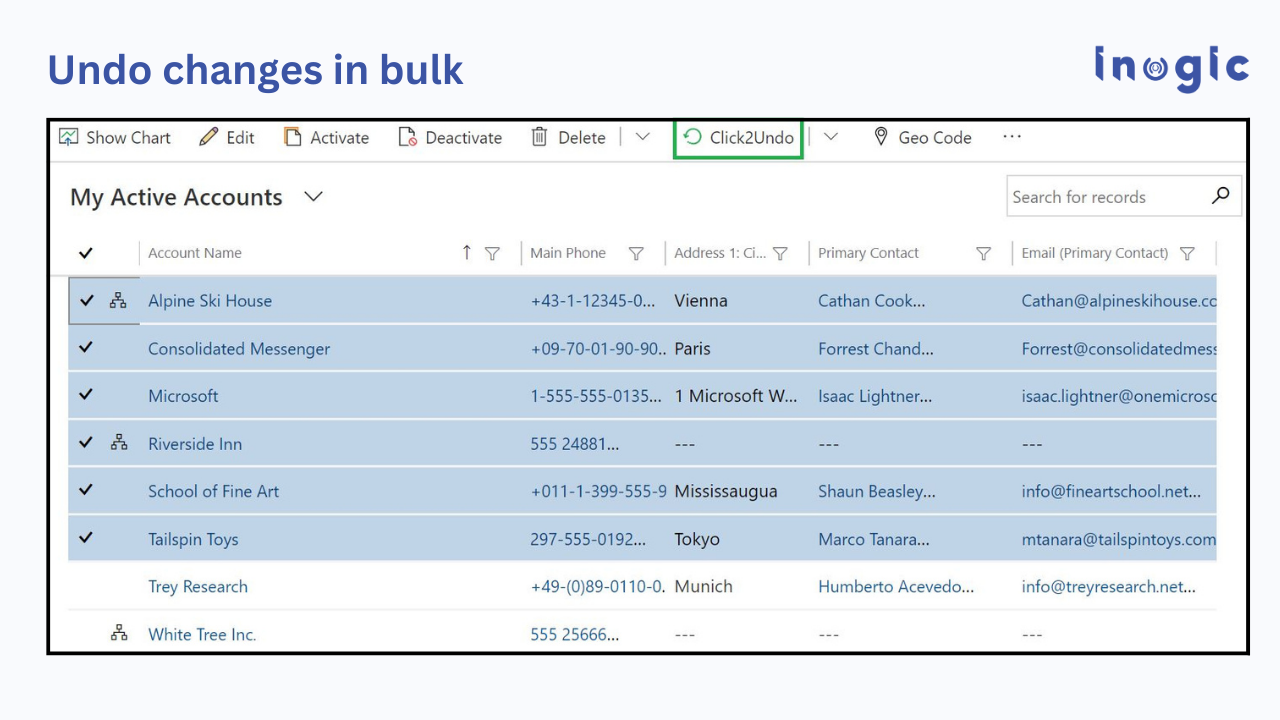 View and Restore History Changes
Users can view the list of all the past changes done to the record by going to the history grid and restoring the past week's or past month's changes by selecting the changes from the list and clicking on the undo button on the history grid. Making it possible to restore past changes made to records.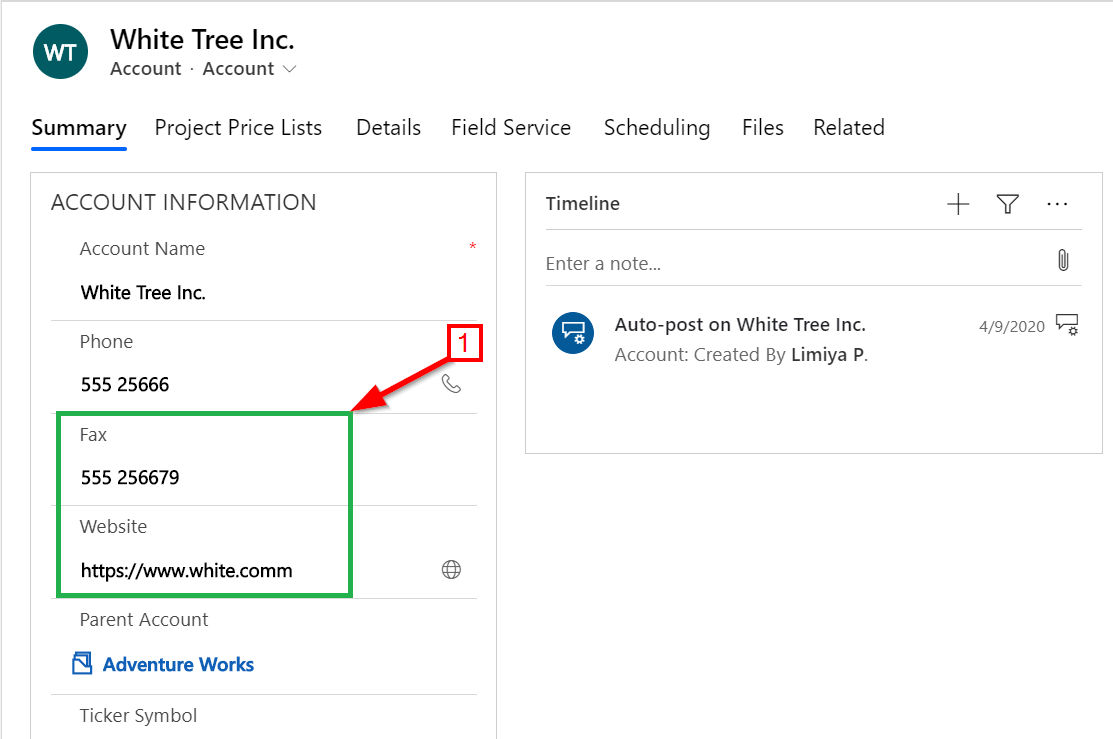 Restore Deleted Records
Losing your CRM data is no fun! And we understand this well, so Undo2Restore gives you the provision to restore/recover deleted CRM records. You can do this by clicking on the 'Restore Deleted' button, which will display a list of all the deleted records from which you can select the desired record and click on the 'Restore' button to retrieve it. Bingo! Your desired record will be restored in no time.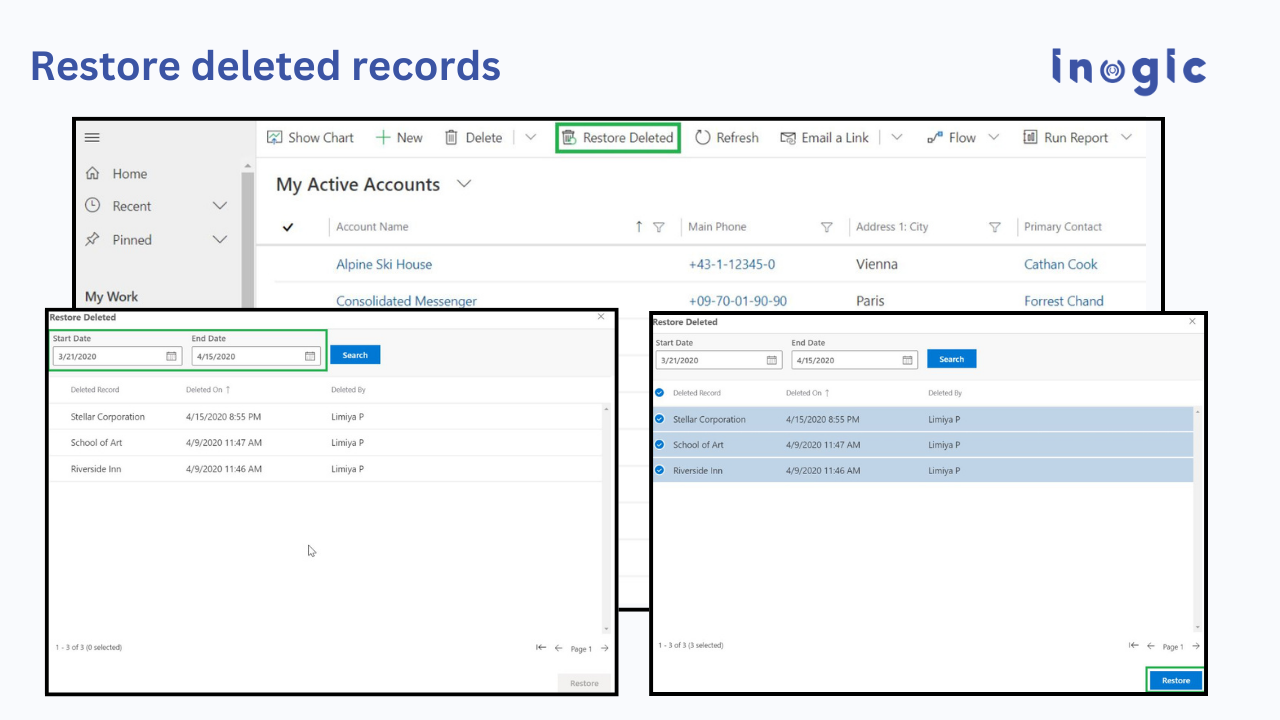 With such useful data recovery features of Undo2Restore Dynamics 365, CRM users can focus on their core tasks and save time and energy on issues concerning data loss.
Can't wait to try the app first-hand!
Download now from Microsoft AppSource or our website for a 15-day free trial, or feel free to mail us at crm@inogic.com for a personalized demo.
Want to save time by automating the manual process of exporting CRM records? Now you can do it with our Microsoft AppSource Preferred App Click2Export, a 1 click productivity app that can help you export CRM reports in 5 different file formats: Excel, Word, PDF, CSV, or TIFF.
Undo or restore CRM data with Undo2Restore!