Microsoft Dynamics 365 CRM and SharePoint are two powerful platforms that can work seamlessly together to improve storage management and collaboration. You can free up CRM storage space, lower your disk capacity add-on costs, and extend the document management capabilities of Dynamics 365 CRM.
But what if you can take this integration to the next level? Strengthen the security aspects of documents stored in SharePoint, a user-friendly interface for document handling right from within your CRM, and much more!
Sounds intriguing, right? In this blog, we will share the benefits of ultimate Dynamics 365 CRM and SharePoint integration.
But before we dive into all of these, let's understand why the initial need to integrate Microsoft Dynamics 365 and SharePoint.
Need for Moving CRM Attachments to SharePoint
As the number of attachments stored in Microsoft Dynamics 365 CRM grows, it can impact the performance of the system, particularly when it comes to activities such as searching and retrieving records. Additionally, buying Dynamics 365 CRM storage space can be expensive, particularly if you need to store large files or a large number of files.
Moving attachments to SharePoint can provide a range of benefits, including improved performance due to less load on the CRM system, reduced storage costs, and scalability.
Need to Overcome Document Security Constraints  
If you are moving your Microsoft Dynamics 365 CRM attachments/documents to SharePoint, then security becomes another concern.
Suppose you have granted read and update access to a user for documents in Dynamics 365 CRM, but when you move documents to SharePoint, it becomes crucial to ensure the same level of security on SharePoint as well.
Otherwise, your documents/attachments can be prone to unauthorized access and security breaches.
A Dynamics 365 CRM and SharePoint integration solution can help you overcome these security limitations.
This is Where SharePoint Security Sync Comes In
SharePoint Security Sync is a preferred solution on Microsoft AppSource that syncs user security privileges in CRM with SharePoint to provide secure access to confidential CRM documents stored in SharePoint.
SharePoint Security Sync provides following benefits:
No need for manually syncing security privileges
Share records with teammates safely
Controlled access to data
Version control for documents
Keep reading to learn how the amazing features of SharePoint Security Sync can help you overcome document access limitations.
SharePoint Security Sync's Document Security Enablement Features:
Auto-Sync SharePoint and Microsoft Dynamics 365 CRM Security Privileges: This feature allows you to sync security privileges from Dynamics 365 CRM to SharePoint, thereby ensuring that every modification done to the user security privileges in Microsoft Dynamics 365 CRM is automatically synced to document access permissions in SharePoint. This helps restrict unauthorized access.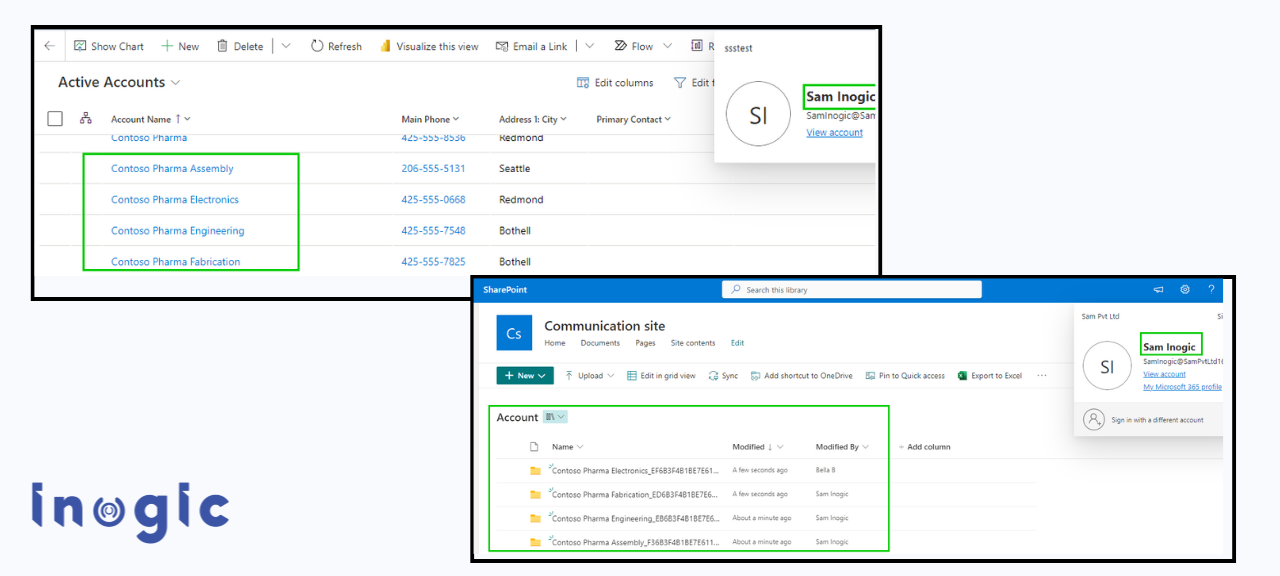 Control User Actions: With the help of 'Security Templates' you can control user access to perform actions like Copy Links, Delete, Upload, Download, Email, etc. It limits the user's actions on files and folders, and the user can only perform those actions for which they have been granted permission.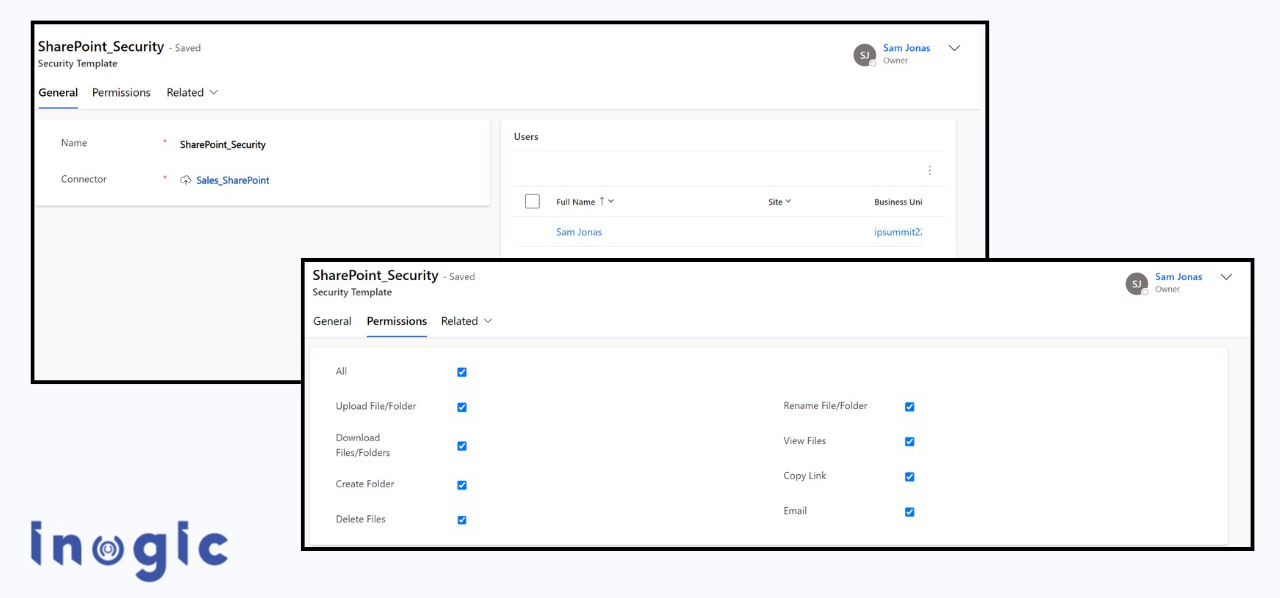 Sync Security Privileges in Bulk: SharePoint Security Sync allows you to synchronize user security privileges for previous records in bulk. Users will find it easier to sync security privileges in records with the help of SharePoint Security Sync.
Improved Data Protection: SharePoint security sync helps ensure that sensitive data remains protected and that only authorized users have access to it.
Better Collaboration: By syncing security permissions, users can share and collaborate on documents and data with ease, without having to worry about unauthorized access.
Reduce the Risk of Human Errors: Automated security sync eliminates the need for manual updates and reduces the risk of human errors. Along with this, users can also migrate attachments in bulk from Dynamics 365 CRM to SharePoint.
And these are only some of the benefits of SharePoint Security Sync. It also comes with a trump card where you can create a customized library structure in your SharePoint right from within your Dynamics 365 CRM. Check out this blog to learn more about this in detail.
Conclusion
In conclusion, SharePoint Security Sync enhances the security of CRM documents/attachments stored on SharePoint. By utilizing this tool, you can get the benefits of secured document access, reduced storage costs, and optimized CRM performance.
Still not convinced!
Here's what Fabian Muff from 'Marti Dienstleistungen AG, one of our customers, has to say about SharePoint Security Sync:
"The product allows us to replicate the security model from Dynamics 365 to SharePoint directly without having to make major changes to the Microsoft standard. All documents can thus be stored in SharePoint workspace and there is no permission chaos."
To read more such client feedback, you can visit our testimonials page.
If you want to try the app before you decide, then no worries. You can download it from our website or Microsoft AppSource for a 15-day free trial.
To explore this amazing integration solution in more detail before trying, check out our online help file.
Let us know about your Microsoft Dynamics 365 CRM and SharePoint integration needs or get a personal demo of the app by reaching out to us at crm@inogic.com.