31Oct
'Knock Knock Knock Knock', Jerry knocked on Tom's door panting and dashed inside on hearing his voice. "Boss, we got to schedule for tomorrow. They are hijacking the office for a Halloween Party in the next 30 minutes", Jerry said, breathlessly. "I know Jerry. Breathe. I have the Detail Map Control open. Let's schedule using it", Tom said. "What? Why Detail Map?", Jerry questioned. "We have a selected view of records in this. Plus with the Lasso Tool introduced in the last release and the Smart Routing feature from the Fall 2023 release, we can schedule activities and optimize routes faster", Tom reasoned. Jerry agreed and hopped into the plan.
"So, these are your Staten Island client records. Let's use the Lasso Tool. Considering your home is around Oakwood Beach, let's pick this area. Here, are the records. 9 have come up in the selection", Tom narrated.
"I cannot go with all 9. Let's cover 5 for tomorrow and 4 for Thursday", Jerry suggested. "Sure! I'll pick the 5 important ones", Tom agreed. "Creating an optimized Smart Route with these 5", Tom continued.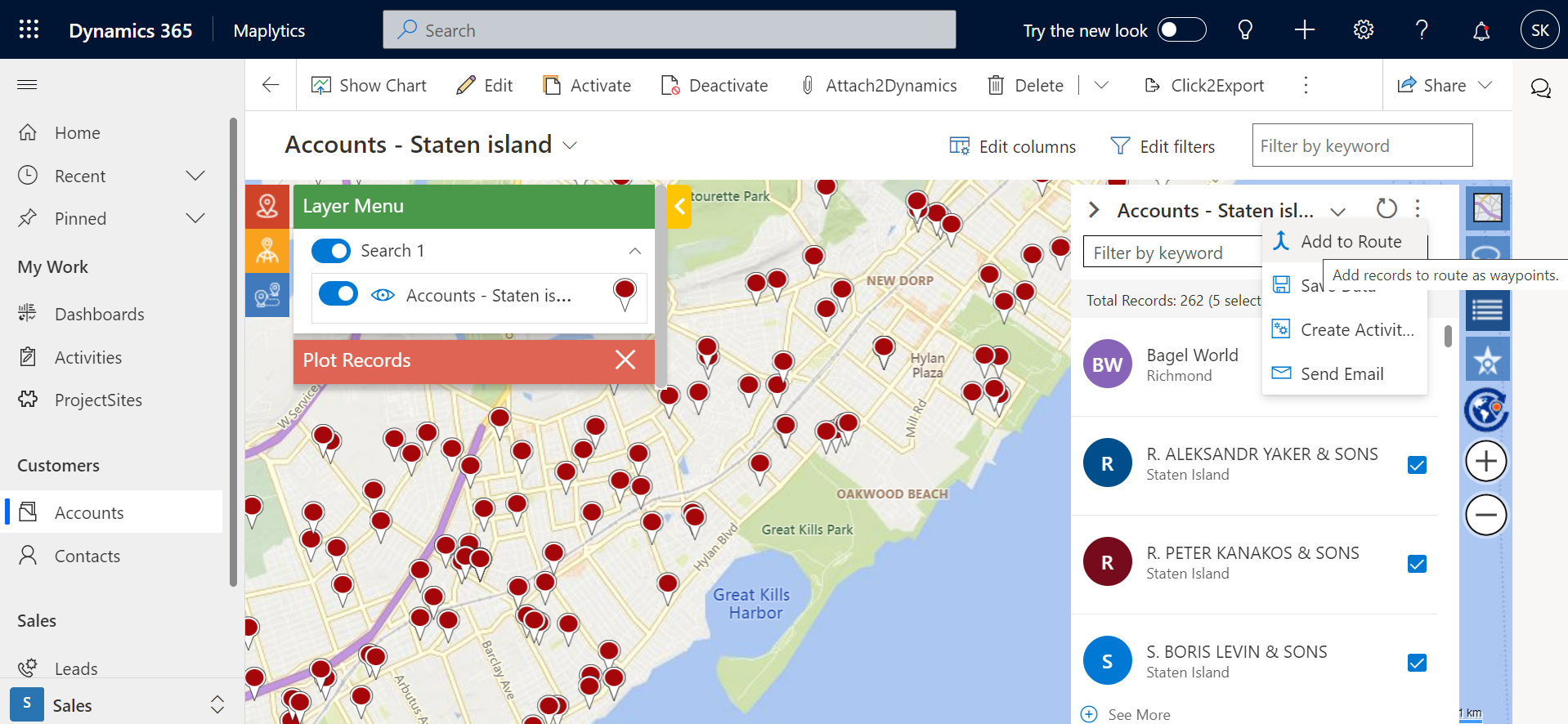 "Is it completely optimized?" Jerry asked. "Okay let's see, avoid highways, tolls, traffic. Now this is optimized", Tom announced.
"Now it is time to save the route and add activities", Tom said.
Adding the Route name, date, and other details
"It will be a sales pitch, 30 minutes of meeting, date and time added, done", Tom rejoiced.
"Here is the preview. Looks all good to you?", Tom asked Jerry to which he grinned happily.
The appointments created are visible in the Activities list under the Activity Name provided in the Subject, 'Sales Pitch'. The start, end date, and time, too, are visible for each. You can check the Smart route, visible in the Activities section under the Route Category", Tom concluded.
"Thanks, Boss! All done in 30 minutes", Jerry said. "Now come on, let's enjoy the Halloween Party now!", added Tom.
What's More?
The unique features of Maplytics could be experienced when explored more with a trial.
Maplytics is a comprehensive and powerful Geospatial and Analytical Mapping solution for all modules of Microsoft Dynamics 365. It not only enables optimized operations and management for field sales and services but can also enlighten businesses with intricate data insights using features such as Heat Map Analysis, Census Data Mapping, Land Area Mapping, Geo-Analytical Dashboards, and more. Overall, Maplytics is a complete package for business success.
One can write to the Team at crm@inogic.com for mapping requirements, a free trial of 15 days, or a personalized demo within Microsoft Dynamics 365 CRM / Dataverse.
To learn more about Maplytics, its applications across industries, and another multitude of features, do visit the Website or the Microsoft AppSource. For further details, one can hop on to the Blogs, Client Testimonials, Success Stories, Industry Applications, and Video Library for a quick query resolution.
Until then,
Be Smart, Travel Smart!