http://www.inogic.com/blog/wp-content/uploads/2023/01/1.png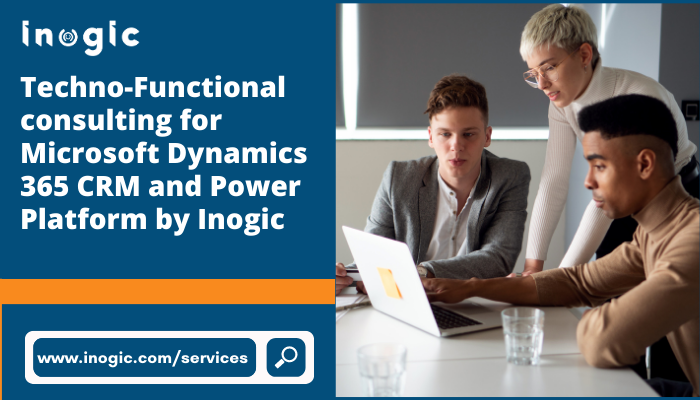 For 15+ years, Inogic has been assisting clients with its Dynamics 365 professional services to get the most from their CRM investments to develop stronger customer relationships, enhance productivity, optimize the sales process, and reduce operational expenses. We combine our deep expertise in Microsoft Dynamics 365 and Power Platform with experience in procedures, project methodology, and IT architecture. If a requirement cannot be met with the out-of-the-box features, our Dynamics CRM Techno-functional consultants create simple, customer-specific apps to address the gaps. In this Part 1 of a two-part series on Inogic Professional Services, we discuss how Inogic Techno Consulting Services aims to provide expert solutions in the nine areas listed below.
Dynamic 365 Sales
Gain the first-mover edge over your competitors with a well-crafted digital transformation strategy that includes Microsoft Dynamics 365 for Sales. Inogic's Dynamics 365 Professional Services aid businesses in getting a single 360-degree view of their prospects. Accelerate sales by automating the whole process from inquiry to client onboarding, going beyond pre-built functionality based on your own tailored functions and features.
Dynamic 365 Customer Service
Microsoft Dynamics 365 Customer Service supports enterprises by streamlining service operations, increasing service agent efficiency, and building customer loyalty. Inogic's extended CRM capabilities, such as plug-ins, bespoke business apps, scripts, and more aid in customizing Dynamic 365 Customer Service for enterprises to improve their customer service and retain more customers.
Dynamic 365 Field Service
Field Service 365 in Dynamic CRM enables uninterrupted field services and customer relationship management by analysing obtained data insights. Businesses can utilize Inogic for Dynamics 365 field service outsourcing to optimize and automate daily manual activities such as tracking, managing, and maintaining work orders, allotted resources, schedules, and ad hoc requirements in order to optimize resources, boost productivity, and successfully engage customers.
Power Apps
Power Apps is an excellent platform for automating internal processes. The Inogic team understands the app's needs to design, construct, and execute the app while also allowing for seamless integration with existing platforms, processes, and apps.
Power Pages
Power Pages is a low-code/no-code portal solution that allows organizations to share information with their customers/partners without giving them actual access to CRM. Inogic Power Platform Techno-functional consultants build portals from the ground up, modify existing ones, migrate web-based portals to Power Apps Portals, and more to automate processes for people outside of an organization in order to simplify and shorten the time required to complete routine tasks.
Power Automate
Power Automate enables the creation of automated workflows between applications and services to synchronize or manipulate data, send notifications, and do other operations. Inogic power platform professional services assist in the identification of processes to be automated, flows to be followed, and background processes to save time and money while lowering the risk of human error, through automation.
Power BI
Businesses can make intelligent decisions to increase sales and profitability based on data-driven insights from the combined capabilities of Microsoft Power BI and Microsoft Dynamics 365 CRM. Inogic Services aid organizations by developing complex Power BI reports and dashboards that allow for data analysis and presentation.
Power Virtual Agents
Power Virtual Agents let users create intensely powerful chatbots that can answer questions posed by your customers, other employees, or visitors to your website or service. Inogic helps in creating powerful AI-powered chatbots for a range of requests—from providing simple answers to common questions to resolving issues requiring detailed and quick communication, thus capturing missed opportunities and improving customer satisfaction.
AI Builder
AI Builder enables you to use artificial intelligence (AI) to optimize your business processes. With Inogic's bespoke AI models within Power Automate, Inogic can create custom models matched to your needs or choose a prebuilt model that is ready to use for many typical business scenarios.
Inogic Professional Services division is intended to enable everyone in your business to deliver to their full capacity. By choosing Inogic, a Microsoft Certified Gold Partner based out of India, you can accomplish automation with Dynamics 365 deployment through proper planning and competent execution. We are widely recognized for providing best-in-class Microsoft CRM solutions when it comes to Microsoft Dynamics 365 / Power Platform customization and configuration. Inogic's industry expertise can assist you in accelerating process flow, and improving efficiency, and seamlessness across your industrial environment. Our extensive CRM expertise of more than 15 years has enabled us to give exceptional Microsoft Dynamics 365 services with genuine customer satisfaction and superior quality, allowing you to elevate your professional service practices and begin optimizing potential growth and scalability.
We'll see you in our next blog, Part 2 of a two-part series, where we'll talk about how Inogic provides Dynamics CRM Outsourcing Services on Dynamics 365 CRM and Power Platforms. Email us at crm@inogic.com  or visit our website for more details