To handle customer relationships and sales processes in real-time within Microsoft Dynamics 365 CRM organizations need to implement an effective communication system in Microsoft Dynamics 365 CRM. But conventional methods, such as emailing or manually communicating business-critical information to the right parties, are prone to human errors and delays.
Not being able to get crucial business information at the right time has been a pressing issue for many Microsoft Dynamics 365 CRM users.
Meet Joe, a Sales Manager at Monroe Tech PVT LTD. Who had been looking for a solution to receive real-time notifications for business-critical events such as Opportunities Won or adding new leads in Microsoft Dynamics 365 CRM.
If, like Joe, you are also in need of a real-time sales notification solution for Microsoft Dynamics 365 CRM.
Here's something useful for you:
Now you can say goodbye to ineffective ways of communicating crucial sales events in your business. With Alerts4Dynamics a Microsoft AppSource preferred app for creating, scheduling, and managing real-time sales notifications and alerts for various Microsoft Dynamics 365 CRM entities.
The app allows you to update other sales team members, sales managers, or any specific stakeholder right within the CRM. Additionally, these notifications can be easily accessed from anywhere in the Microsoft Dynamics 365 CRM. Users can directly navigate to the record for which the notification has been created by simply clicking on the notification.
Here's how Joe and his team used Alerts4Dynamics to boost their time efficiency with real-time sales notifications in Microsoft Dynamics 365 CRM.
Notification for Lead Creation: As soon as a salesperson adds a new lead in the Microsoft Dynamics 365 CRM, Joe will receive a notification updating him about a new lead entering the system.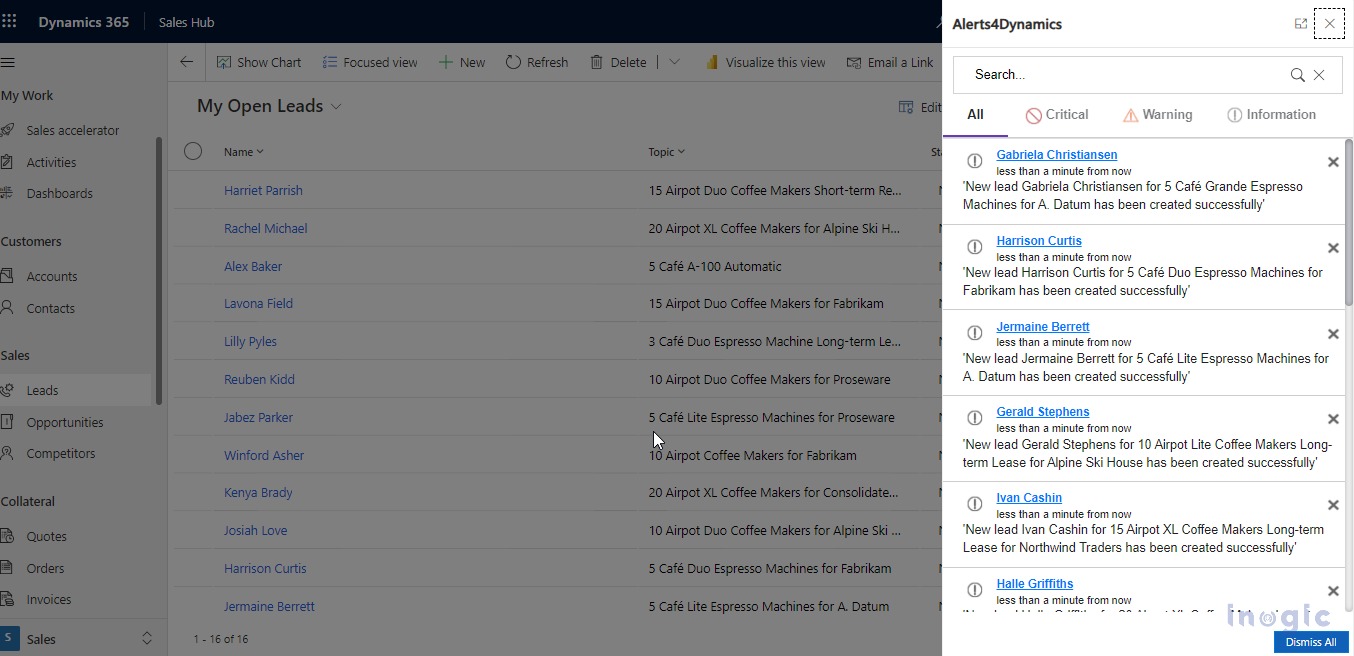 Notification for Opportunities Won: Joe can receive notifications for new sales opportunities won by salespersons in Microsoft Dynamics 365 CRM. Helping him stay updated about the status of deals.
Similarly, stakeholders can also get notified when a new Account or Contact is added to Microsoft Dynamics 365 CRM.
In this way, Joe and his sales team can stay on top of sales processes with this amazing real-time sales notification solution.
Interested to know more.
Here are some useful features of Alerts4Dynamics that helped Monroe Tech's sales team to create notifications for quick responses within Microsoft Dynamics 365 CRM.
Create Multiple Types of Notifications:  Joe can create four types of notifications i.e. announcement, rule-based, record-based, and event-based. Record Based notifications are created for individual records, i.e.  Opportunity, Lead, and Invoice, Rule Based notifications can be created for certain situations, such as notifications for leads generated from the website, Announcements are independent notifications created for events such as holidays. It can be viewed globally within the CRM, and Event-Based notifications can be created for any CRM events.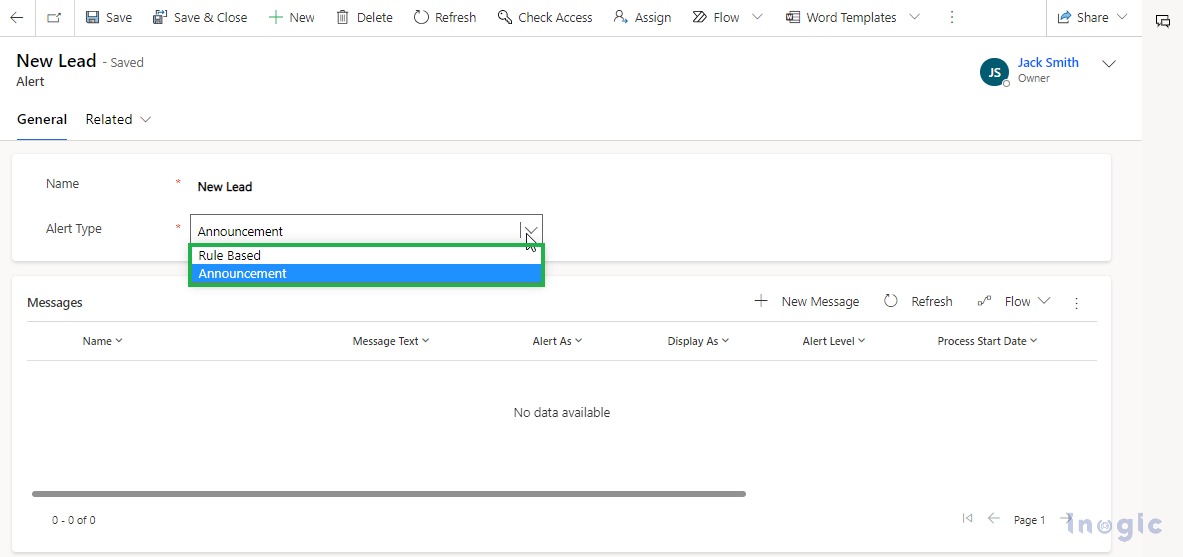 Send Notifications in Different Modes: Salesperson can send notification messages as Pop Ups, Form Notifications, or Email notifications to other CRM users or customers. Additionally, salespeople can send notifications to users based on their preferred mode of receiving notifications.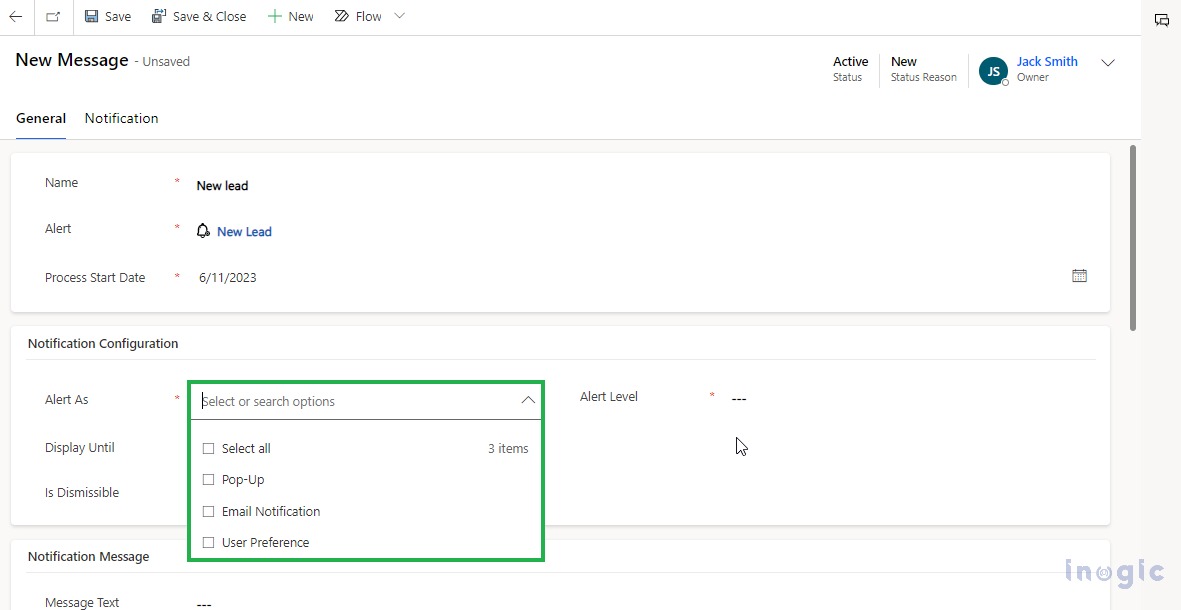 Define Priority for Notifications: This useful feature of Alerts4Dynamics allows CRM users to categorize notifications into different levels of priority, such as Information, Warning, or Critical. Users can effectively communicate the urgency and importance of the notifications to the receivers. It allows for clear communication and helps avoid any confusion or delay in responding to important notifications.
Create Notification in Multiple Languages: The "Multiple Languages" feature in Alerts4Dynamics allows users to create notification messages in different languages. However, it's important to note that only users who have the respective language enabled as their CRM's UI language will be able to see a notification created in that specific language.
It enhances user experience and ensures that important information is delivered to users in a language they are comfortable with and can comprehend.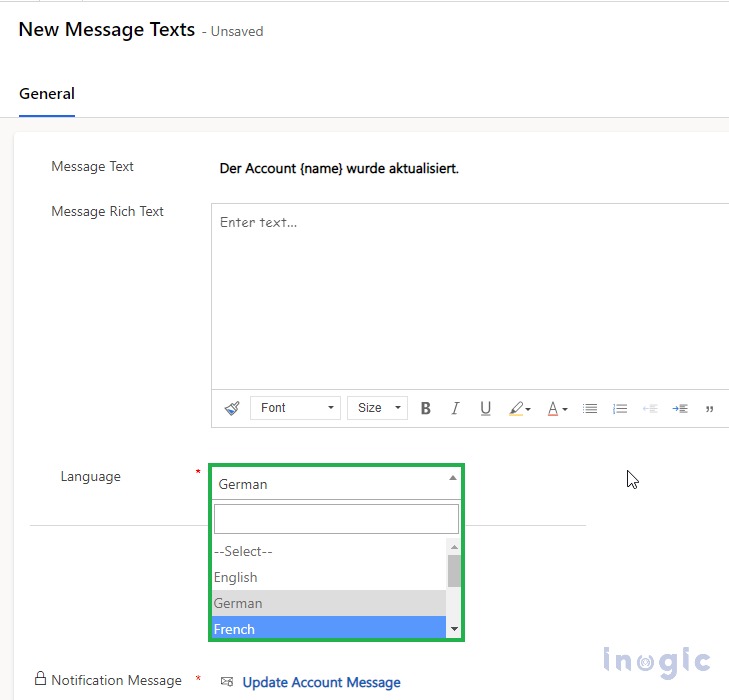 Sales Push Notifications on Mobile Devices: For new records added, such as contacts, Joe can receive a push notification message on the mobile notification bar. If email notification is set as the notification mode.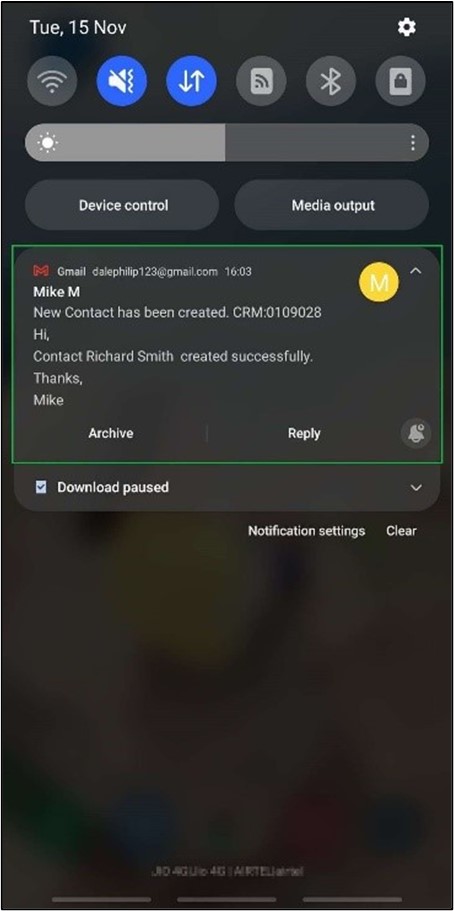 So, these were some of the key features of Alerts4Dynamics that helped MonroeTech to transition from traditional, ineffective communication mediums to real-time communication system within Microsoft Dynamics 365 CRM.
If you liked the aforementioned features, then you'll love the newly added features of the Alerts4Dynamics App, i.e., Message Rich Text and Search Notification.
New features of Alerts4Dynamics.
Team Inogic is always determined to add new features to the app to keep it relevant and provide the best user experience for the ever-changing and evolving sales communication needs of Microsoft Dynamics 365 CRM users.
Message Rich Text: This feature allows users to create more engaging messages with different types of text formatting, hyperlinks, images, font style, size, etc. to make their sales notifications more descriptive.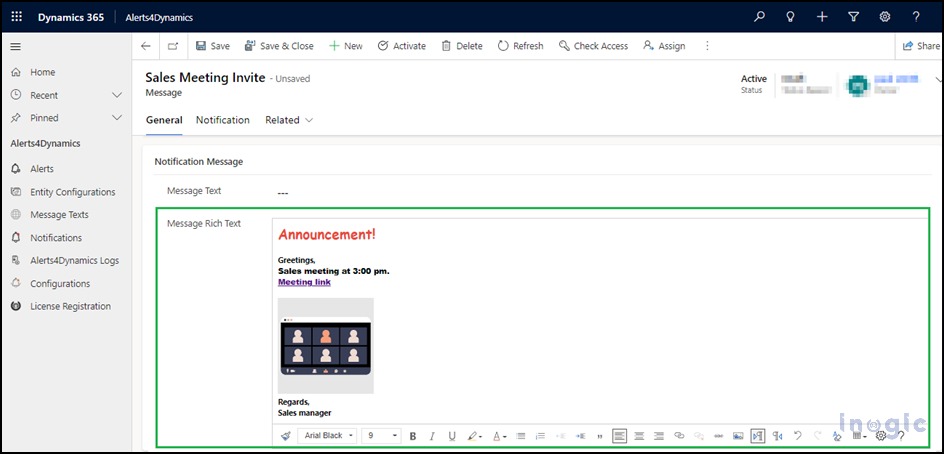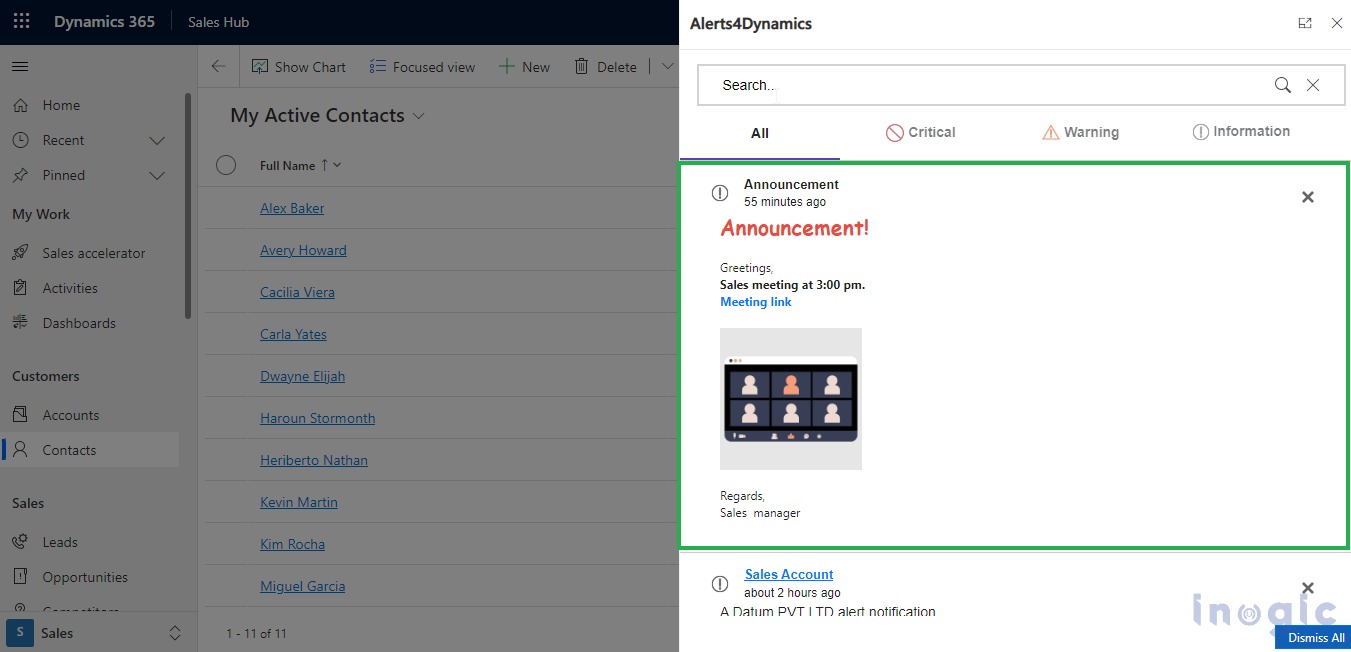 Search Notification: With this feature on the notification panel, users can quickly search for desired Sales Notifications. For example, a sales manager can discover any notification by searching for it on the notification panel, and the requested notifications will be displayed in real-time.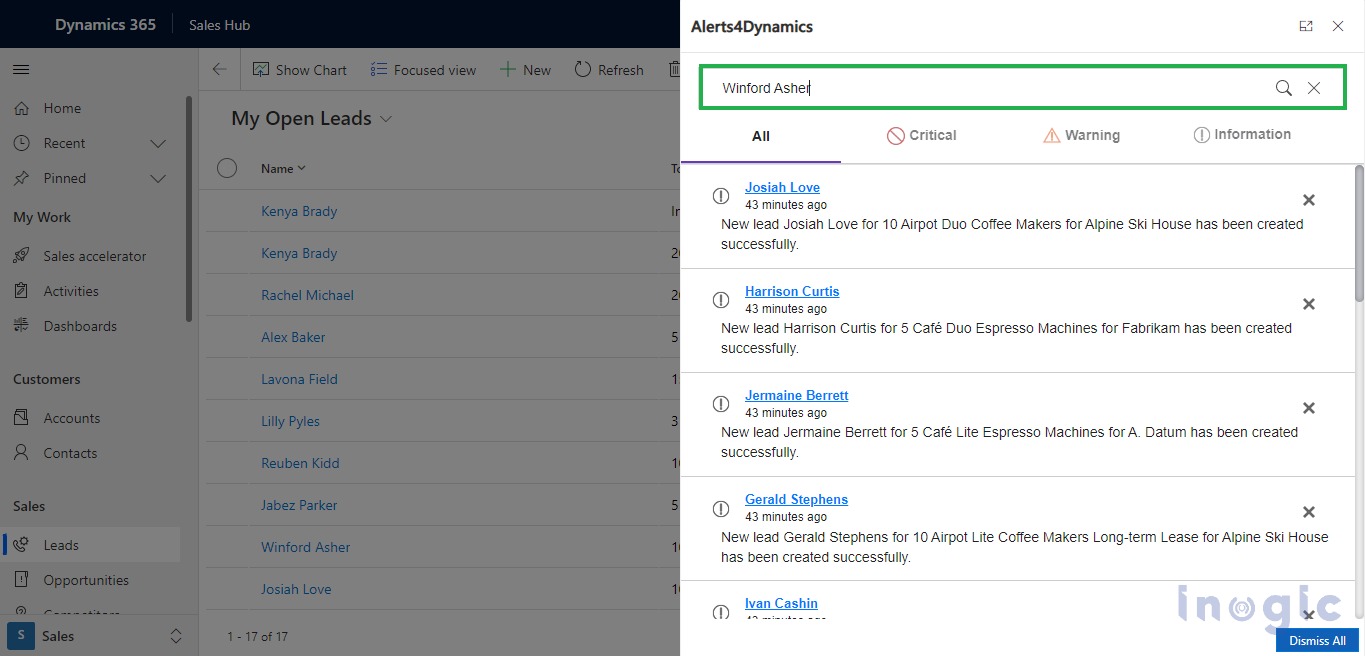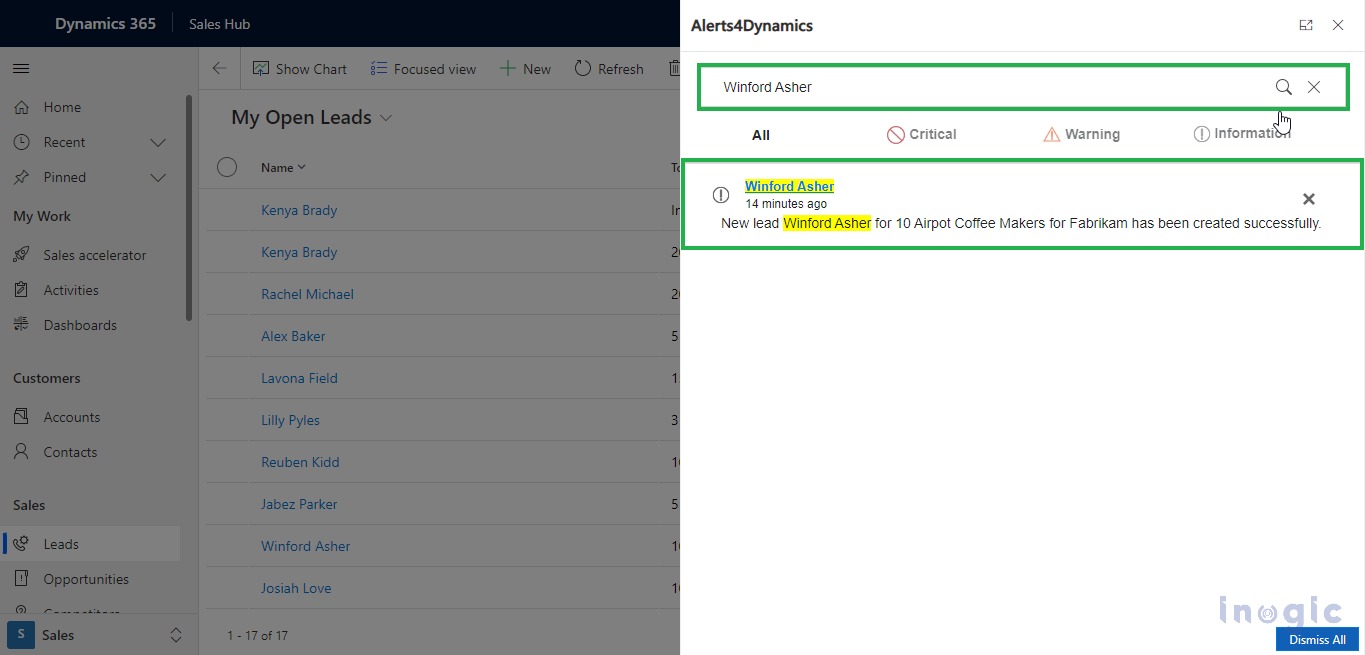 Benefits of Real-Time Sales Notifications in Dynamics 365 CRM:
Real-time sales notifications in Microsoft Dynamics 365 CRM with the Alerts4Dynamics app offer several benefits that enhance the sales process and improve customer engagement. Here are some key advantages:
Timely Sales Updates
Real-time sales notifications provide instant updates on critical sales activities, such as lead conversions, opportunity advancements, or closed deals. This ensures that sales teams are always aware of the latest developments and can take immediate action.
Improved Sales Responsiveness
With real-time notifications, sales representatives can quickly respond to customer inquiries, requests, or changes in their preferences. This agility helps build stronger relationships with customers.
Enhanced Sales Team Collaboration
Real-time notifications enable seamless communication and collaboration within the sales team. Team members can instantly share updates, exchange information, and coordinate their efforts, leading to improved productivity and a more efficient sales process.
Increased Sales Efficiency
Real-time sales notifications eliminate the need for manual tracking and monitoring of sales activities. This saves time and reduces administrative burdens.
Integration with Mobile Devices
Real-time sales notifications can be delivered directly to mobile devices through the Alerts4Dynamics app within Microsoft Dynamics 365 CRM. This ensures that sales representatives stay updated even when they are on the move, enabling them to respond promptly and efficiently.
These benefits contribute to a more effective sales process, leading to improved customer satisfaction and increased revenue.
Feels like a useful tool?
Interested to learn in more depth about Alert4Dynamic's features then you can visit our online help site or watch this comprehensive product video.
If you are curious to test the app for your functional needs then you can download it from our website or Microsoft AppSource for a free trial period of 15 days.
Feel free to mail us at crm@inogic.com for a personalized Demo of the app or if you have any queries about implementing a real-time sales notification solution in Microsoft Dynamics 365 CRM.
PS: If you are looking for a solution to automate lead assignment in Microsoft Dynamics 365 CRM. Then no worries! Lead Assignment and Distribution Automation  App by Inogic can help you do just that.