18Aug
Hi Everybody!
This is Samwell from Staten Island. I run a mid-sized business that is on its journey of growth. I use Microsoft Dynamics 365 CRM to engage my clients well and am extremely happy with the experience. However, I've been reading a lot of late about elevating the business with Location Intelligence and I want to experience it within my CRM. I trust Microsoft Bing's AI in helping me with good suggestions. So, I wanna ask Bing today about ways of inculcating location-based intelligence in my business!
But first, let me be sure that Bing knows about location intelligence and Dynamics CRM. Here we go!
Okay! Now that Bing Chat is in-sync with the concepts, tell me how I combine the two. Which is the best CRM Mapping App? What is the most popular geo-mapping app for Dynamics CRM?
All right! Maplytics has appeared in Google AI Bard's search as well and ChatGPT was no stranger to this 5-star rated app on the Microsoft AppSource. Sweet! All AIs seem biased towards this product or it is actually that good perhaps.
The first and foremost requirement is sales Territory planning, creation, and management in Dynamics 365 CRM. How do I achieve balanced sales territories and a territory management plan?
Fine! Seems like a product with the concepts of multiple territories and Auto Territory creation and Territory Alignment. Nice!
I need an Appointment Schedule Planner for my business that can update my Outlook Appointment Calendar automatically. So, how do I manage it in Microsoft Dynamics 365 CRM?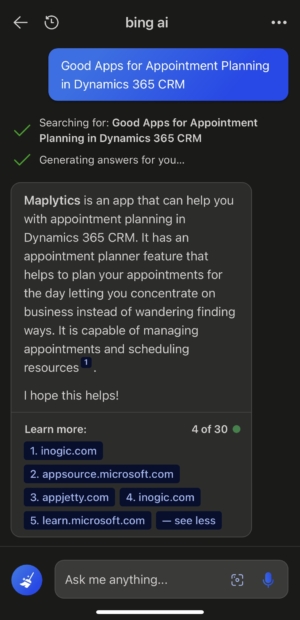 Oh! Okay! Seems like a monopoly. Well, my field reps need to be punctual and travel minimally. I need an optimized route planner. Who can provide that? It needs to be a multi-stop route planner too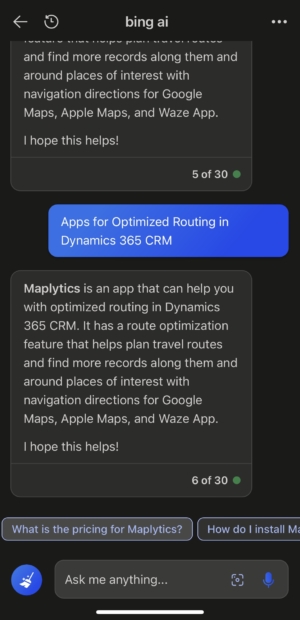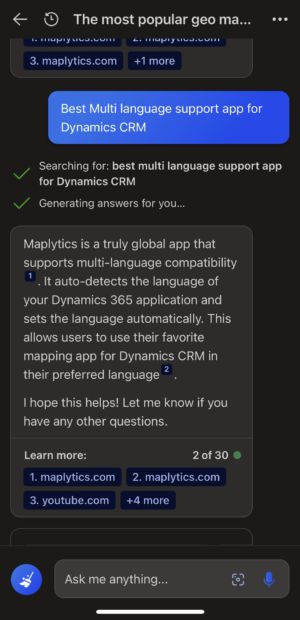 I think, I am happy with my Bing Search! The AI has been fruitful and economical. It has given one common solution for all my raising worries. Well then, I need to buy Maplytics License soon!
Thank, Bingy Boy
To get more acquainted and experience it first-hand, one can write to crm@inogic.com To investigate the product further, with a personalized demo within Microsoft Dynamics 365 CRM / Dataverse get in touch with the Team.
For applied knowledge, do visit our Website or the Microsoft AppSource. One can hop on to the detailed Blogs, Client Testimonials, Success Stories, Industry Applications, and Video Library for a quick query resolution.
Until then,
Happy Bing-ing!