Recently when I had a client requirement for implementing segmentation within outbound marketing, I referred to our previous blog and started implementing the same but surprisingly came to know that there is no outbound marketing within Marketing which was there before.
Then I started exploring more related to this and realized that in a recent announcement, Microsoft revealed its plan to merge Dynamics 365 Marketing and Customer Insights.
With this change that is effective already from the 1st of September 2023, the new application will be known as 'Dynamics 365 Customer Insights', and will be split into two sections:
Customer Insights – Journeys
Customer Insights – Data
Microsoft has merged these two solutions as part of the new licensing because they work better together and complement each other. You can refer to this doc for more details related to the announcement.
Then I explored more and realized that if you have created a marketing trial recently then it will not contain outbound marketing features.
But note that Microsoft has taken the provision for their existing customers i.e., if you have already installed the Marketing app with outbound Marketing features then existing customers can continue using those features.
NOTE: The only thing that existing customers who are using the outbound marketing features must be aware of is Microsoft will continue to support outbound Marketing features, but there won't be any new enhancements or updates available in outbound features from Microsoft. And they always recommend using real-time marketing over outbound marketing.
As you can see in the below screenshot when I created the trial environment Marketing app is renamed as the "Customer Insights – Journeys" app and important thing to note is there is no "Outbound Marketing" area available henceforth.
Microsoft encourages all customers who are still using outbound marketing to transition to real-time. Similarly, new customers should start in real-time only to avoid having to transition later. You can refer to this doc where Microsoft has explained these new transition changes.
If you compare specifically Outbound Marketing Segmentation with Real-time Marketing segmentation, you will experience New UI enhancements that significantly improve usability and efficiency, it additionally adds value in terms of:
Provide Trigger Based Journey in Real Time Marketing segmentation
AI-driven capabilities that support segment logic creation
Ability to send SMS and Push notifications
When I was exploring Segmentation in a Trial Instance, I was playing around with the sample segment data, Navigate to the real-time journeys area > Audience > Segments as below: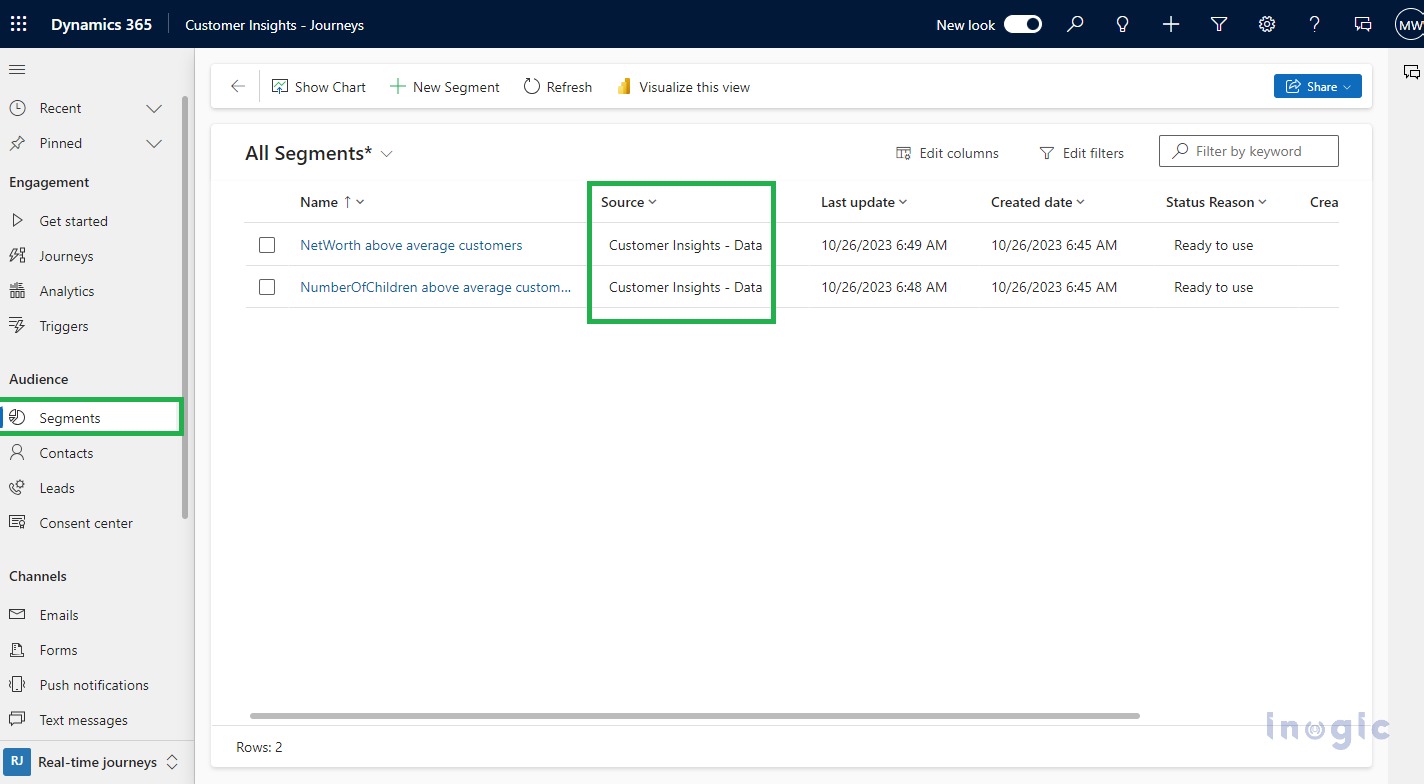 Note that the source has been set as "Customer Insights – Data" for the sample segment above.
Now when you open one of the segment records, you will experience that you have been navigated to "Customer Insights – Data" where you can play around more with the data.
These are the screenshots for the segment from "Customer Insights – Data":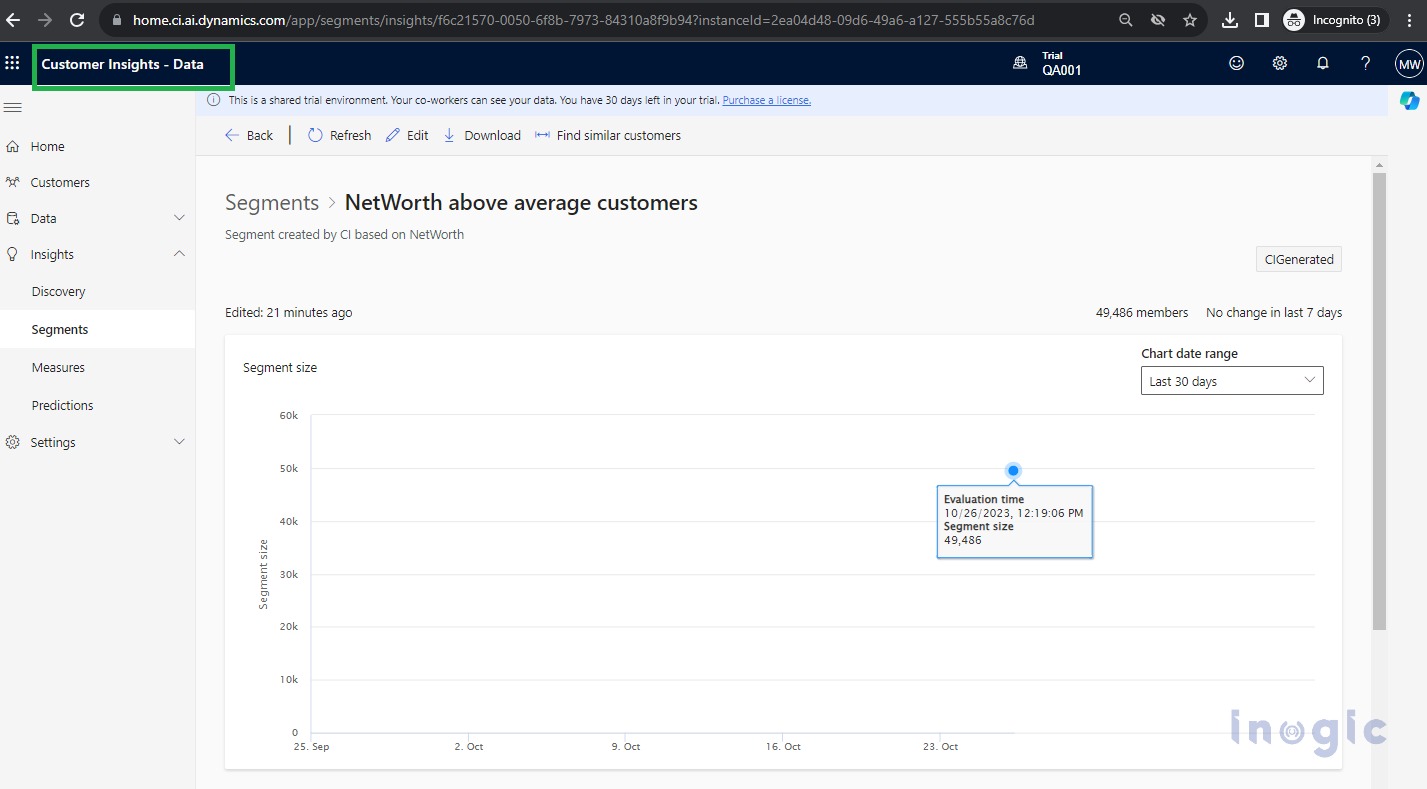 When you scroll down you will find the Segments members preview as well: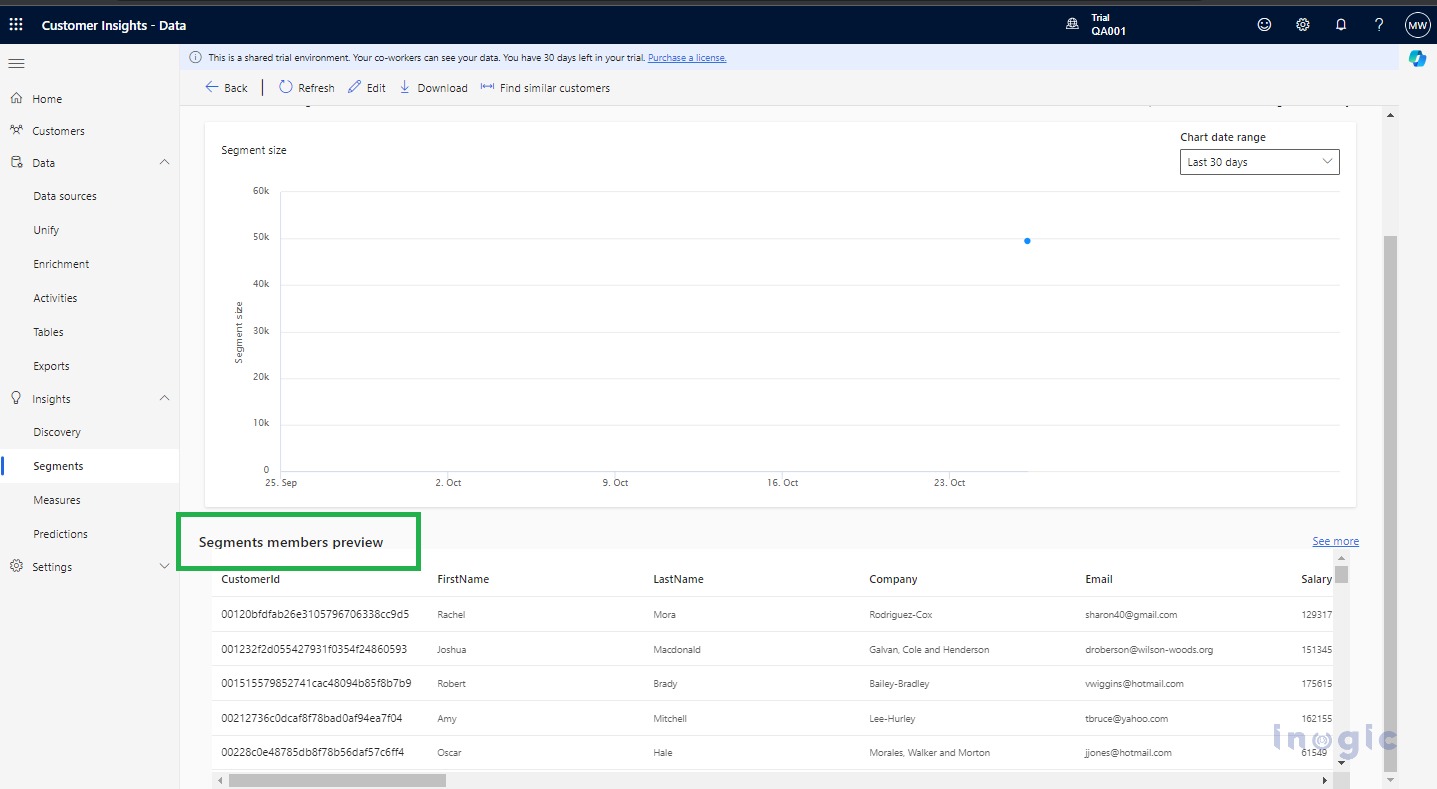 There is another interesting feature that was around this segment using AI. On the existing segment, you can click on the "Find similar customers" button if you want to find similar customers using artificial intelligence.
Suppose I have defined a segment and I'd like to identify additional potential customers of that segment. In that case, I can ask Customer Insights to find them, based on the fields that I identified.
Steps:
1. Open the segment and click on "Find similar customers"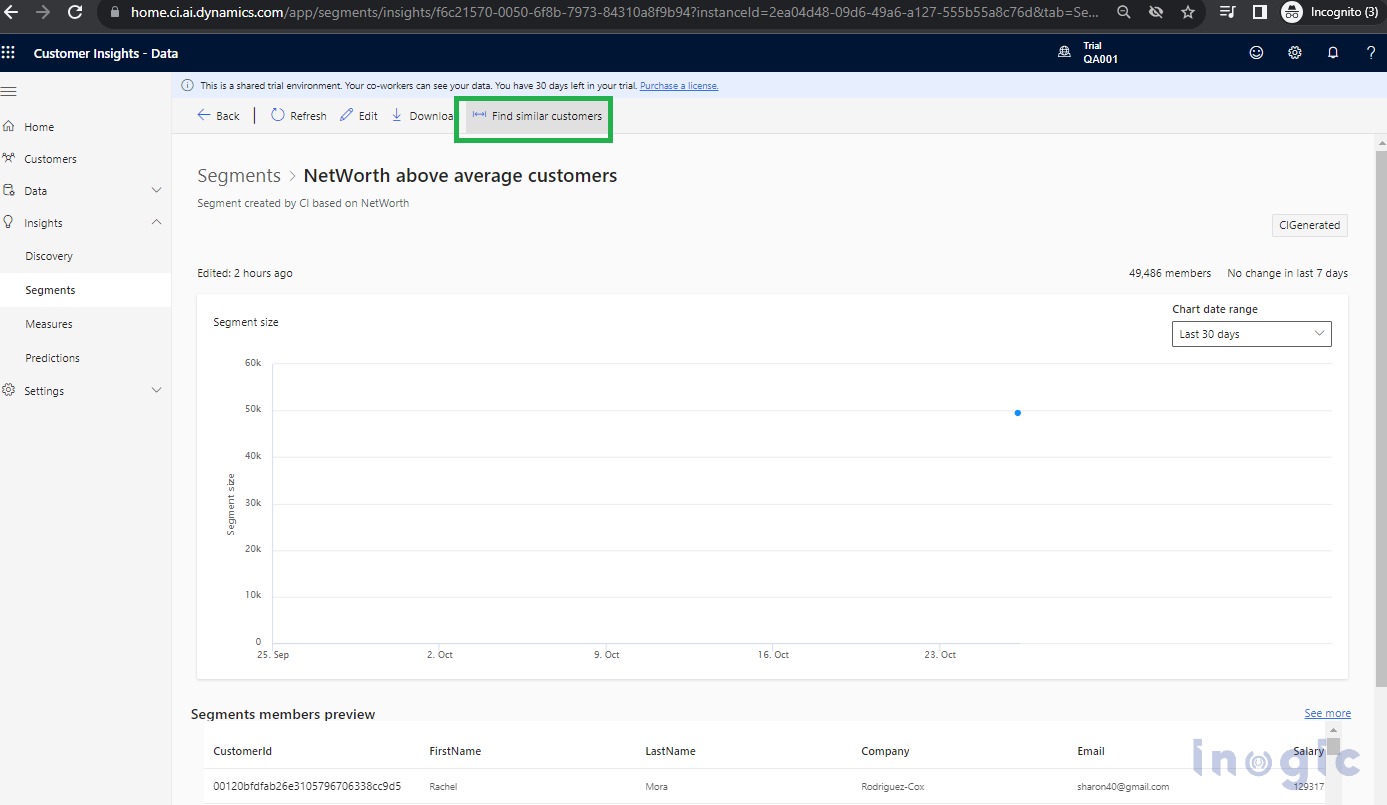 2. Find similar customers (Preview) page will open up, you must enter the details like Name the segment, and optionally you can add the tag to differentiate between segments.
Click on "Add fields" and select the fields then only the "Run" button will be enabled (currently it is disabled as shown below).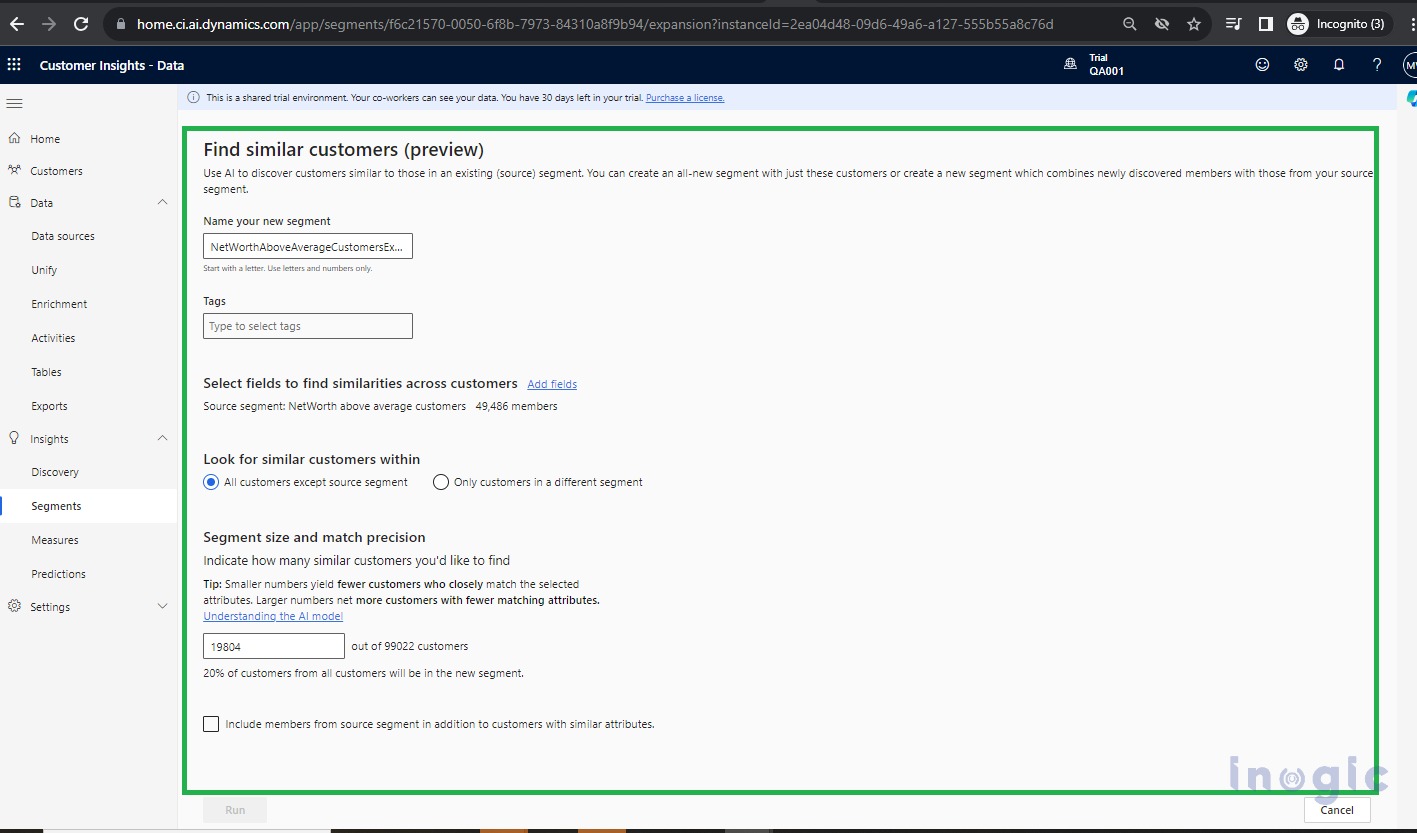 Select the fields relevant to your business as an additional matching attribute and click on the Apply button below: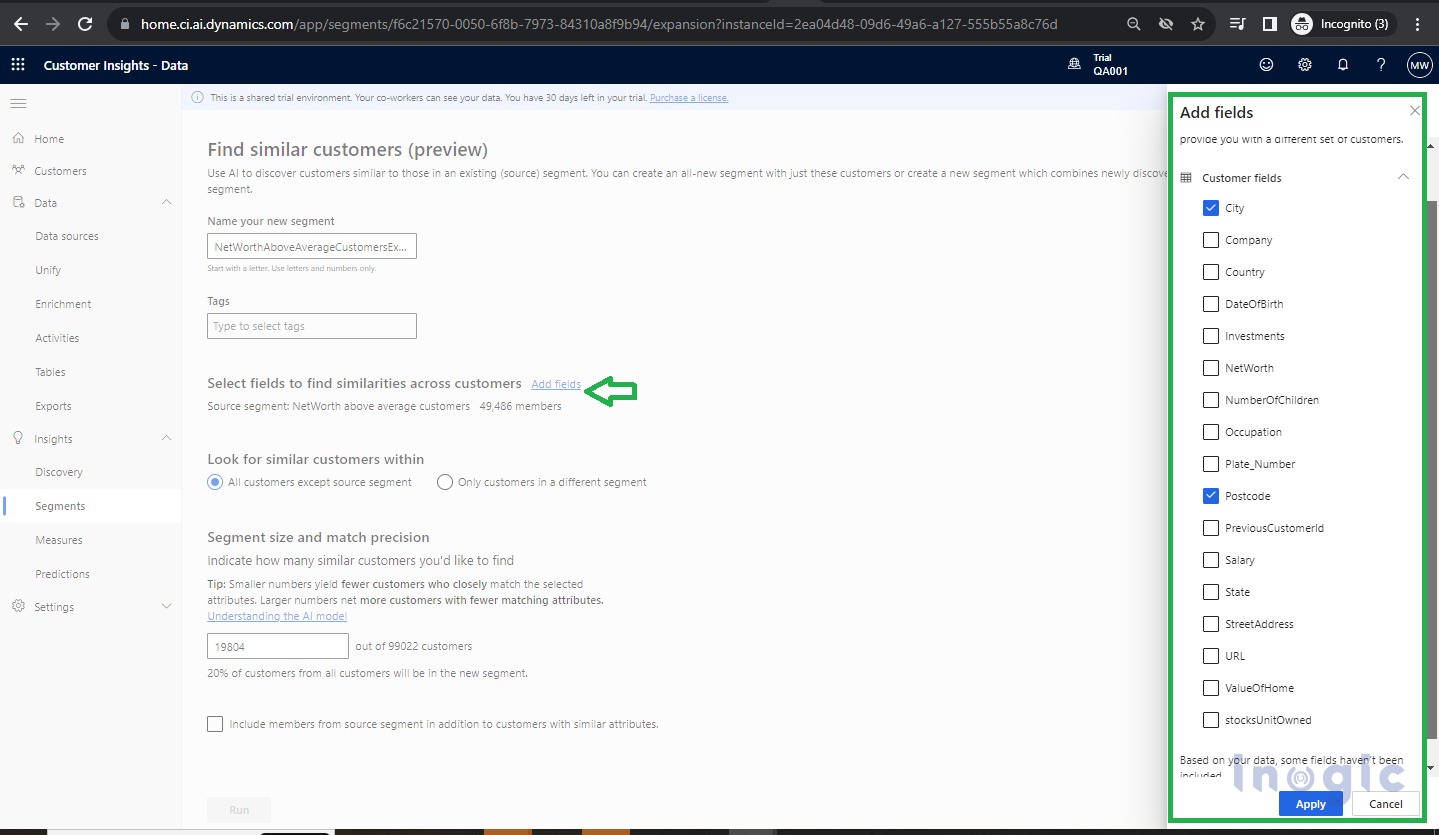 It not only allows additional fields to be selected but also allows you to set a maximum number of customers that want this new segment.
NOTE: Ideally this count is auto-set to 20% of all the customers present in the database. But if you wish you have the flexibility to define the exact size you need and can target that segment quickly.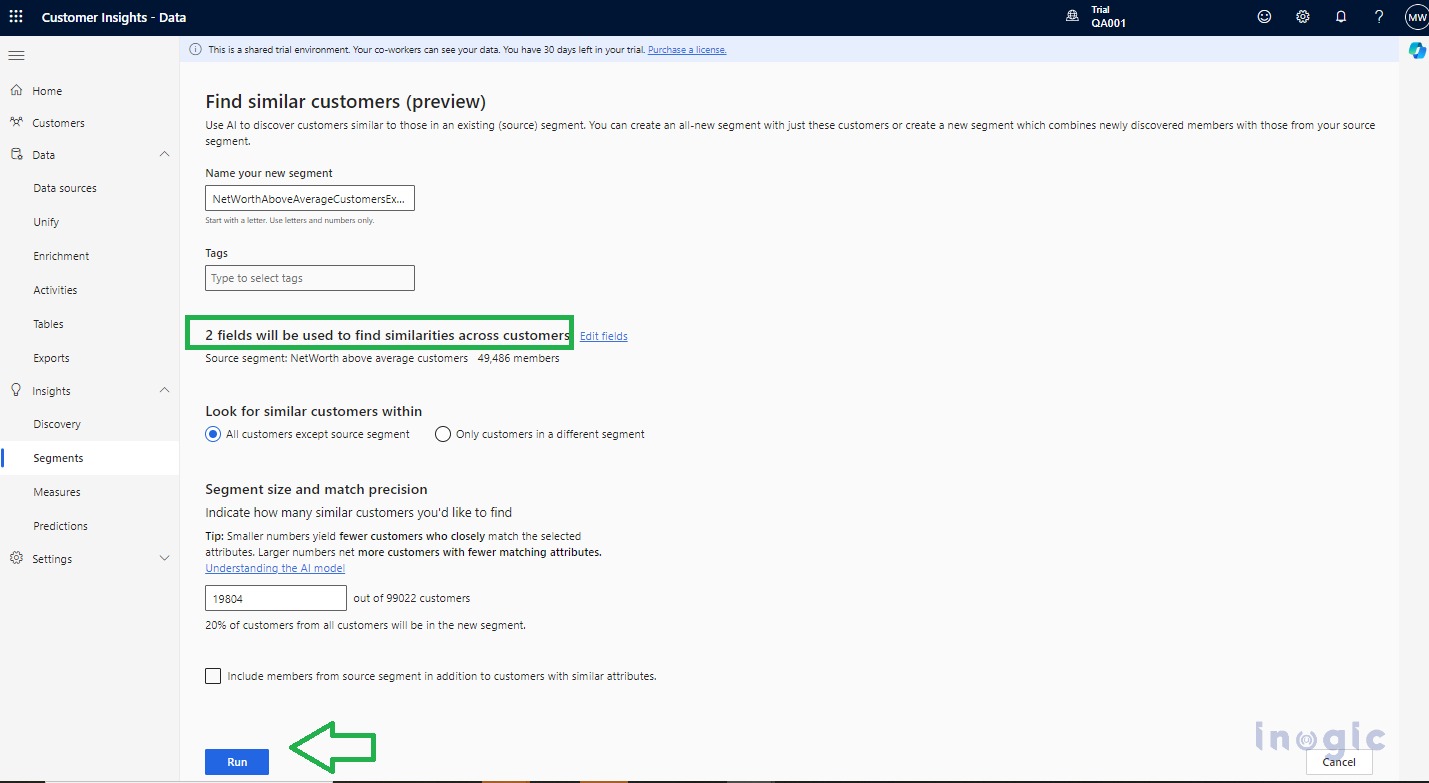 Click on the Run button which is enabled now. It will take 10-15 min for it to generate, note that the type will be set as Expansion for this newly created segment.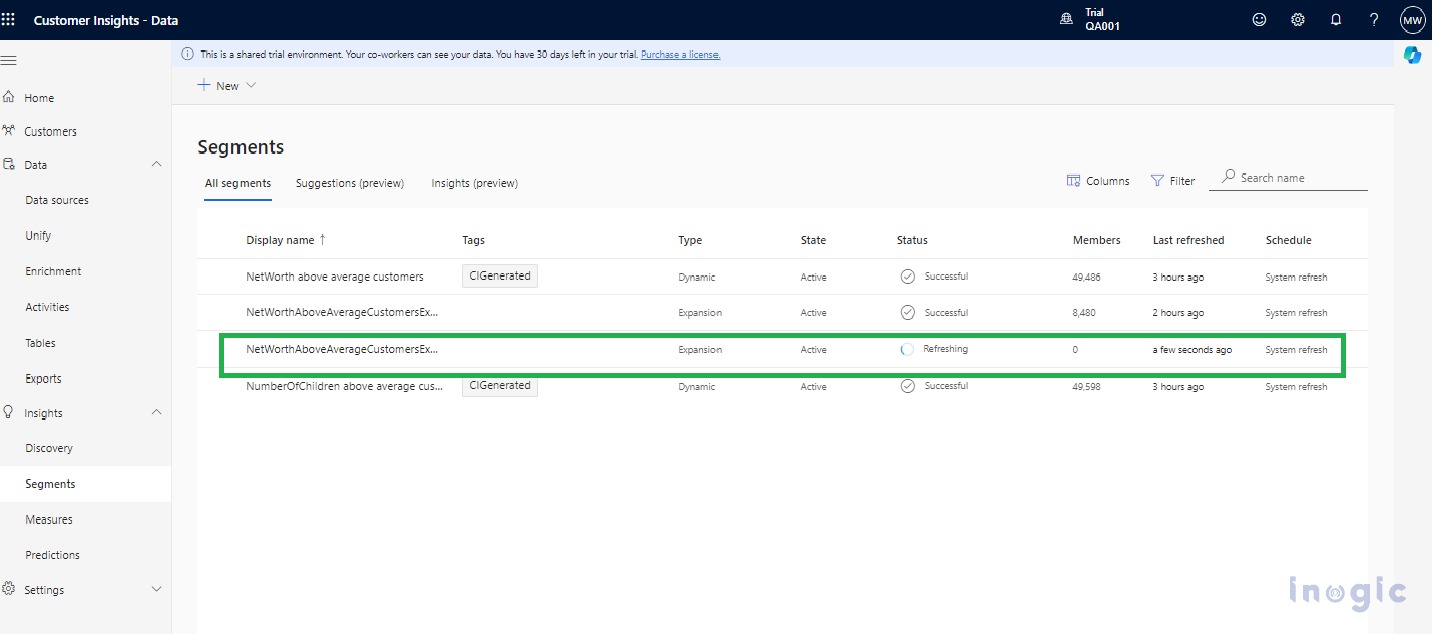 Once it is successful you can open the segment and can review the members added here (8,699 in our scenario) with matching similarity scores.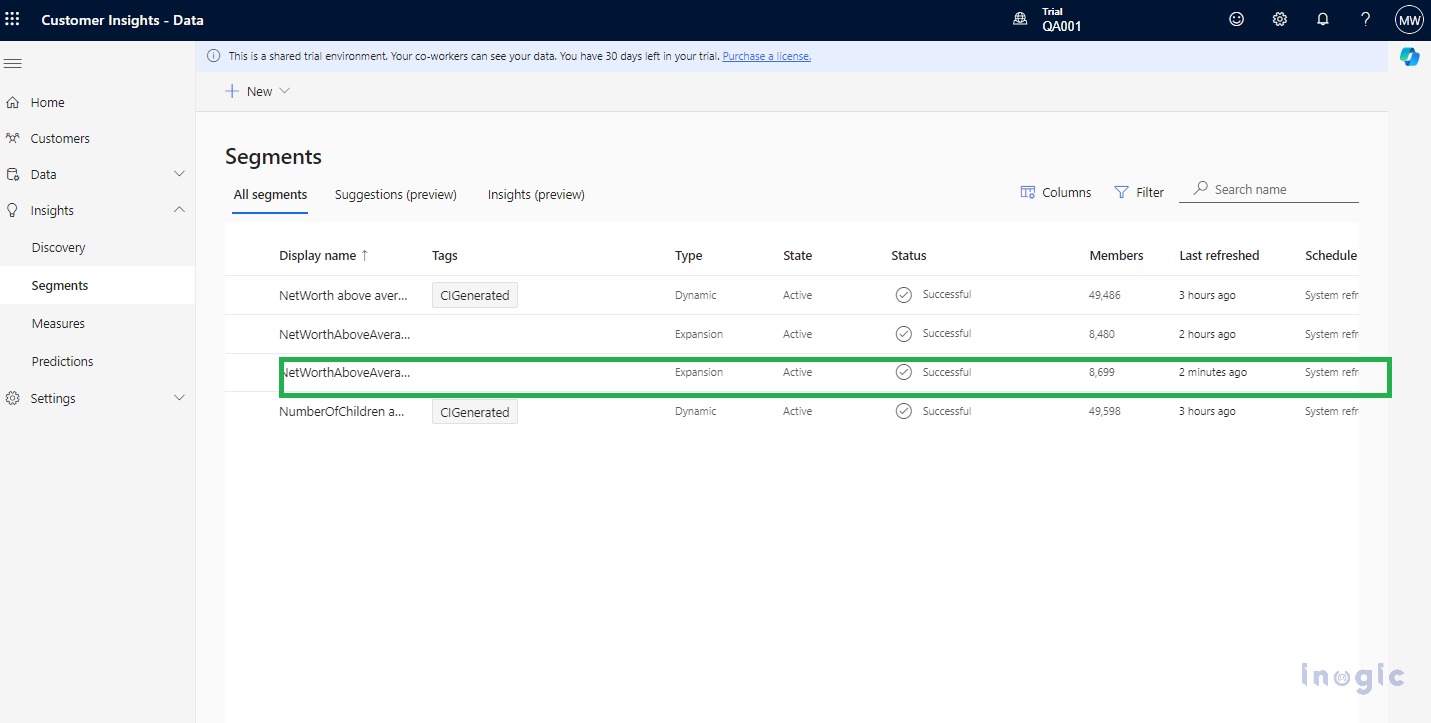 As you can see below AI has matched based on the selected fields (City, Postal code) and has segmented 8,699 members depending upon Similarity scores as below:
425 as very similar (Range between 0.85-1)
4125 similar (Range between 0.7-0.85)
4149 somewhat similar (Range between 0.55-0.7)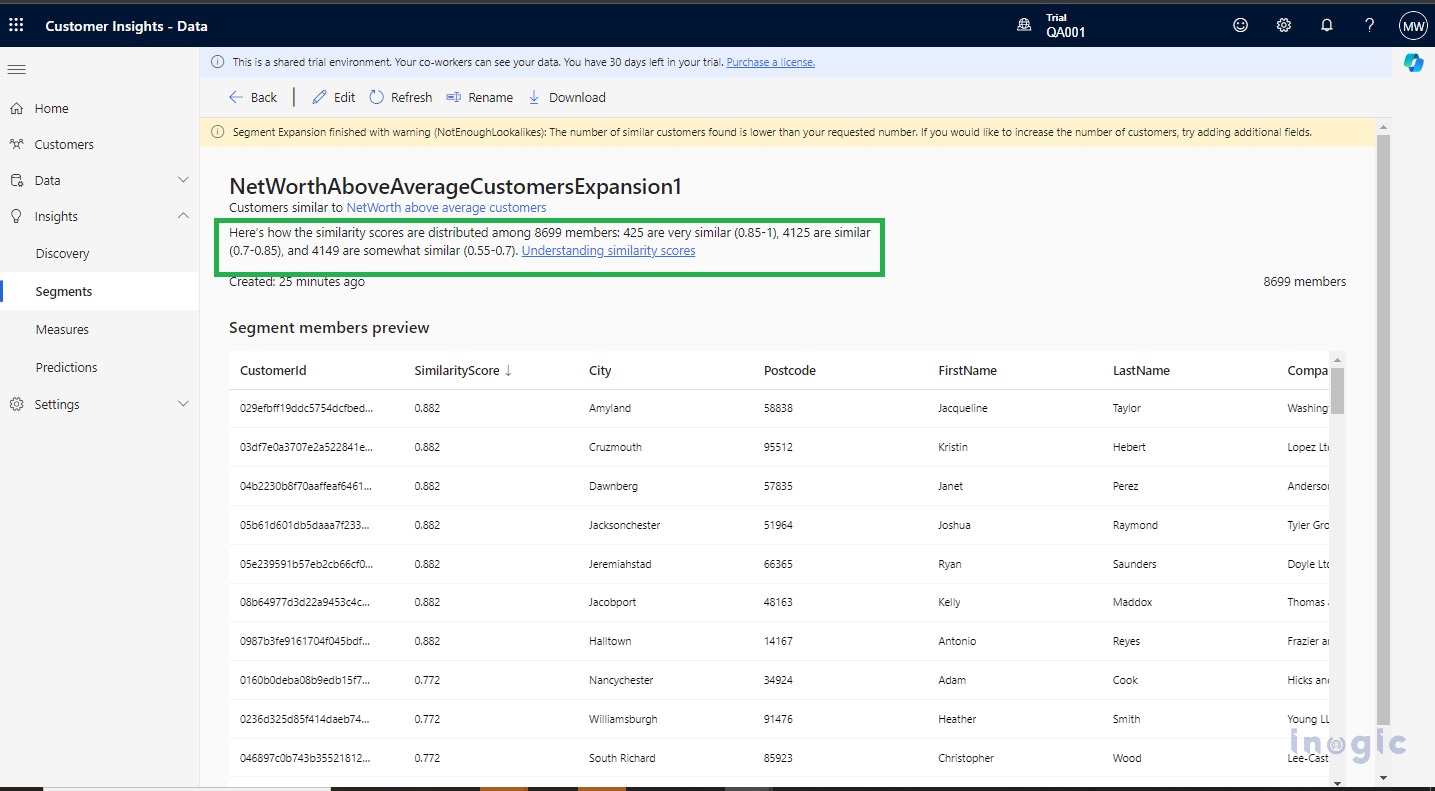 NOTE: Customers with similarity scores below 0.4 aren't included in the model output. The system doesn't consider them similar enough when compared with the source segment.
You can find more details about this "Find Similar Customers (Preview)" feature in this doc.
Conclusion
The integration between Customer Insights Data and Customer Insights Journeys will benefit understanding customers' insights in 360-degree and interacting with them in a more personalized way. By bringing these two under the same umbrella Microsoft has given us flexibility to address our customers' needs from one place with the power of Co-pilot AI.
Customer Insights – Data also ensures that all your relevant customer data is kept up to date and ensures that you are working with a good quality of data inside the Customer Insight which adds more value while cleaning up the data in real-time.