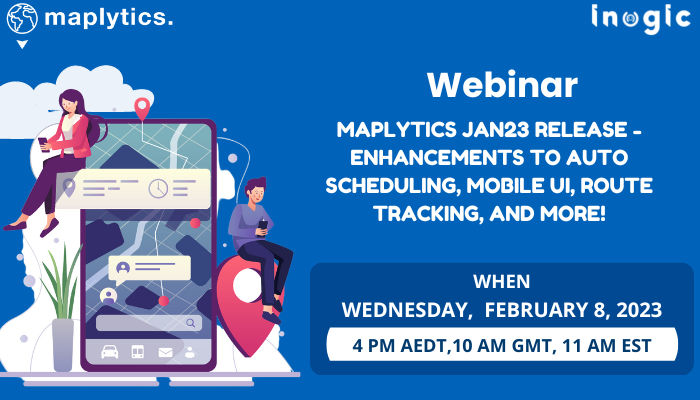 Imagine a geo-mapping, all-inclusive app that has a vibrant and friendly User Interface, that offers a clear view of the field reps' schedule, travel routes, and travel time, that provides a 3D View of the Route, makes navigation easy through multiple apps, allows customization of Dashboard Views and a lot more. Now stop imagining and experience all of it, firsthand with Maplytics!
Maplytics, the preferred 5-star rated app on Microsoft AppSource seamlessly integrates maps with Microsoft Dynamics 365 CRM. The popular and in-demand features of Maplytics aid in managing sales territories, finding nearby clients and visualizing them on maps, plotting optimized travel routes to pre-scheduled appointments, and a lot more! Team Maplytics has come up with an amazing set of upgrades and is glad to share the same. A Webinar has been organized to take a detailed look at the new amazing additions of this latest Maplytics Release.
So, don't wait and waste time, block your calendars right away for an intriguing session exploring the features, original, upgraded, and new!
Maplytics Jan23 Release – Enhancements to Auto Scheduling, Mobile UI, Route Tracking, and more!
February 08, 2023, Wednesday | 11 AM US EST | 10 AM UK GMT | 4 PM AEDT
In this webinar, we shall be covering the following points:
Mobile UI upscale – upgraded look, feel, logo, and more of the mobile app
Esri Support – advanced overlay with ArcGIS Feature Layers
Auto Scheduling Update – use of new Auto-Scheduling Calendar and Trip Summary Panel
Actual and Proposed Route Tracking – view planned and traveled routes of the field reps
Multiple Datasource Support – maximum support in record plotting with multiple categories
PCF Address Auto-complete Control – automated support for record updation
Dashboard Enhancement – effective personalization of dashboard views
Street View – improved visualization of streets on a map
Apple Map Support in Navigation link – navigation with Apple Maps
Are you still thinking? Go on Save your Seat, Now!
To explore more of Maplytics, you can always download a free trial from our website or Microsoft AppSource. For further details, you can hop on to our Blogs, Client Testimonials, and Video Library, or simply mail us at crm@inogic.com for a personalized free Demo or other mapping needs.
Renew your business goals and plan to achieve big with a smart Location intelligence tool within your CRM – don't overthink, Register Now!
Until then,
Happy Mapping!