Building upon our previous discussion on Microsoft Viva Sales with Outlook in Part I, we now shift our focus to the integration of Viva Sales with Microsoft Teams.
Microsoft Viva Sales integrated with Microsoft Teams offers seamless collaboration, sales meetings, coaching, training, insights, and notifications. It empowers sales teams to work together, conduct effective meetings, receive personalized coaching, access training resources, gain sales insights, and stay updated with real-time notifications, ultimately enhancing productivity and success.
Set up Viva Sales in Microsoft Teams
To configure the integration with your team application, you will need to set specific policies in the Microsoft Teams admin center. For detailed instructions on how to set up these policies, Click here to set up Microsoft Viva Sales in your Teams. The link will provide you with step-by-step guidance on configuring the necessary policies to ensure seamless integration between your team application and Microsoft Teams.
Maximize Sales Potential in Microsoft Teams with Microsoft Viva Sales
Microsoft Viva Sales complements Dynamics 365 in the Microsoft Teams app by providing additional sales-focused features such as real-time insights, collaboration tools, coaching, notifications, app integrations, and content creation assistance. This enhances sales productivity, teamwork, and efficiency within the familiar Teams environment.
Compared to the basic functionality of the Dynamics 365 application in Teams, Microsoft Viva Sales offers a more extensive feature set. In addition to opening and editing records, Microsoft Viva Sales provides advanced customization options, actionable insights, and enhanced settings. It empowers sales teams to optimize their sales process, make informed decisions, and improve productivity within the Teams environment. Microsoft Viva Sales enhances collaboration, streamlines workflows, and delivers a comprehensive solution for sales professionals seeking to achieve greater efficiency and success in their engagements.
Effortlessly Share Record Links
To share records from Outlook to Microsoft Teams, you can copy the link of the desired records directly from your Outlook application and then share it within a Teams conversation. This allows you to seamlessly transfer and discuss specific records with your team members.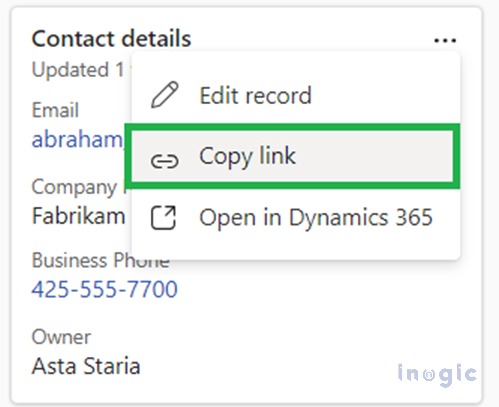 Seamlessly Search Dynamics 365 CRM Records within Microsoft Teams Chats
The Microsoft Viva Sales icon is located below the chat input area in Microsoft Teams. By clicking on the icon, you can access the Microsoft Viva Sales app and search for records within your environment. Once you find the desired records, you have the option to share them with any individual or group you choose within the Teams platform. This allows for easy collaboration and sharing of relevant information with your team members.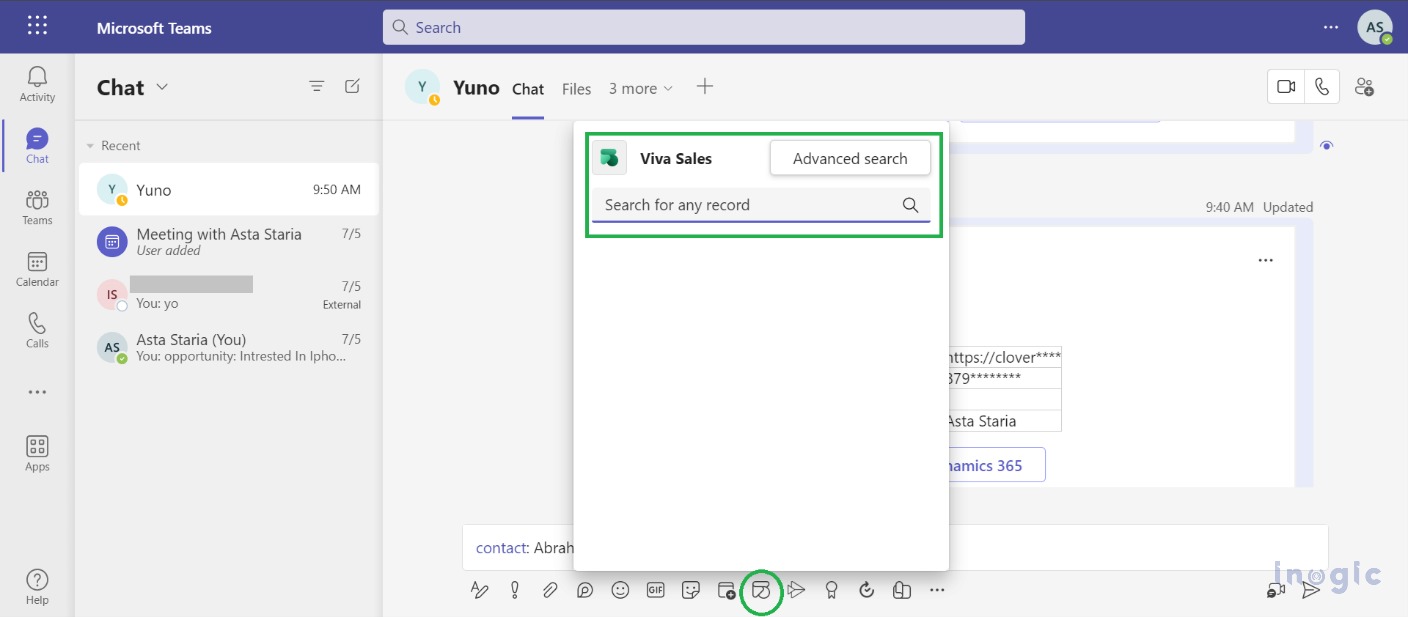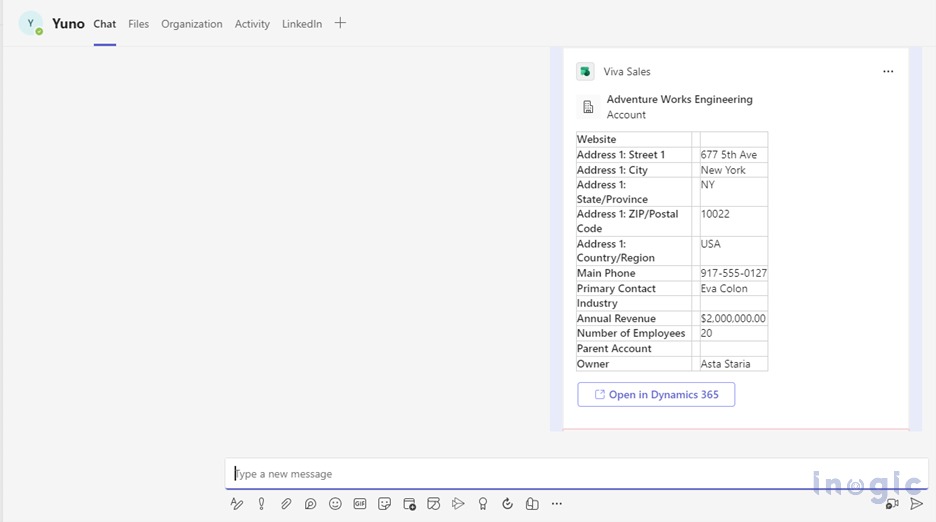 Within the Microsoft Viva Sales app in Microsoft Teams, you can refresh the data and view the most up-to-date information directly from the app. By using the refresh function, you can ensure that you are working with the latest data without having to navigate to external sources. This allows for real-time access to updated information, enabling you to make informed decisions and stay current with your sales activities.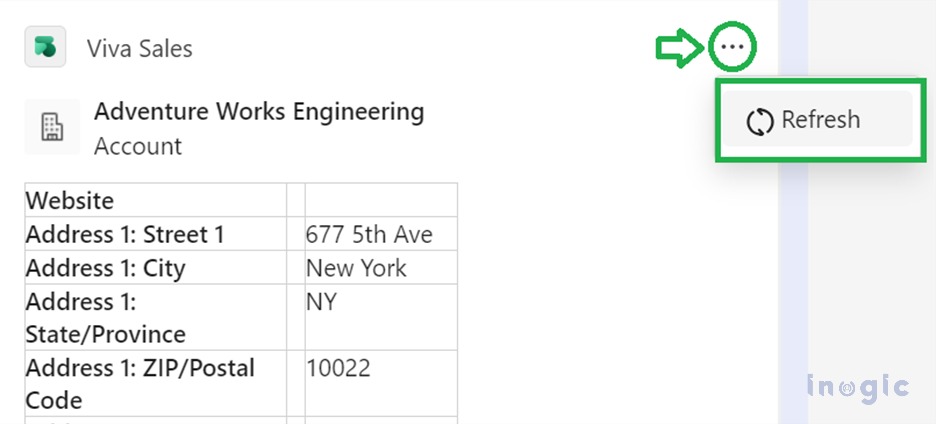 Efficiently Filter and Search Your Records: Simplify the Process with Advanced Search in Microsoft Viva Sales
To search for specific records within the Microsoft Viva Sales app in Microsoft Teams, you can utilize the advanced search option. This option allows you to filter your search by record type, enabling you to narrow down the search results to the desired record type.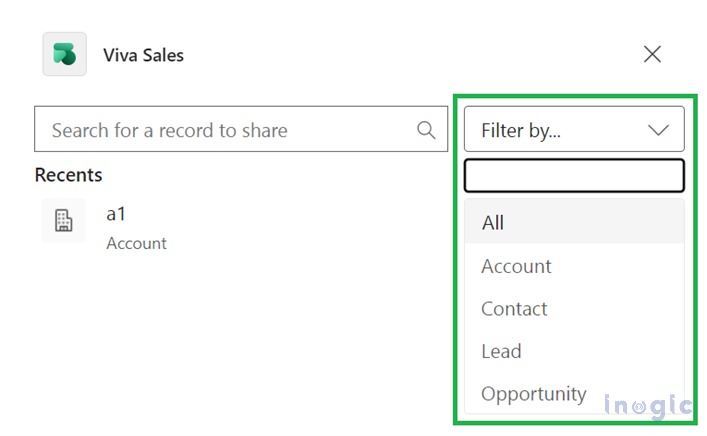 Tailor Your Forms in Microsoft Teams with Microsoft Viva Sales Settings for Enhanced Customization.
In the Microsoft Viva Sales app within Microsoft Teams, you can customize the fields of your records. Through the Microsoft Viva Sales settings, you can configure which fields are displayed and adjust their layout according to your preferences. This customization allows you to tailor the view of your records to suit your specific needs and workflows.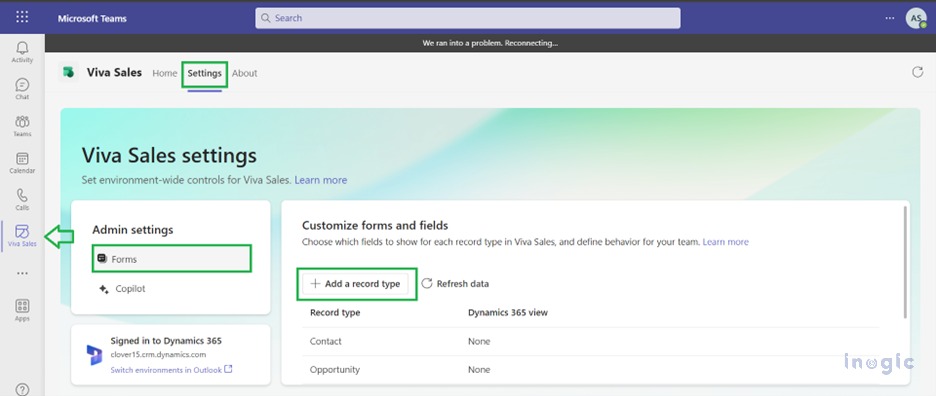 Furthermore, within the settings of the Microsoft Viva Sales app, you can also make certain fields editable. By enabling the appropriate options, you can modify and update specific fields directly within the app.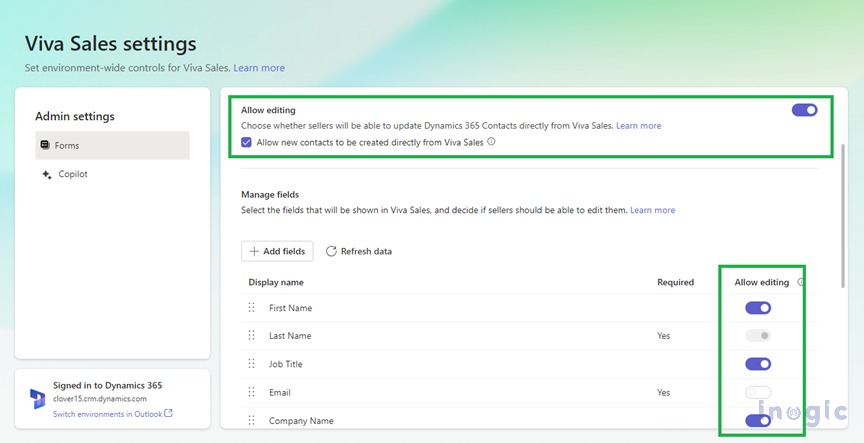 Conclusion
The integration of Microsoft Viva Sales with Microsoft Teams offers a powerful solution for sales teams. By seamlessly gathering information from DYNAMICS 365 CRM systems and providing actionable insights, Microsoft Viva Sales empower users to be more effective in their engagements right within the Microsoft Teams platform.
With Microsoft Viva Sales, sales professionals can access relevant DYNAMICS 365 CRM data, track customer interactions, and save activities directly within Teams. This comprehensive view of customer relationships allows for personalized and informed sales approaches. Additionally, the ability to collaborate and communicate within Teams enhances teamwork and ensures consistent messaging.