Data is crucial to the success of any organization as it forms the basis for important business decisions, and inaccurate data can have severe consequences. Data inaccuracy occurs when data is altered or modified in an unintended way, resulting in incomplete and misleading information. It is, therefore, crucial to take proactive measures to prevent data inaccuracy and to have a plan in place to recover data in case of any mishap.
Meet Ryan, a salesperson at Gipson Soft, an IT solutions company that uses Microsoft Dynamics 365 CRM to manage its customer relationships and sales operations, along with the data that these activities generate.
While managing sales processes in Microsoft Dynamics 365 CRM, Gipson Soft often faces challenge with salespersons accidentally deleting or modifying critical data, which is not easy to recover.
For restoring these changes, you need to have a backup of Microsoft Dynamics 365 CRM database. It is only then that you will be able to restore the history changes. Otherwise, there is no OOB solution to restore history record changes in Microsoft Dynamics 365 CRM.
If you want to restore past changes made to certain CRM records, then taking a backup of complete CRM data every now and then can be an arduous task.
Well not to worry now…
Undo2Restore is a Microsoft AppSource Preferred solution by Inogic that allows users to view deleted records history and restore a previous version of records within Microsoft Dynamics 365 CRM. The 'Restore History Changes' feature of Undo2Restore enables you to restore the past changes made to Microsoft Dynamics 365 CRM records.
In this blog, we'll take a closer look at how the 'Restore History Changes' feature can benefit Ryan and Gipson Soft and many more.
Restore History Changes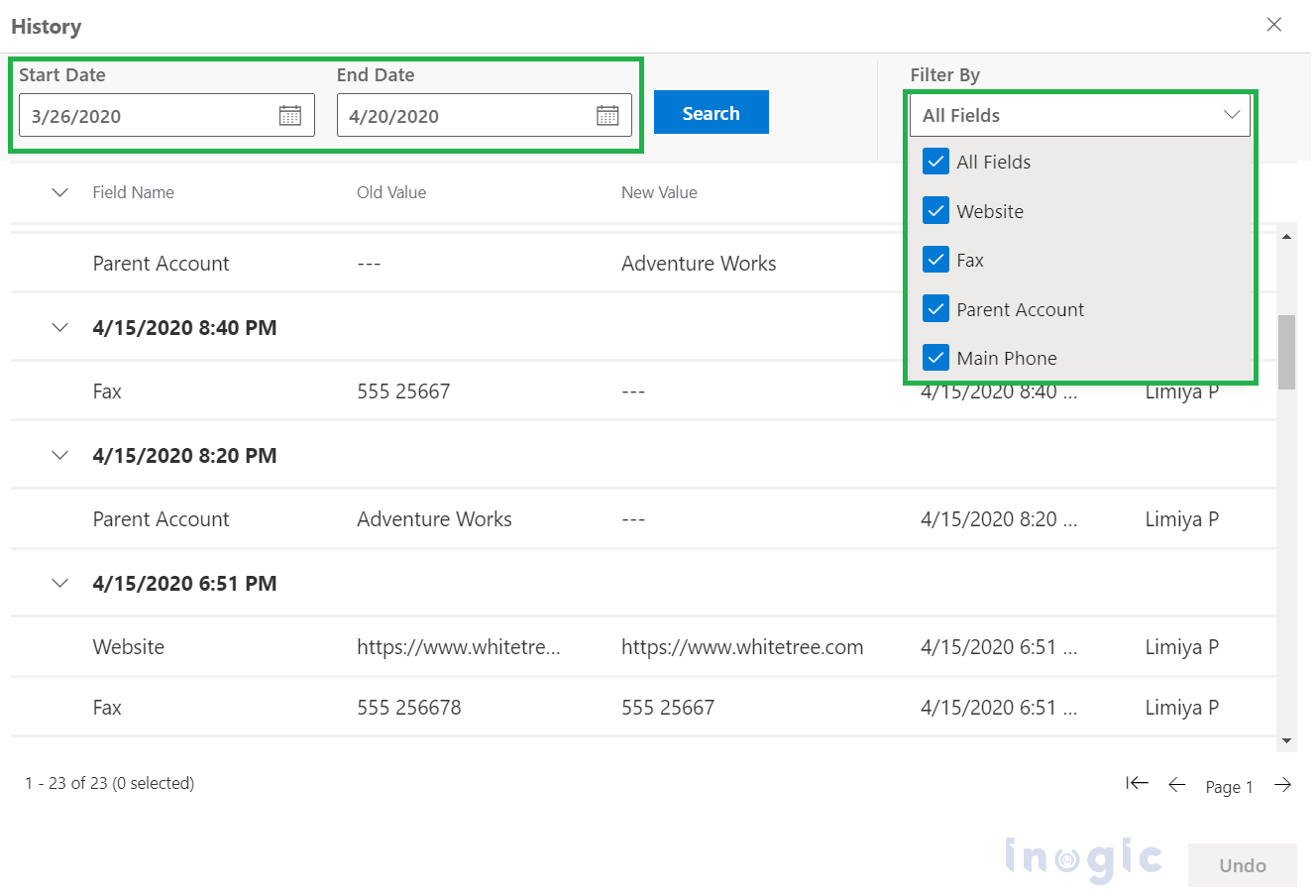 This feature displays all the past changes made to Dynamics 365 CRM records for a set default period in the History grid.
You can define how far back in time you want to display past changes. By default, the solution displays changes made to records within the past 30 days. You can adjust the number of days you want to view past changes.
From the list of past changes displayed in the History grid, you can select the necessary changes you want to restore and then click on the 'undo' button to recover those changes. This feature is incredibly helpful in scenarios where you need to restore changes made to records accidentally.
Benefits of the Restore History Changes feature in Dynamics 365 CRM
This feature has several benefits. First and foremost, it allows you to quickly and easily restore past changes made to records. This can save you a significant amount of time and effort, especially in critical scenarios where you need to recover lost data.
Additionally, it provides you with a detailed audit trail of all the changes made to records, including who made the changes and when they were made. This information can be incredibly valuable for tracking changes and identifying modifications made to records.
Suppose, Ryan wants to restore changes made in the 'Fax' and 'Website' fields of a particular account record in the past 23 days. Then he can accomplish this by clicking on the downward arrow near the Click2Undo button and then clicking on the 'History' button.

Now he will get the list of past field changes for that particular record. (For this, the auditing of the said entity needs to be enabled.) Furthermore, he can also filter past changes on the basis of desired dates and fields.
In this case, he will filter past changes on the basis of the changes made in the website and fax fields.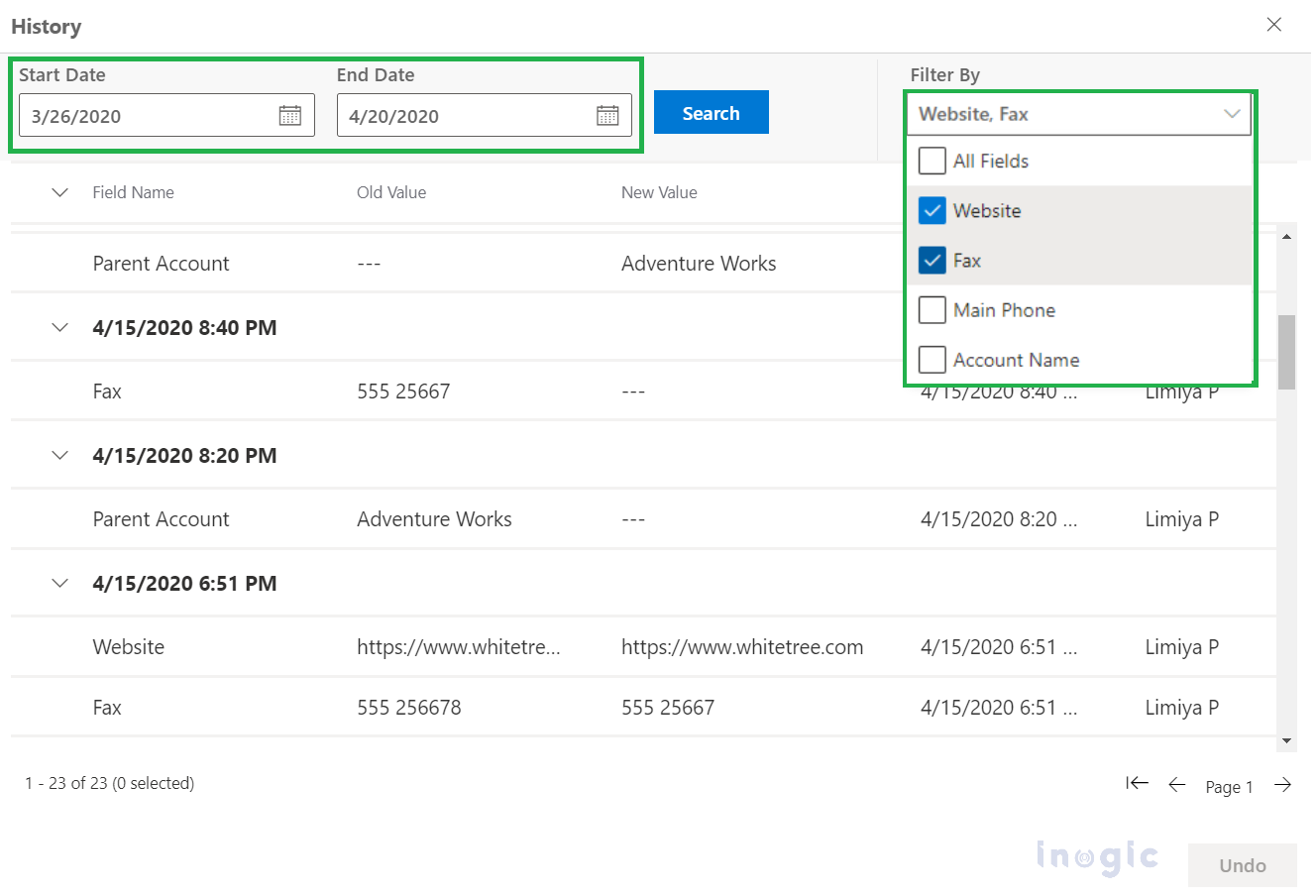 Once he selects the desired changes to restore and clicks on the 'Undo' button on the history grid, the past changes will be restored.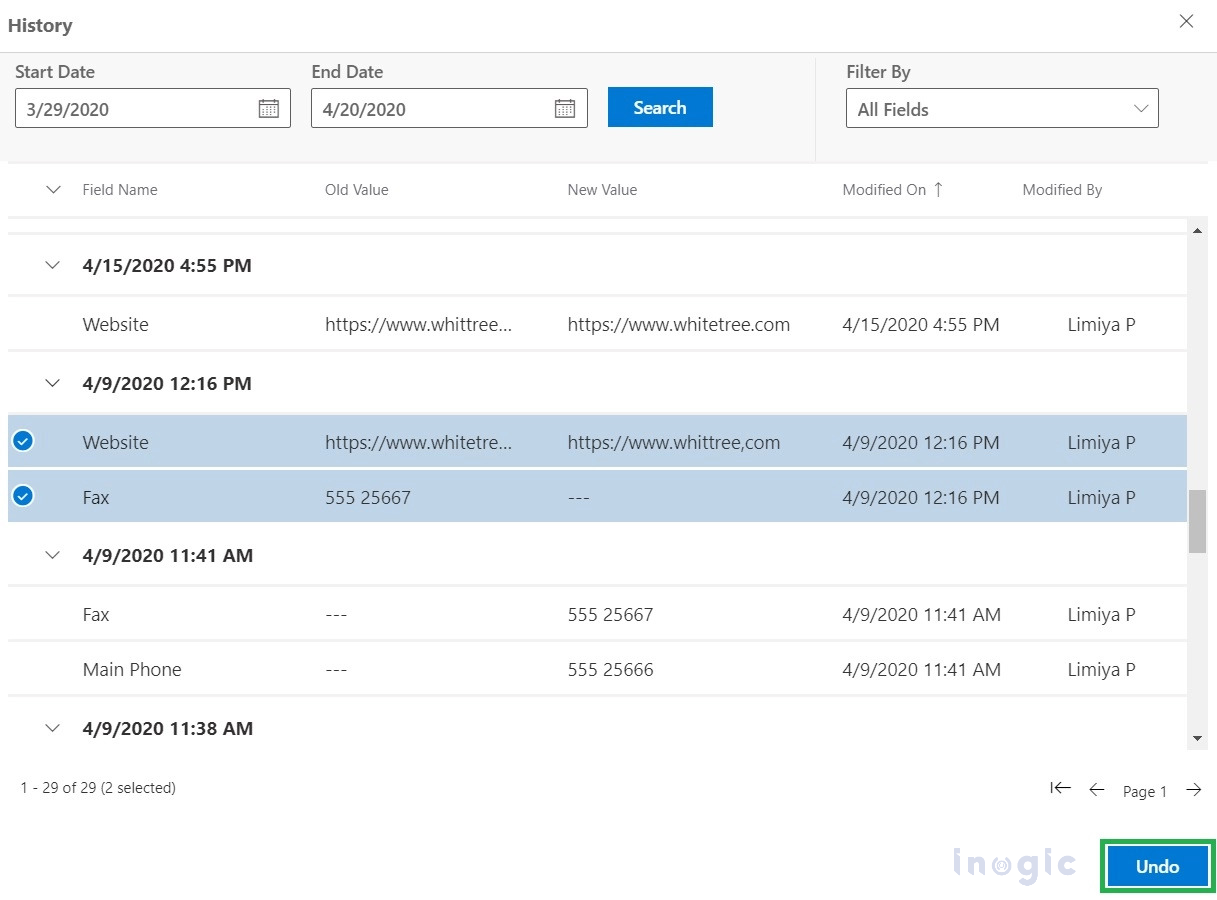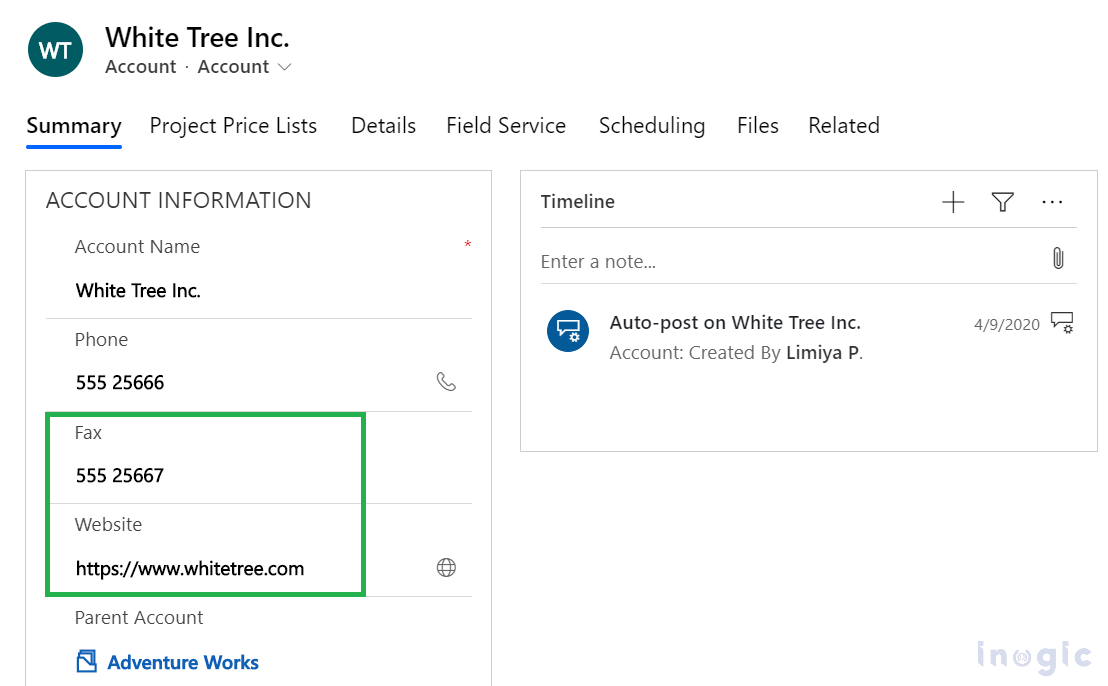 In conclusion, Restore History Changes is a nifty feature that can benefit Gipson Soft by saving time and effort spent on manually restoring past record changes and ensuring that their data is always accurate, eliminating the need for taking CRM data backups, eliminating worries about data loss, and reducing the risk of human errors.
Along with restoring past changes, you can also recover accidentally deleted records with Undo2Restore's 'Restore Deleted Records' feature.
To learn more about Undo2Restore's useful features, visit our online help file or watch our detailed demo video of the same.
Eager to experience this 1 Click Restore app first-hand?
Download the app for a 15-day free trial from our website or Microsoft AppSource, mail us at crm@inogic.com for a personalized demo, or resolve your queries related to restoring record changes in Microsoft Dynamics 365 CRM.
Want to automate the process of exporting CRM records and sending them via email? Now you can accomplish this with Click2Export, a Microsoft AppSource preferred app that enables users to export various CRM Reports, Document Templates, and CRM Views data with just 1 click.
Until then, stop worrying and restore CRM data hassle-free!