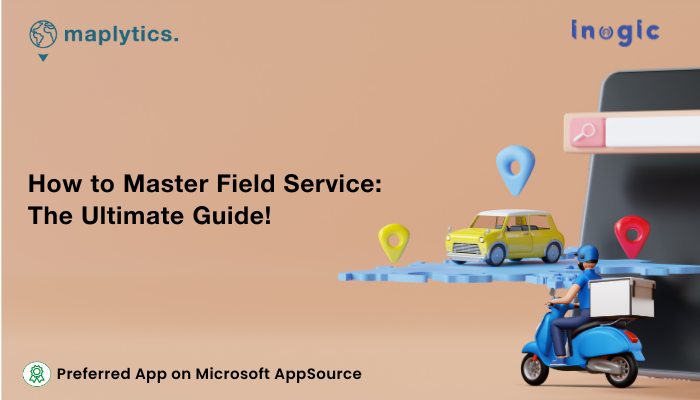 "Field service is the lifeline of any business that relies on equipment" – John Smith, CEO of Acme Corporation
Field Service comprises of the processes like Installation, Maintenance, Repair, Troubleshooting, Inspection, and so on. It allows businesses to provide timely and efficient service to their customers. Though a notch higher with a higher requirement quota, Field Sales is along the same lines of Field Service.
Any growing business cannot refrain from having efficient Field Service Management. It ensures, work order and schedule management, asset management, technician and customer management, et al. Dynamics 365 Field Service is a cloud-based field service management solution that helps businesses improve the efficiency and effectiveness of their field service operations. It provides a single view of all field service data, of work orders, assets, technicians, and customers. This allows businesses to track the status of work orders, optimize and regulate their resources, and improve customer experience.
Maplytics, the 5-star rated, all-inclusive app of the Microsoft AppSource is designed to act as a perfect sidekick to Dynamics 365 Field Service. We have a wonderful series encompassing the same in-depth.
Embarking the journey of understanding apps integration, it is preferable to get familiarized with the overall personality of both the apps.
In the first chapter of this Blog Series, one gets introduced to the offerings of Dynamics Field Service and Maplytics and how they complement, briefly.
The second chapter of the series concentrates on Territory Management. The blog highlights the various ways in which territories can be created and managed within D365 Field Service and how those ways and techniques can be enhanced using the additions in Maplytics.
This chapter is an interesting take on foolproofing the functionality and usability of Territories within Dynamics 365 across industries.
Once the Territories have been assigned, it becomes important to manage the resources alloted to these territories. Their work schedules, appointments, etc. need to be planned in advance and managed appropriately.
Chapter three of the Field Service + Maplytics series encompasses the ways to achieve this within Dynamics Field Service and adds in the depth offered by integrated maps.
Field Service is synonymous with traveling and long, continuous business trips. The reps are on the field for 80% of their work time. Ensuring safe, short, and convenient journeys for them is essential to maintain productivity.
The next interesting phase of the Blog Series concentrates on optimized routing. As the appointment schedules get planned for the field reps, travel routes get plotted within Dynamics Field Service. These routes can be further optimized by cutting down the traffic area, avoiding the highways, avoiding tolls, etc. using Maplytics.
Do have a look and plan an enjoyable business travel for yourself.
For a suitable climax to this wholesome Blog Series, the last chapter talks about the additional fascinating features added by Maplytics within Dynamics Field Service such as Mobile Integration, Census Data Visualization, Land Area Mapping, Overlay, Heat Maps, et al.
Thus, in this five-part series concentrating on Maplytics being the perfect sidekick to Dynamics 365 Field Service, we covered the enhancements that can be brought about to some of the amazing functions of Field Service. These upgrades are bound to be extremely helpful in improving the quality and management of Field Services.
What's More?
The unique features of Maplytics could be experienced when explored more with a trial. One can write to the Team at crm@inogic.com for mapping requirements, a free trial of 15 days, or a personalized demo within Microsoft Dynamics 365 CRM / Dataverse.
To learn more about Maplytics, its applications across industries, and another multitude of features, do visit the Website or the Microsoft AppSource. For further details, one can hop on to the Blogs, Client Testimonials, Success Stories, Industry Applications, and Video Library for a quick query resolution.
Until then,
Happy Field Services!