Meet James a salesperson who works at Proren PVT LTD an online customer service platform for property renovation, where they use Microsoft Dynamics 365 CRM for managing their customer relationships, customer data, queries, quotations, client advisors etc. This powerful tool helps them stay organized and efficient.
But whenever James used to close a sales deal, he was faced with the daunting task of manually exporting various Reports/Word/Excel templates, and CRM view data from Microsoft Dynamics 365 CRM and then sending them as attachments via email.  He had to spend hours poring over data, making sure everything is correct, and then manually attaching each file to an email.
Over time, this manual process started affecting James's time efficiency and productivity. Realizing it was a problem, this led to the demand for implementing an automation solution for exporting and mailing various CRM reports and data.
To solve this problem, Proren PVT LTD's IT manager searched for an automation solution for exporting and mailing various CRM reports and data.
That's when they discovered Inogic's Click2Export a Microsoft AppSource preferred solution, which enabled salespersons to export CRM reports and views data with just one click and automatically email them as attachments or even upload to Share Point. Freeing up valuable time to focus on what really matters – providing exceptional customer service to their clients.
Here are two nifty features of Click2Clone that helped James and Proren PVT LTD:
Export CRM Reports with a Single Click
Click2Export allows users to export CRM reports and views data with just 1 click. Salespersons can export the CRM data in 5 different formats (Excel, Word, PDF, CSV, or TIFF) based on their business needs. By using workflows, they can also automate the process of exporting CRM reports on the occurrence of a desired event, e.g., on the activation of a quote.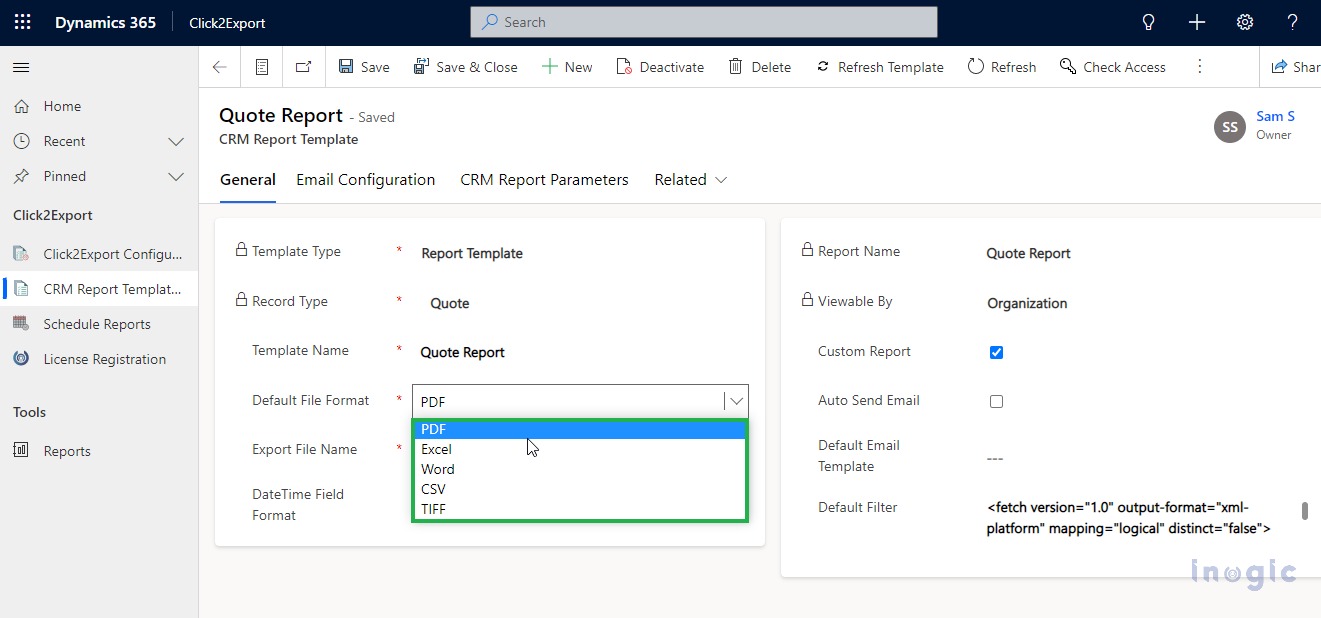 Automatically Email Exported Files as Attachments
Once all the Reports/Word/Excel templates are exported from Microsoft Dynamics 365 CRM, they can be automatically attached to an email for sending to the intended recipients. Users can store the exported CRM reports as note attachments in the specific Microsoft Dynamics 365 CRM entities. Additionally, users can also download the exported CRM reports for offline consumption.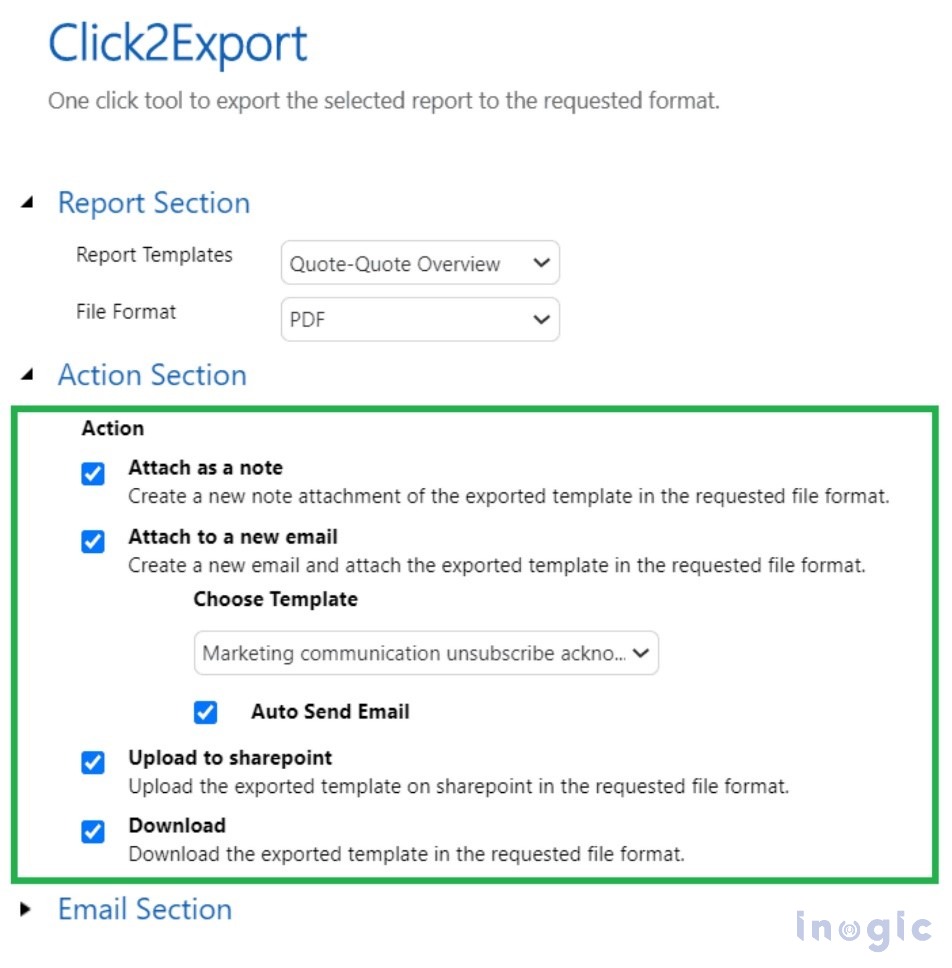 The use of Inogic's Click2Export in Microsoft Dynamics 365 CRM helped James export customer agreements and various CRM reports/data with just a click of a button and then schedule those reports to be sent by email.
Now he doesn't spend any time doing manual data export work and never forgets to send emails, reducing the risk of human error. This enables him to spend more time on providing the best property renovation experience to their customers.
Successful and seamless implementation of the solution has resulted in an automated and streamlined system that does exactly what James and Proren PVT LTD needed.
If you're impressed by James's story and curious to experience the app first-hand, you can get it for a 15-day free trial from our website or Microsoft AppSource.
To learn about Click2Export's features in more detail, visit our docs site or check out this amazing product video.
Feel free to mail us at crm@inogic.com to get a personalized demo of the app or to ask any questions regarding using Click2Export in your Microsoft Dynamics 365 CRM system.
PS: Want to save time spent on repetitive data entry tasks? Then Click2Clone, a Microsoft AppSource Preferred app by Inogic, can help you copy/clone Microsoft Dynamics 365 CRM records (OOB or Custom) with just a click of a button.