Power BI is a cloud-based service that connects to various data sources and offers powerful business intelligence capabilities for data analysis. With a range of data visualization options, it works seamlessly with other Microsoft tools such as Dataverse and Dynamics 365.
Dataverse is a data platform that allows users to store and manage data from different sources, create custom data models, automate workflows, and build business applications. It enables users to connect to their data stored in Dataverse and build reports and dashboards using Power BI. While Dynamics 365 CRM helps organizations manage customer interactions and data. It enables users to track customer interactions, manage sales pipelines, automate marketing campaigns, and more. It allows users to create reports and dashboards using Power BI that provide insights into customer interactions and sales pipelines. The integration of Power BI with Dataverse and CRM offers several benefits, including:
Streamlined Workflows: It streamlines workflows, allowing users to create reports and dashboards that are automatically updated with the latest data. This eliminates the need for manual data export and import, ensuring that reports and dashboards are always up-to-date and accurate.
Improved Collaboration: It enables users to collaborate more effectively. Users can share reports and dashboards with other users within their organization. This enables different teams and departments to access the same data and collaborate on data-driven decisions.
Better Decision Making: It provides users with a complete view of their data. Users can easily analyze data from different sources and gain insights into customer interactions, sales pipelines, and other key metrics. This helps organizations make data-driven decisions and improve their overall performance.
Customization: It enables users to customize reports and dashboards to meet their specific needs. Users can create custom data models and visualizations that are tailored to their business requirements.
Security: It ensures that data is secure. Users can control access to reports and dashboards and ensure that only authorized users have access to sensitive data.

However, Integrating Power BI in Dynamics CRM and Dataverse can be a complex task for businesses, and there are several challenges they may face during the process. Here are some of the most common challenges:
Security and Access Control: Data privacy and security are critical concerns when integrating Power BI with Dynamics CRM and Dataverse. Businesses need to ensure that sensitive data is not exposed to unauthorized users, and access to data is controlled and monitored.
Data Governance: Integrating Power BI with Dynamics CRM and Dataverse can increase the complexity of data governance. Businesses need to establish clear guidelines for data management, including data quality, metadata management, and data lineage.
Technical Expertise: Integrating Power BI with Dynamics CRM and Dataverse requires technical expertise and knowledge of both platforms. Businesses may need to hire additional resources or invest in training their existing staff to ensure they have the necessary skills.
Integration Complexity: Integrating Power BI with Dynamics CRM and Dataverse can be a complex process that requires careful planning and execution. Businesses need to ensure that they have the necessary resources, including time and budget, to complete the integration successfully.

Overall, integrating Power BI with Microsoft Dynamics CRM and Dataverse can provide businesses with valuable insights into their business operations. However, it is essential to address the challenges mentioned above to ensure a smooth and successful integration. Inogic with its Power Platform offshore development can be a suitable option for businesses that require professional services to integrate Power BI in Dynamics CRM and Dataverse for several reasons. Here are some possible reasons:
Expertise: With over 15 years of profitable operations and 100+ Dynamics 365 & Power Platform experts, Inogic has the expertise to integrate Power BI with Dynamics CRM and Dataverse. Inogic possesses in-depth knowledge of the technologies involved and can help businesses overcome any challenges during the integration process.
Time-saving: Inogic's 1000+ projects completed and 40+ years of collective management experience enable them to complete the integration process quickly and efficiently, saving businesses time.
Customization: Inogic understands that every company has unique data analytics needs and requirements. With their expertise in 15+ technologies and 15+ preferred apps on AppSource, Inogic can customize the integration of Power BI with Dynamics CRM and Dataverse to meet the specific needs of a company.
Maintenance: Inogic provides ongoing maintenance and support for the integrated system. With their 50+ country presence and 200+ happy partners and customers, Inogic can ensure that any issues are addressed promptly, helping businesses ensure the system works correctly.
Inogic power platform offshore development services enable seamless integration of Power BI with other Microsoft tools such as Dataverse, CRM, Business central, and many more. This integration provides significant advantages for organizations, and we have previously provided Power BI dashboards to our clients. Below is one such screenshot customized for User Insights on Power BI.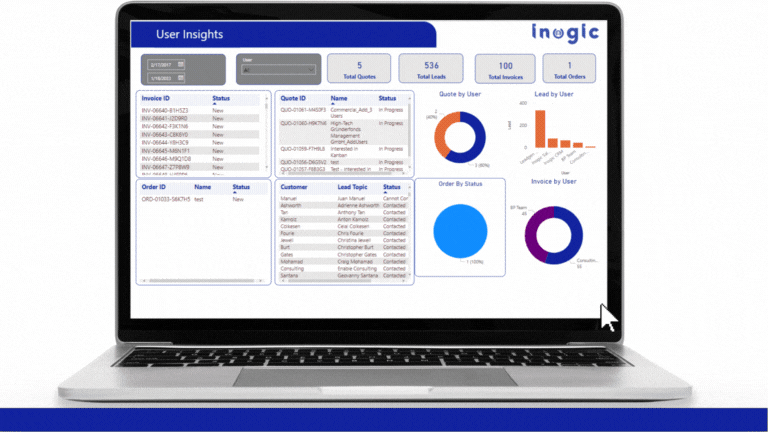 As a Microsoft Certified Gold Partner, Inogic is committed to helping our users optimize their workflows, enhance collaboration, and make informed decisions based on data. Our Dynamics 365 professional services from India are designed to ensure that projects are managed efficiently, best practices are implemented, customization is provided, and ongoing support is available. When implemented correctly, Power Platform can enhance organizational performance and provide valuable insights into business operations. Our expertise in Microsoft Dynamics 365 allows us to provide tailored solutions that meet the unique needs of each organization.
To learn more about Inogic's professional services, visit our website for detailed information or email us at crm@inogic.com . Stay connected with Inogic on social media and subscribe to our YouTube channel for the latest updates. With Inogic, elevate your business to new heights with professional and ingenious solutions that outpace the competition.