In every business, effective communication with clients and potential customers, along with real-time access and management of pertinent documents and data, is essential. Microsoft Teams serves as a robust solution, facilitating smooth collaboration and communication among team members and external collaborators. However, specific attention is required for file management within Microsoft Teams.
Built upon SharePoint capabilities, Microsoft Teams stores data directly in SharePoint. However, a drawback arises when uploading files in Teams conversations, as users lack control over the storage location; files automatically go to the root folder of the linked SharePoint site, necessitating manual relocation, which is time-intensive.
In the context of Microsoft chats, where file sharing commonly occurs, files are stored in the user's 'OneDrive for Business' instead of SharePoint, creating a separate cloud storage system. This arrangement complicates file search and retrieval, impacting employee efficiency and potentially leading to financial losses, especially for roles like sales and customer service reps.
The independent use of Teams for file management further compounds the issue, requiring manual effort to copy/move files to centralized cloud storage. Any oversight in this process can have consequences during critical moments. As organizational data scales with business growth, these challenges hinder effective communication and collaboration.
One solution to address these challenges involves integrating Microsoft Dynamics 365 and Microsoft Teams to capitalize on their combined capabilities. This integration enables seamless handling of files shared during client calls, ensuring they are associated with the relevant records in the CRM system.
For instance, during a client call using Teams, if the client shares order updates as a word document or excel file in the chat, the integration allows users to directly add them to the respective CRM record. By accessing the 'Files' tab within Teams, users can store the attachment in the corresponding SharePoint site, facilitated by the native SharePoint integration. Despite differing subsites, both Dynamics 365 documents and Teams files ultimately reside on the same SharePoint site due to the single SharePoint instance for each tenant.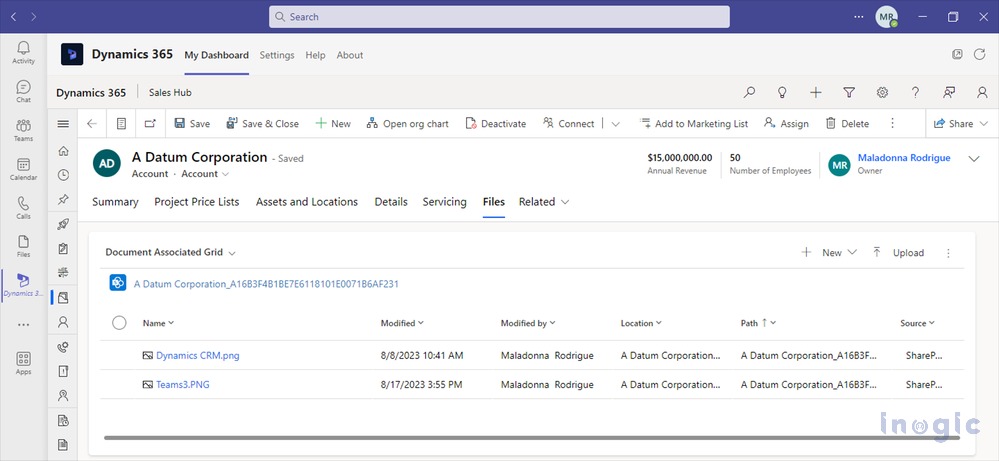 This method ensures that all your files are securely stored in SharePoint alongside their respective records. To retrieve them, simply navigate to the corresponding record in CRM, eliminating the need to manually search through conversations or chats.
An alternative approach for efficient file management is utilizing Inogic's Attach2Dynamics, a widely used application for file and storage management by Microsoft Dynamics 365 CRM users.
With Attach2Dynamics, a convenient button appears directly on your CRM entity grid (whether custom or out-of-the-box), allowing you to seamlessly manage cloud-based (SharePoint) documents directly from your CRM interface.
You can get the app from the Microsoft Commercial Marketplace and take advantage of a 15-day free trial.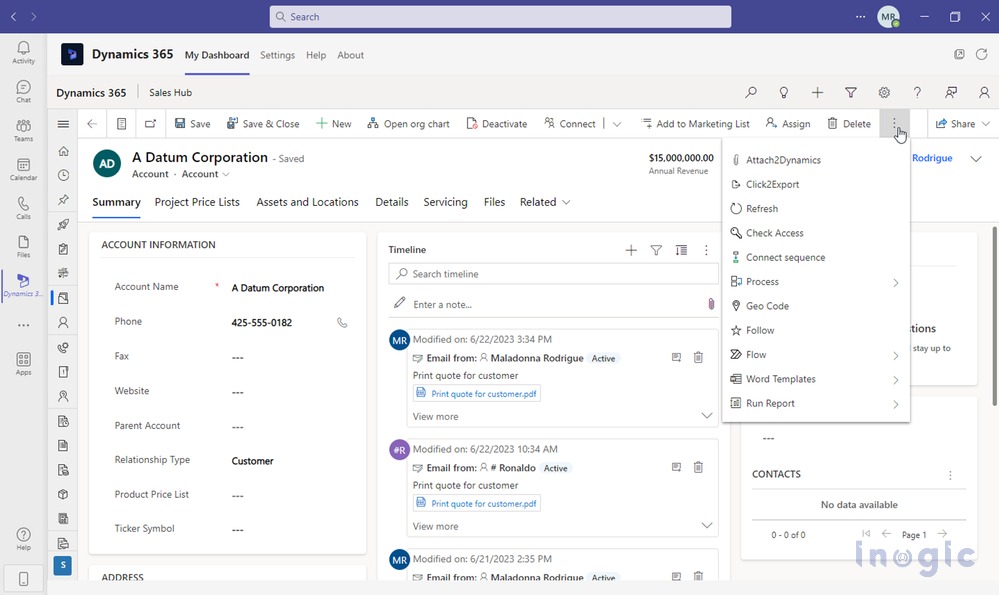 You can effortlessly drag and drop files and folders from your system directly into SharePoint. Within CRM, you can create new folders in SharePoint, perform actions such as renaming, uploading, deleting, conducting deep searches, downloading sharable copies, emailing directly as an attachment or link, and more, thanks to the advanced user interface.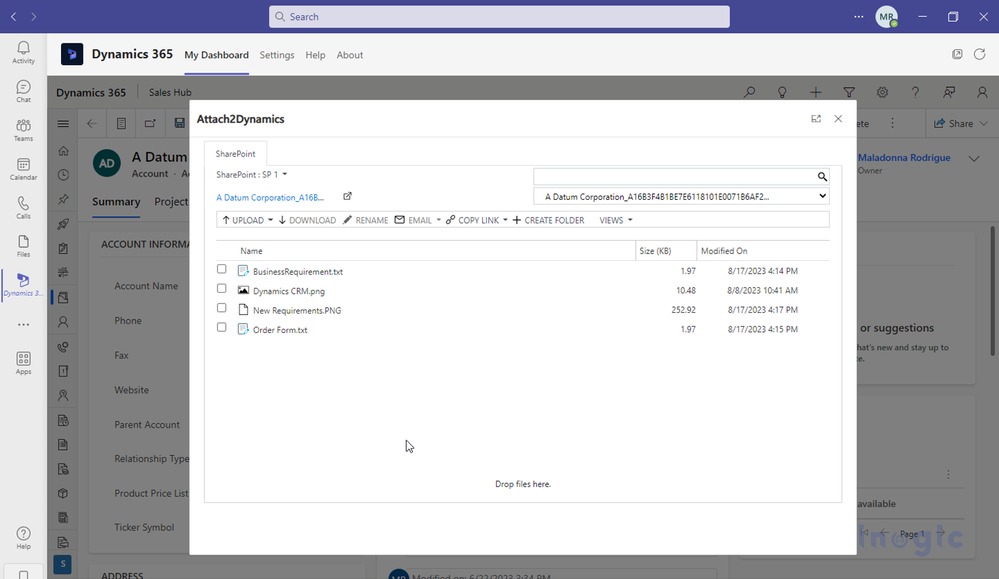 This streamlined approach allows you to access all your SharePoint-stored files and folders directly from CRM. You can make necessary updates and perform various tasks without the need to switch between different tabs.
While Teams is a common source for attachments, many attachments come through emails. This creates a potential gap in document retrieval, with some documents in SharePoint and others in CRM emails. Additionally, over time, the accumulation of email content and attachments can significantly impact your Dynamics 365 space, leading to CRM performance issues. Purchasing additional Dynamics 365 space is also a costly solution.

To truly centralize your file storage and enhance file management, it is beneficial to move email attachments to the same SharePoint location. The ability to automate this process would be highly advantageous.
Utilizing Attach2Dynamics, all email attachments visible in your CRM timeline can be automatically moved or copied to the respective SharePoint location. This not only helps centralize file storage but also provides a direct hyperlink to the document in SharePoint for easy access.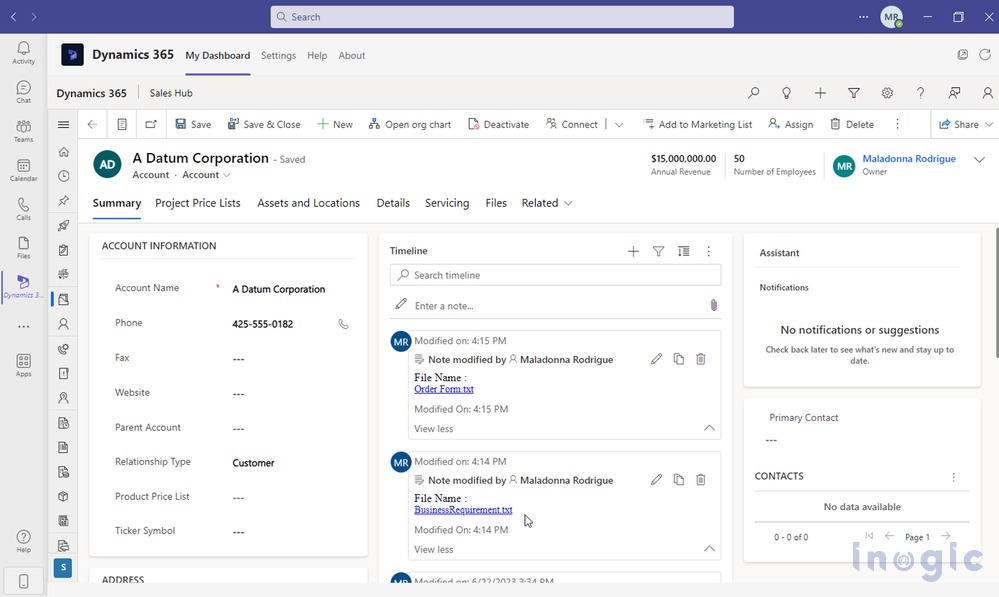 Enhance your document management efficiency with a seamless migration to SharePoint!
Download the app now!
No longer will your client files be scattered across various locations, whether in Teams, Email, or CRM files.
Note: This application is specifically designed to operate within Teams when integrated with Dynamics 365. For more information on optimizing its use in conjunction with Teams integration, contact Inogic at crm@inogic.com.
The process doesn't stop at just consolidating file storage through Teams and Microsoft Dynamics 365 integration. We'll delve into establishing a customized folder structure and addressing file security in our upcoming post. Stay tuned.
Revolutionize your document management today!