Microsoft Dynamics 365 is a powerful CRM tool that helps businesses manage customer relationships efficiently. It provides a comprehensive set of features that allow users to automate various business processes, streamline operations, and drive growth. However, cloning multiple records is still a struggle among sales reps.
As per a report over 40% of sales professionals spend more than a quarter of their week on data entry tasks and repetitive work. Sales reps need to frequently enter manual data into the Microsoft Dynamics 365 CRM. This manual data entry mainly refers to cloning records, which can be time-consuming, prone to errors, and take away valuable time from selling.
If such reps are offered a function that has the ability to clone records it can increase the overall sales productivity. With a cloning solution, users can create copies of existing records quickly and easily, saving them time and effort.
Let us walkthrough and know more about a Microsoft AppSource preferred dynamics crm clone solution Click2Clone and analyze how the amazing features of Click2Clone can boost productivity!
What is Click2Clone:
Click2Clone is a tool that allows you to replicate any record in Microsoft Dynamics 365 CRM with just a click!
Whether you need to duplicate a sales order, a case, or a project, Click2Clone makes it easy.
This powerful tool allows you to streamline your sales processes and save precious hours.
Unlike other tools where you can only copy parent records, Click2Clone lets you:
create multiple copies of a record,
copy child records as well as related records (deep cloning),
copy child records to another record within the same entity,
copy from one entity or from one entity record to another entity,
automate cloning by adding a trigger in the workflow,
With Click2Clone, you can achieve all of the above listed with just 1-click!
Top Features Of Click2Clone:
Quick Cloning of Records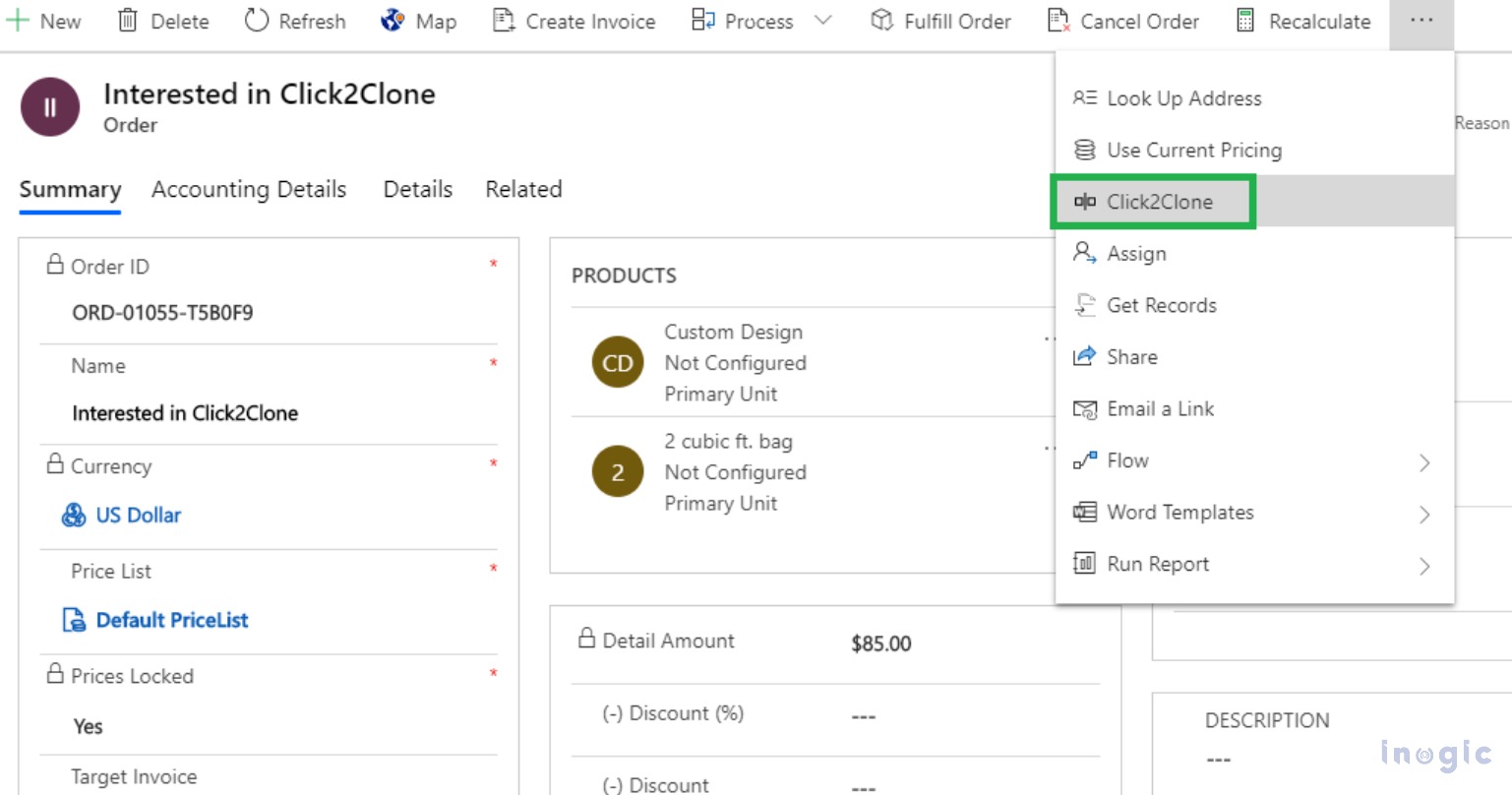 The first and most apparent reason for using Click2Clone is its ability to clone records. With just a click, you can duplicate an existing record, including all its related information and data as per your preference. You have the option to replicate notes, or any other custom fields. This means you can easily create new records based on existing ones, saving you valuable time and effort.
Easy & Precise Naming
You can easily identify the cloned record from the original record as Click2Clone gives you the provision to add a suffix or prefix to your cloned record. Once configured, as a user you can click on the "Clone" button to create a new record with the added prefix or suffix. Adding a prefix or suffix, allows you can easily differentiate between the original and cloned records. This is especially useful when dealing with large sets of data, where it can be challenging to keep track of which records have been cloned and which ones haven't. Click2Clone's customization options allow users to configure the cloned records as per their specific requirements, ensuring maximum efficiency and accuracy.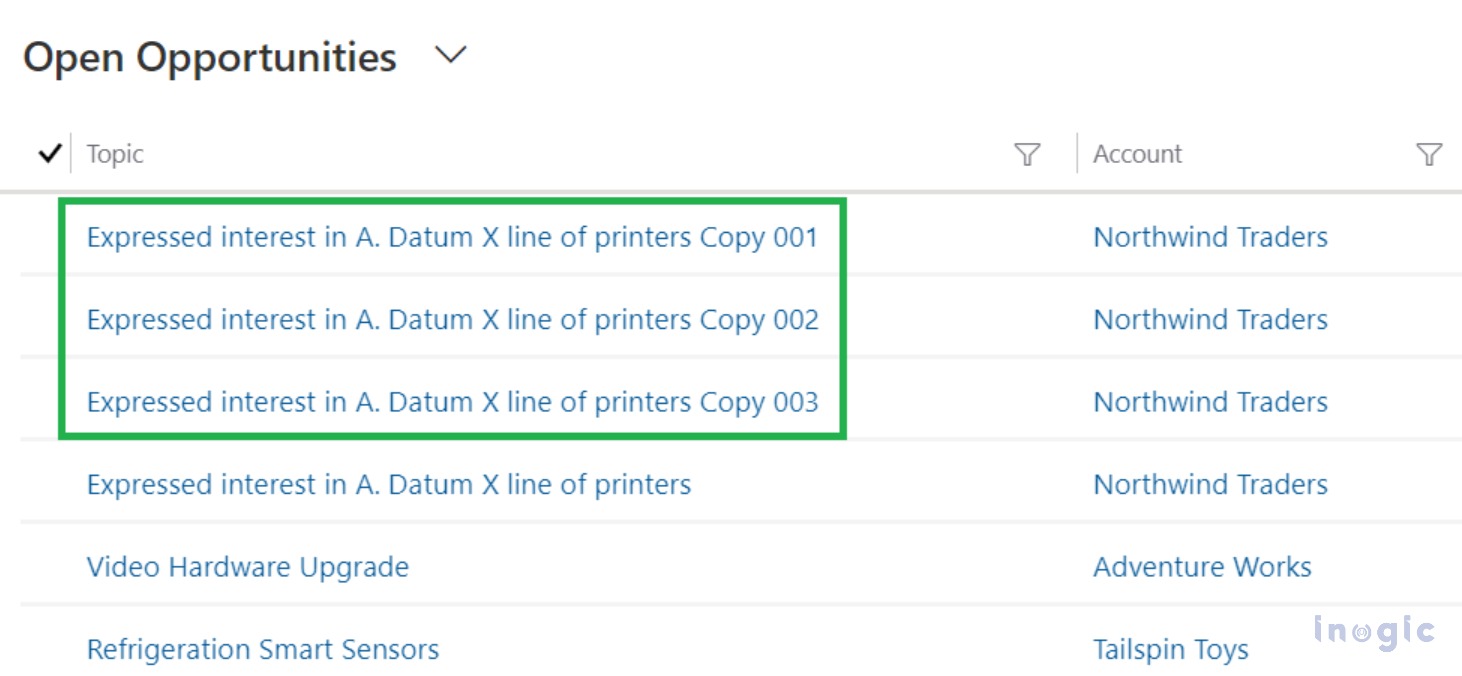 Customizable Templates
Click2Clone offers customizable templates, allowing you to create your record or duplicate templates based on your business needs. You can create templates for specific record types, such as leads or accounts, and include any custom fields or information you need.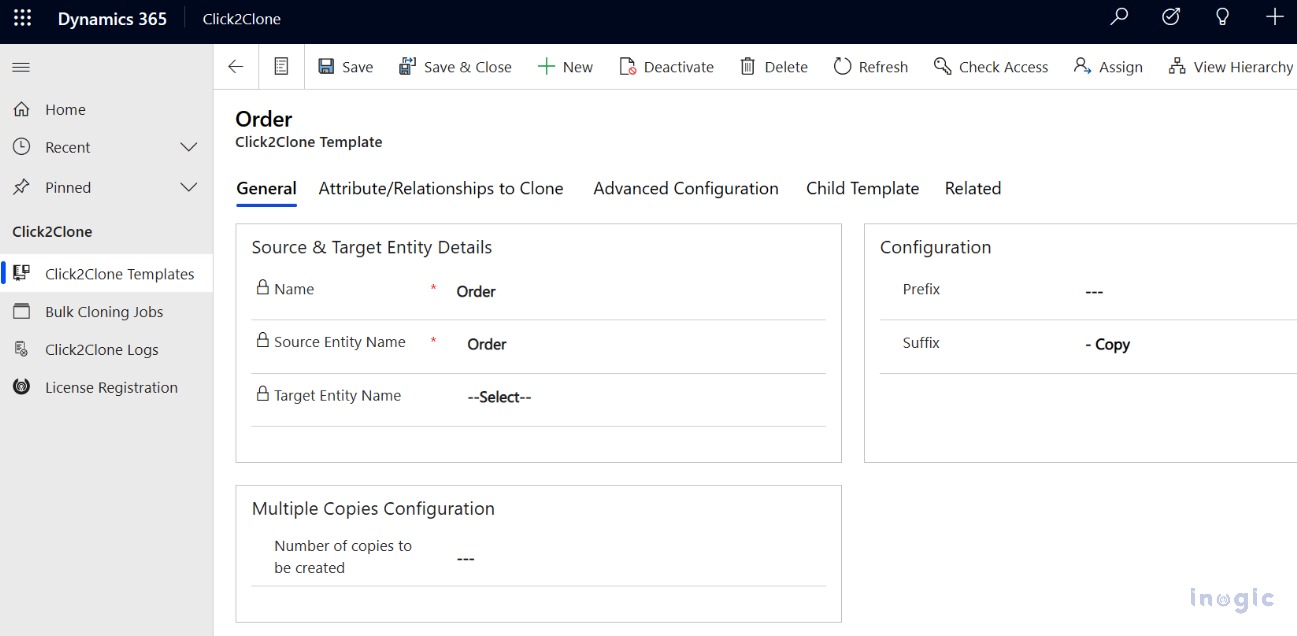 Automated Cloning
Click2Clone also allows you to automate the cloning process without any human intervention, if you choose to configure it into your workflow. You can automate the cloning depending on your workflow – which can be executed on demand or whenever the record changes its filed in the business process.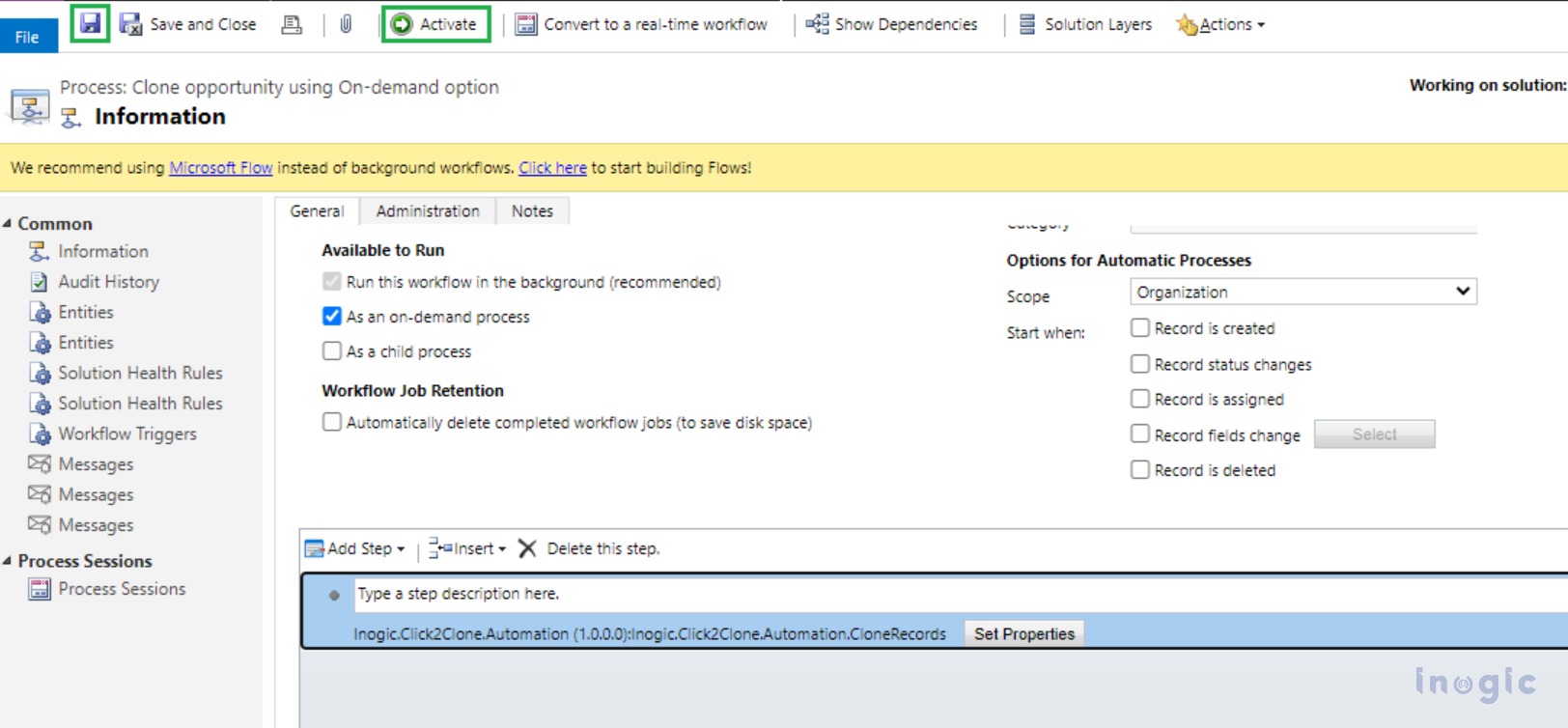 Deep Cloning
Deep cloning in Click2Clone refers to the process of cloning a record along with its related child records. This is useful when you want to create a new record that has all the same information as the original record, including all its associated child records such as sub-accounts, contacts, or opportunities, depending on the entity that you are cloning. It ensures that data associated with the original record is included in the new cloned record, saving you time and effort as well as maintaining data consistency and integrity in your CRM system.
For example – if you want to replicate a quote that has numerous product line items within the quote. All you need to do is configure your requirements beforehand and once click on the "Clone" button to create a new record with all the associated child records / line items will also get cloned.
Why Click2Clone is a must for cloning Dynamics CRM records:
You can substantially reduce human error:
When you create records manually, there's always a risk of making mistakes. With Click2Clone, you can be sure that all the fields and related records are copied accurately. This can help prevent data entry errors that can cause delays, lost productivity, and even legal issues and improves data quality.
You can save on expenses and time:
Business need to invest in trained staff for data entry and as well as spend on physical infrastructure in order to house those employees. However, with Click2Clone you can automate this process that could be extremely cost-effective.
You can be more productive:
Eliminating manual tasks can free up your team's time to focus on more critical activities. With Click2Clone, you can create new records in seconds rather than minutes or hours of copying data. This can help your team be more productive, efficient, and motivated.
You can increase scalability of sales process:
Click2Clone allows you to create new records in just a click with increased speed and precision. This means you can spend less time on data entry and more time on actual sales, scale your sales activities and boosts the overall sales process.
Get A 15-Day Free Trial:
Download Click2Clone and experience how you can maximize the value of Microsoft Dynamics 365 CRM!
This add-on app is available for Dynamics 365 Marketing, Dynamics 365 Sales, Dynamics 365 Customer Service, Dynamics 365 Field Service, Dynamics 365 Project Service Automation, and Power Apps.
To explore more about Click2Clone, watch our demo video, check out our online support docs, or simply book a free consultation with our experts now!