Microsoft has provided various integrations of Copilot AI Capabilities with Dynamics 365 CRM which helps users to streamline and automate their business processes.
In this blog, we will walk through one of these capabilities i.e. Enable Copilot in Email Rich Text Editor (Preview). This feature allows email content refinement based on the below-listed aspects.
Length of Email Content
Tone of the Email Content
The content length and tone of the email can be adjusted to suit our needs, ranging from short to long and friendly to formal.
To have the "Adjust with Copilot" option available in Dynamics 365 CRM, we must first enable the feature for a model-driven app as per the steps listed below.
Step 1: Navigate to App Designer for the required Model Driven app, here have considered Customer Service Hub. Click on Settings which will open a dialog for enabling/disabling the features in the App.
Please refer to the screenshot below.
Step 2: Navigate to the Upcoming section and turn the "Enable Copilot in Rich Text Editor (preview)" setting to Yes. Please refer to the screenshot below.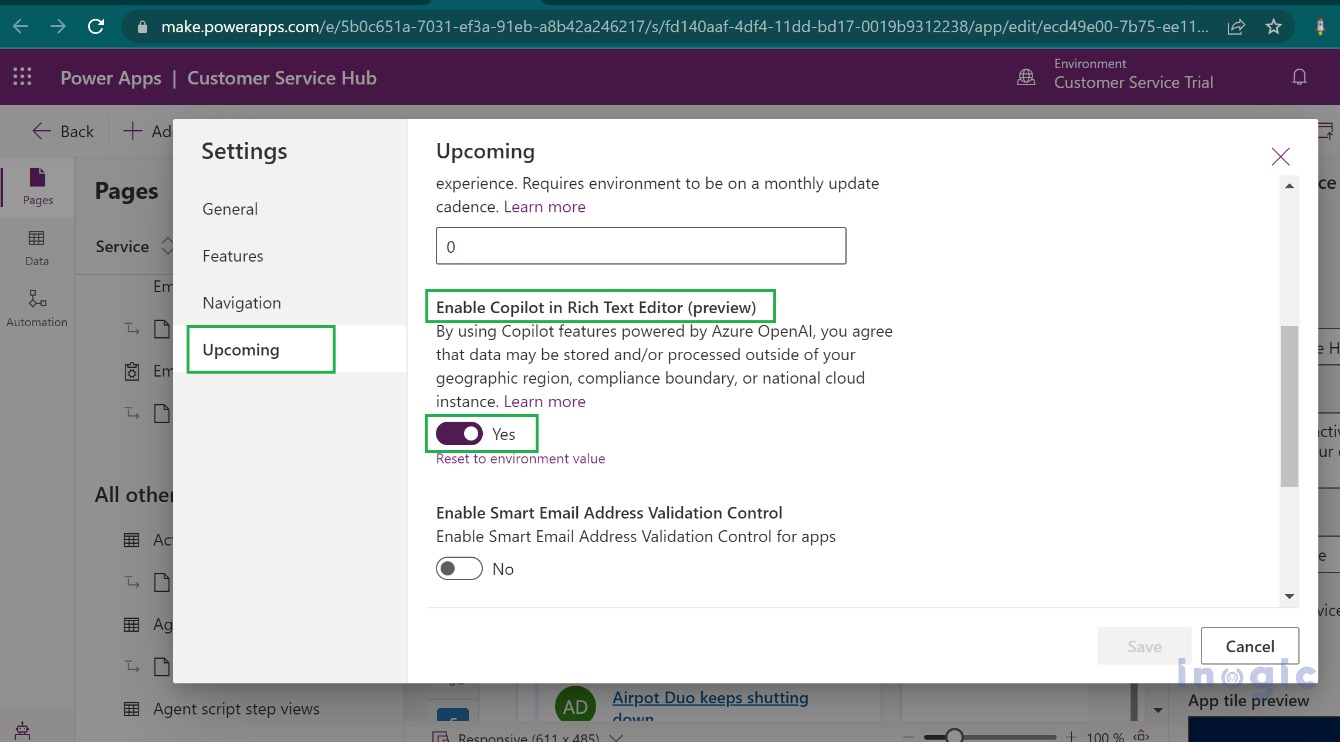 Step 3: This will enable the "Adjust with Copilot" icon within the Email Description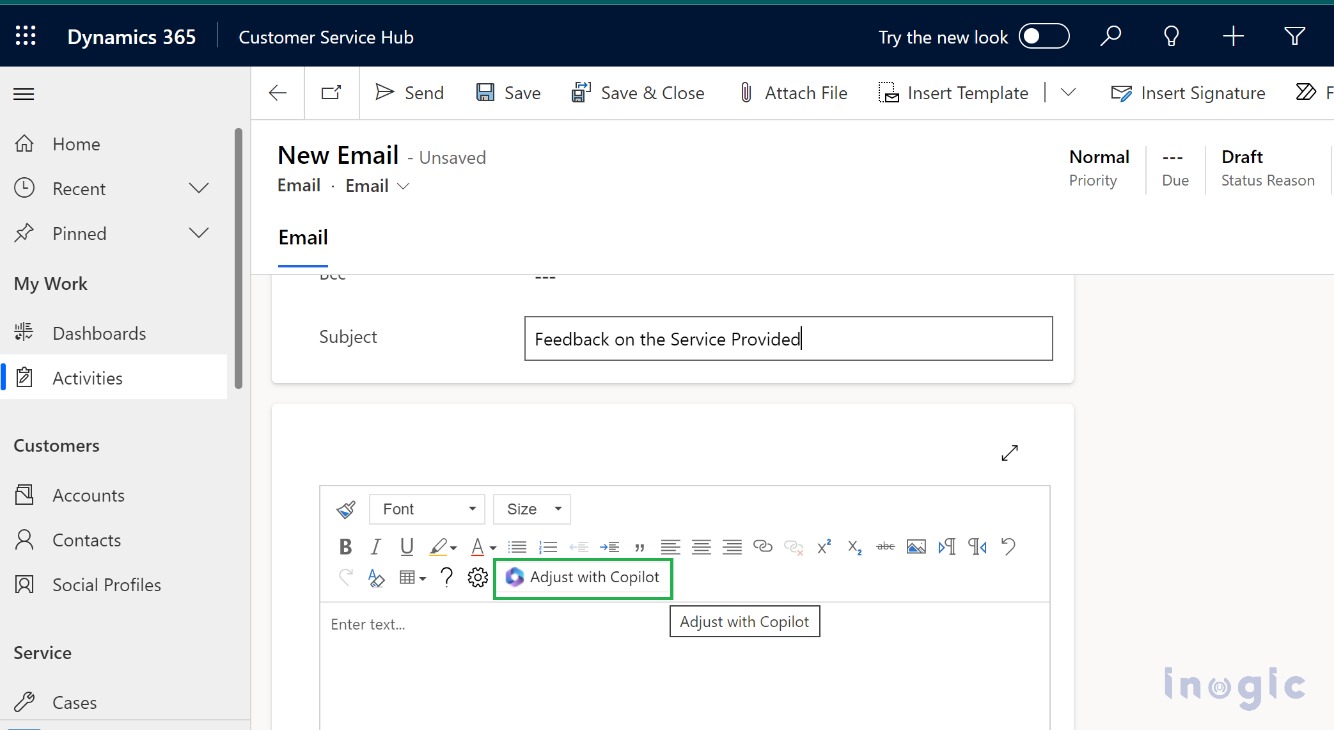 Step 4: Let's explore how this feature can assist us. We will compose an email providing feedback on customer service, using the Copilot feature to refine the content based on length and tone.
Create an Email Message record within Activities, add below email content,
Hi,
Hope you are doing well.
Would like to get feedback on the provided services.
Please let us know if have any queries or concerns in the future.
Thanks!
VL
The below screenshot explains the same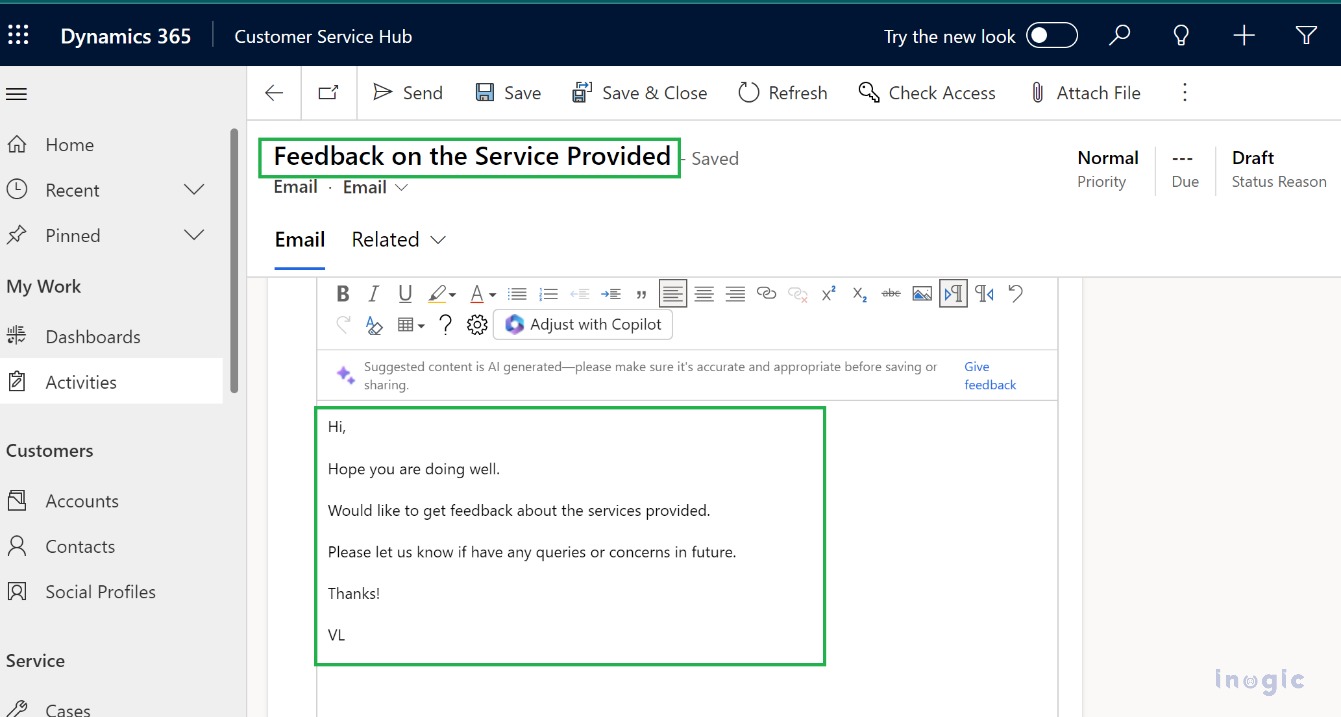 Step 5: Now, select the content of the Email that needs to be refined and click on Adjust with Copilot. This will ask us to select the required Length and Tone for the Text as shown in the screenshot below, Let us select Length as Long and Tone as Professional.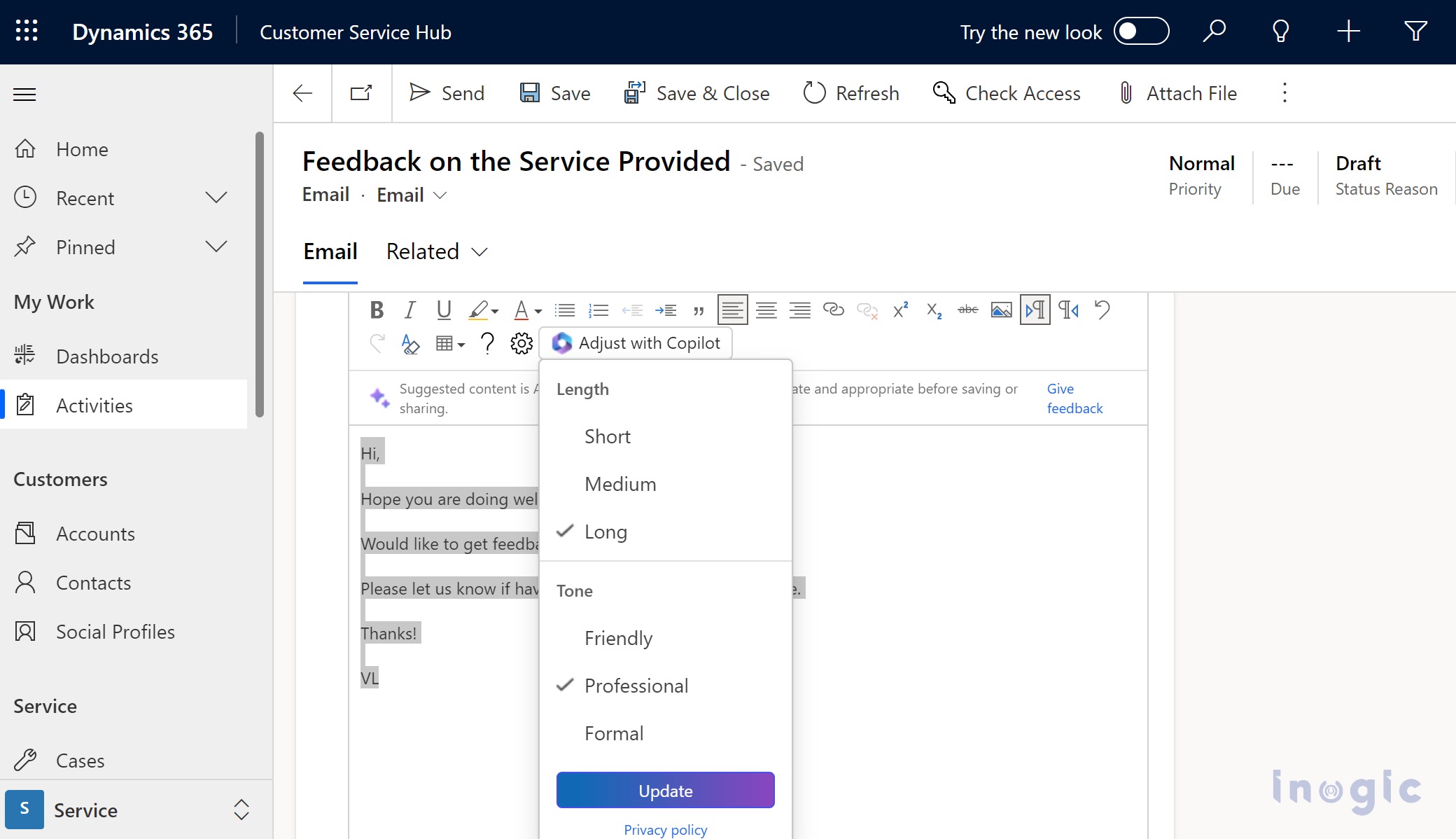 Click on Update and this will update our email content based on the selection as shown in the below screenshot.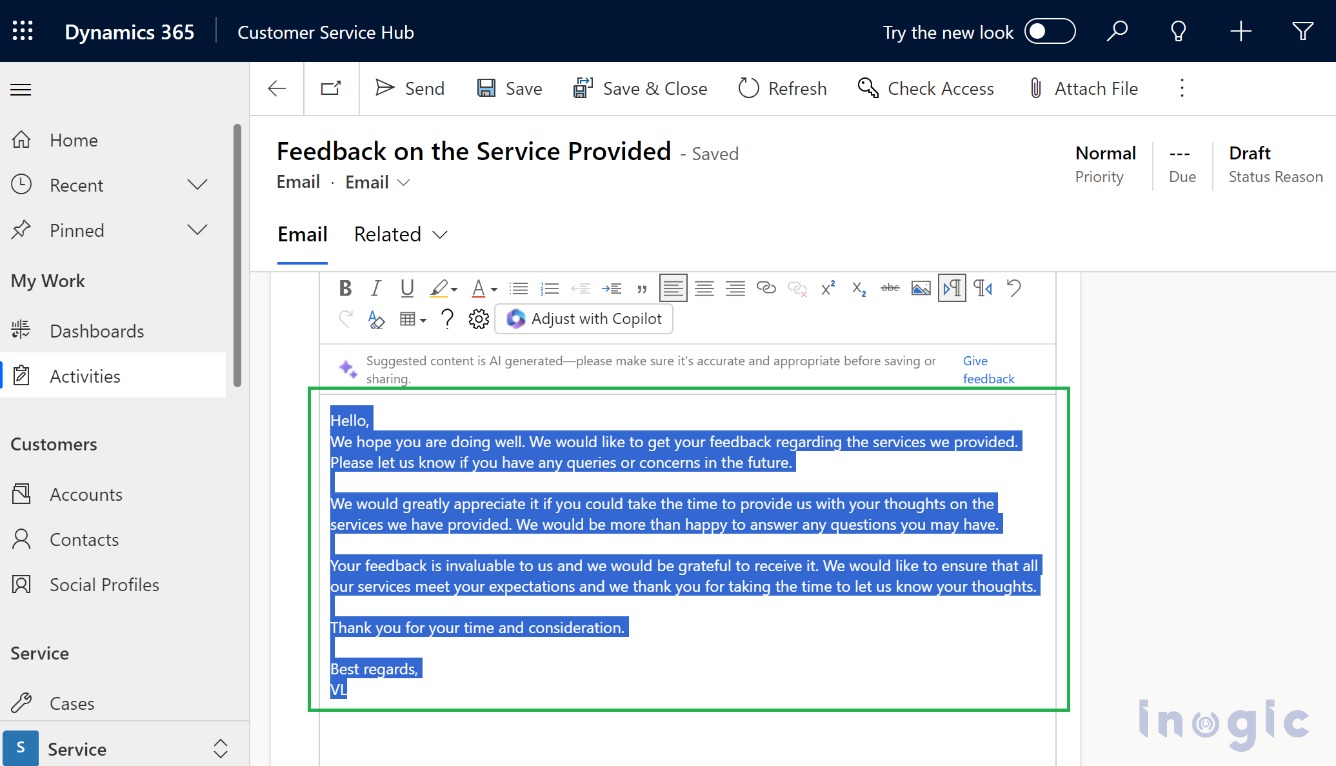 Also, this content will differ in case we select Length as Medium and Tone as Friendly which will convert Email content as in the below screenshot,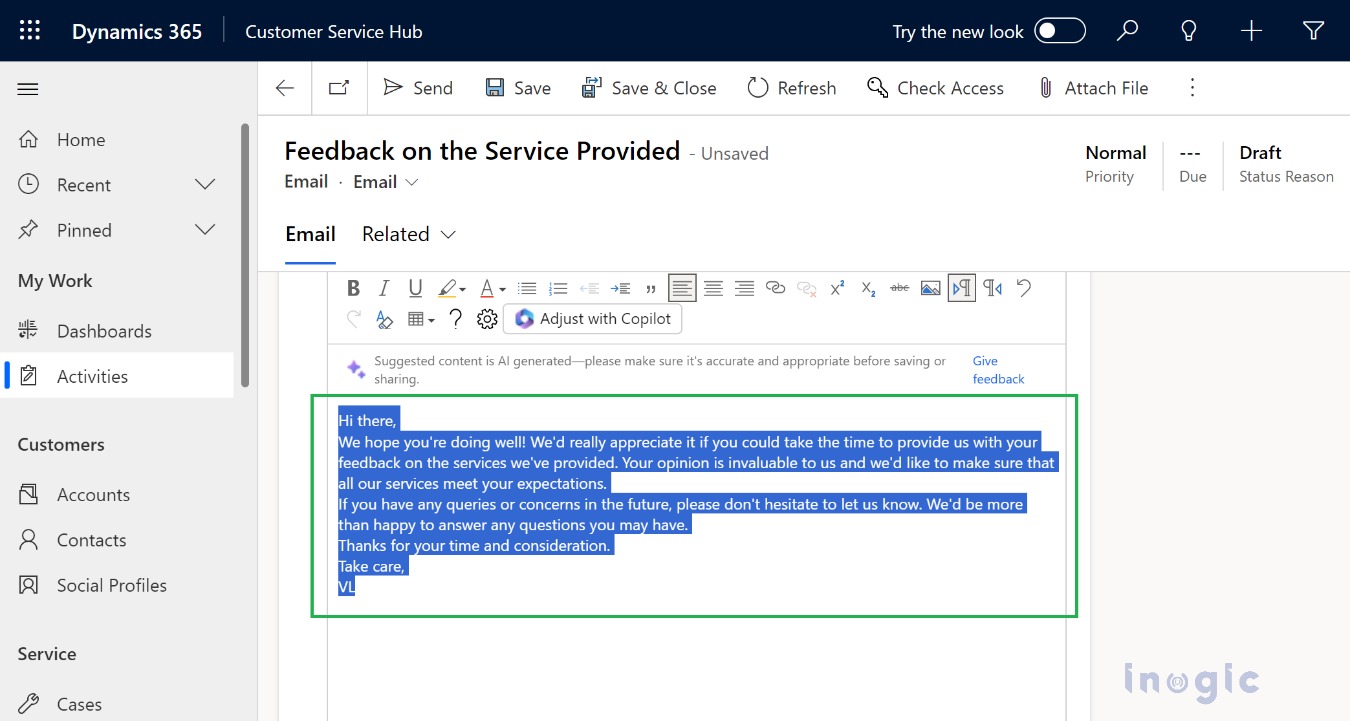 Conclusion
This feature enables users to have efficient email conversations with customers in just a few clicks, tailored to their business needs with the help of Copilot.