Talk of the town, an unsaid threat in the minds of many professionals, a competitor's catalyst for sleepless nights, and just a source of uncertainty and amazement for many, ChatGPT has crawled its way into our existence with an ear-crashing drumroll!
With 13 million active individual users, a valuation of $29 billion, and many such unbelievable numbers, Chat GPT is impossible to ignore!
The Chatbot that has taken the world by storm of late, you do know what it is, right? If not, which is shocking, let's get acquainted!
Developed by OpenAI, ChatGPT is the fine-tuned version of OpenAI's GPT-3 family of large language models, trained using both supervised and reinforcement learning techniques. This AI-based conversation platform enables dialogue-based conversations with its ability to answer follow-up questions, admit mistakes, challenge incorrect premises, and reject inappropriate requests.
ChatGPT is also owned by OpenAI, a San Francisco-based artificial intelligence company. The current CEO of the company is Sam Antman.
Wanna know more? Keep scrolling…
ChatGPT is a large language model that has been trained using supervised fine-tuning and Reinforcement Learning from Human Feedback. It hit the markets on November 30, 2022. It is a free chatbot but also offers a pricing plan of $20/month for advanced functionality. ChatGPT supports multiple languages and is trained on Microsoft's Azure AI supercomputing technologies. It is based on 570 gigabytes of data and can respond to over 20,000 different prompts and requests.
ChatGPT seems to be omniscient and also a little thoughtful. It seems to have answers for everything. Does it know about Inogic and its wonderful apps for Microsoft CRM?
Let us start with the flagship product, Maplytics! We have been talking about how having a smart territory management system helps you grow your business. Let's see what Chat GPT has to say about this and how Maplytics within Microsoft Dynamics 365 CRM using Bing Maps is the perfect tool to get it right.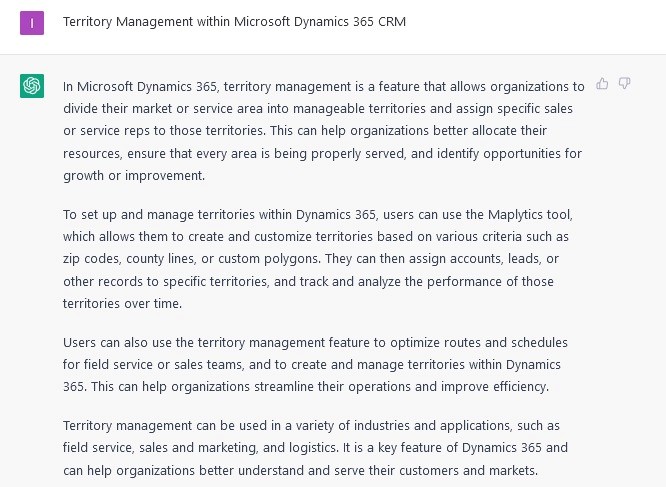 An ingenious rep is always on the look for more opportunities to excel. Proximity/ Radius Search with integrated maps within Microsoft Dynamics CRM is a tool for such reps to search and plot client records around their current location and visit them. ChatGPT too seems to be in approval of this.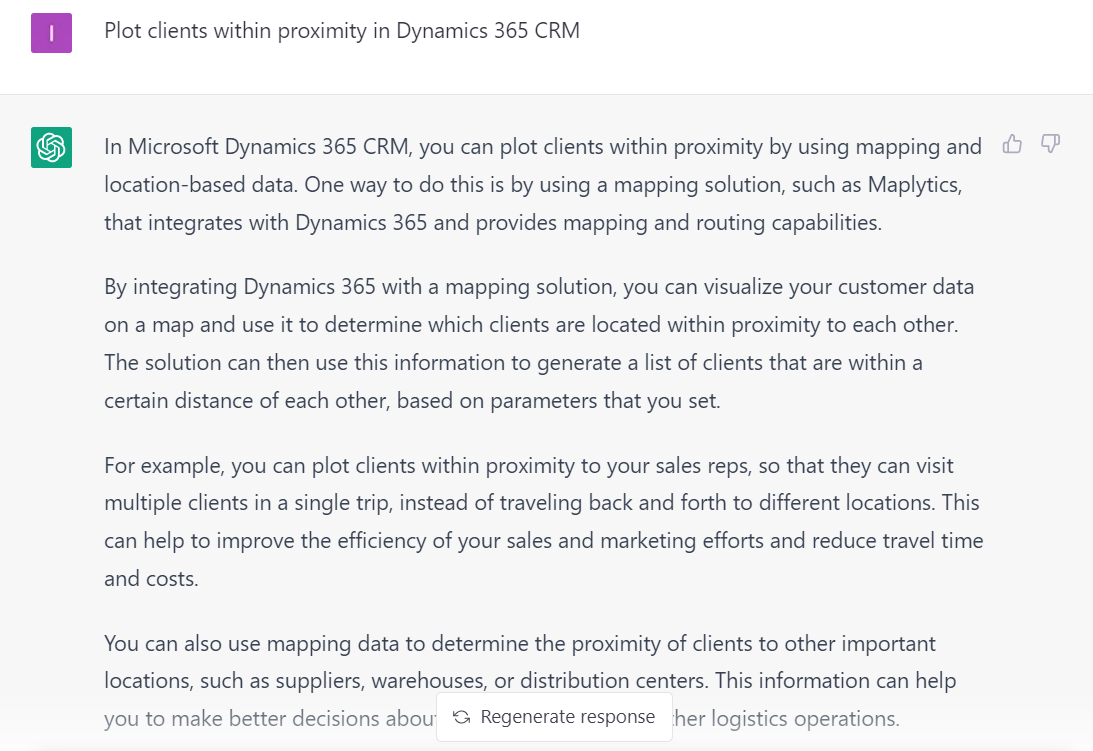 Isn't it all incredible! This global AI Platform has access to the best systems in the world, has been trained on a dataset of 300 billion words with some of the brightest minds in the industry, and through all of them, it picks up and recommends or is aware of Inogic's products as ideal solutions to the agonizing troubles of multi-faceted CRM Users. Indeed, we can claim that we own the assets that are best in the business.
ChatGPT is in trend today and a certain Bard is looming atop it threatening to disposition. The trend is strong and gripping but only time will tell which direction it will take.
What is more to Inogic?
Inogic is a leading Microsoft ISV Gold Partner, focused exclusively on building innovative products and add-ons to Microsoft Dynamics 365/CRM that plug functional gaps, enrich the user experience and maximize RoI. Our extensive portfolio features several AppSource Preferred Apps like Maplytics™, SharePoint Security Sync, Click2Clone, Undo2Restore, User Adoption, Gamifics365, Kanban Board, Alerts4Dynamics, InoLink: QuickBooks integration, and much more to augment Dynamics 365/CRM performance and usability. Inogic Professional Services delivers best-in-class cost-effective & custom solutions for Microsoft Dynamics 365 CRM and Power Platform.
Inogic Professional Services Division studies the application for clients suggesting customized techno-functional improvements, as a trusted vendor for development it extends CRM functionalities with plug-ins, custom business apps,  Power Automate, Power BI, Power Apps, Power Pages, etc., it acts as an ODC or a virtual IT/development workforce, offer development services as dedicated outsourced developers, build productivity apps using a rich set of tools, existing templates, etc., automate scheduled manual operations, create intelligent automation and find insights by building tailored AI models, and a lot more. Team Inogic manifests to flourish these services ahead and enrich the customer base.
Until then,
Happy Chatting!