Businesses use Dynamics 365 CRM to manage their sales activities and customer relations. However, they use conventional communication channels for getting notified of sales activities/events, like when a new lead enters the CRM or when the client accepts the quote, or if you are a manager and want to send a meeting notification to your team, or want to keep track of new opportunities won by your sales reps, etc.
It would be great if you could get such alerts within your CRM. But it's also important to have control over what type of alerts are being sent to whom and in which language.
This is where Inogic's popular and 5-star rated alert management app comes into the picture.
Alerts4Dynamics is a Microsoft AppSource preferred alert management app by Inogic. It enables the easy creation, scheduling, and management of alerts and notifications for various activities like sales, services, and more within Dynamics 365 CRM. Managers and users can conveniently pass on information to their target audience within the CRM itself. Alerts4Dynamics makes this possible by creating multiple types of alerts (record-based alerts, rule-based alerts, announcements, and event-based alerts) and defining notification audiences to maintain the confidentiality of these alerts for selected users. By composing messages in multiple languages for single or multiple alerts, these notifications can be accessed throughout Dynamics 365 CRM from any location.
As mentioned above, it is crucial to maintain data confidentiality, i.e., who can view and who can't view your alerts. Alerts4Dynamics lets you define your audience in a very nuanced way to tackle data confidentiality.
Define Notification Audiences
The app provides 'Notification Audience Settings' functionality for you to control the notification audience. It lets you exclude and include users from the notification audience, allowing you to implement strong access controls, and limiting access to notifications to authorized personnel only.

Using Alerts4Dynamics, you can control the notification audience for all four types of alerts, as mentioned below.
1. Record-based alerts: Record-based alerts are created for any specific Dynamics 365 CRM entity record (Custom or OOB). To illustrate, when a quote is on the brink of expiration, an alert pertaining to that particular quote can be generated.
By using the notification audience settings, you can send the quote expiration alert to the specific user who is responsible for handling that lead. The alert will only be shown against that particular record to the assigned sales rep.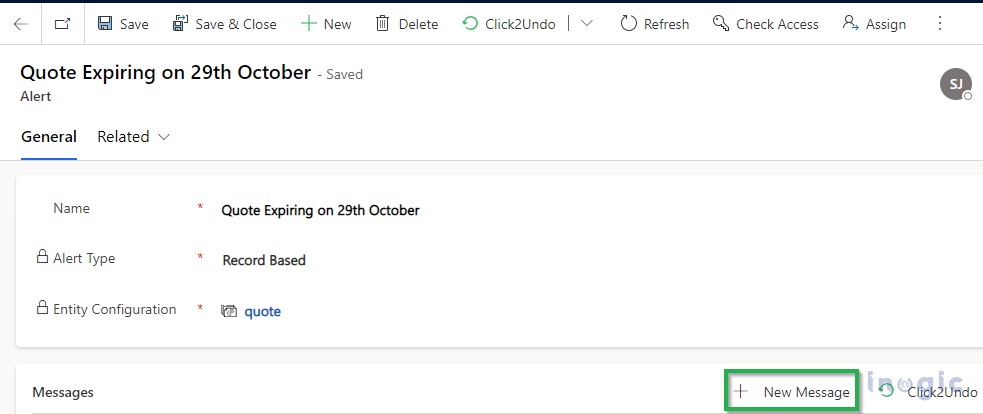 2. Rule-based alerts: Rule-based alerts are created with respect to specific conditions in CRM. You can create two types of rule-based alerts: simple and advanced.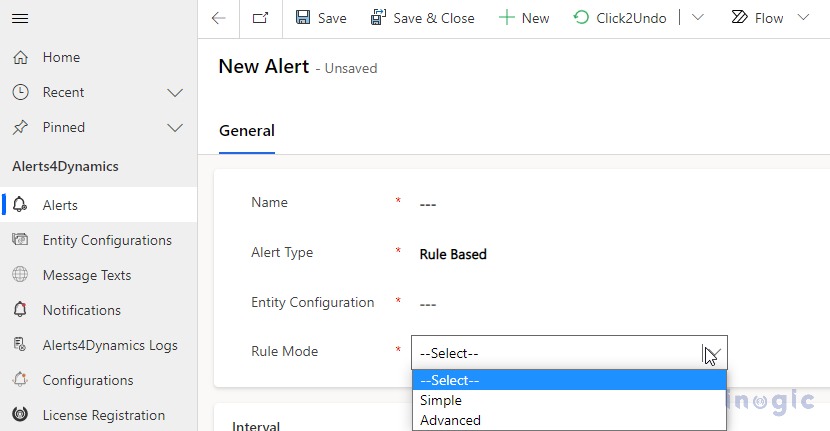 Simple rule-based alerts are created based on the view of an entity. For example, you can create alerts to check the expiration date of quotes specifically for active quotes. With notification audience settings, you can include users who are responsible for managing clients with active quotes and exclude the rest of the users.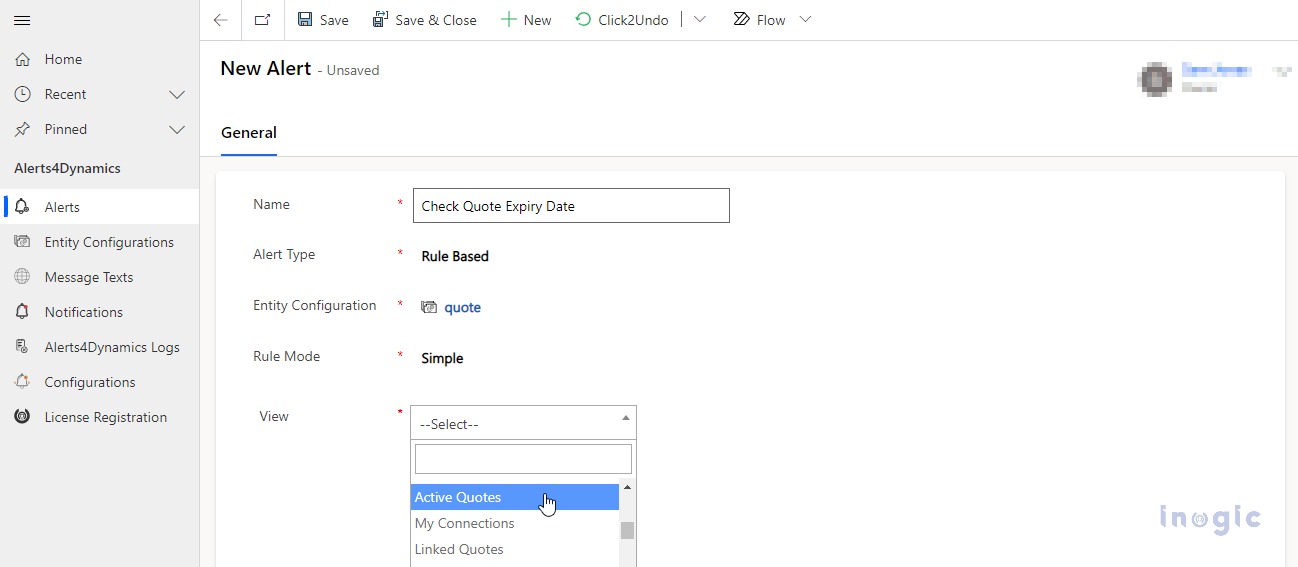 Advanced rule-based alerts are created based on filter criteria (conditions defined in Fetch XML). For example, you can create an alert for invoices that are greater than or equal to $1000. By using notification audience settings, you can include the sales manager as well as the salesperson who is responsible for managing the client in the notification audience and exclude other salespeople to keep the manager updated about the invoices being generated while maintaining data confidentiality.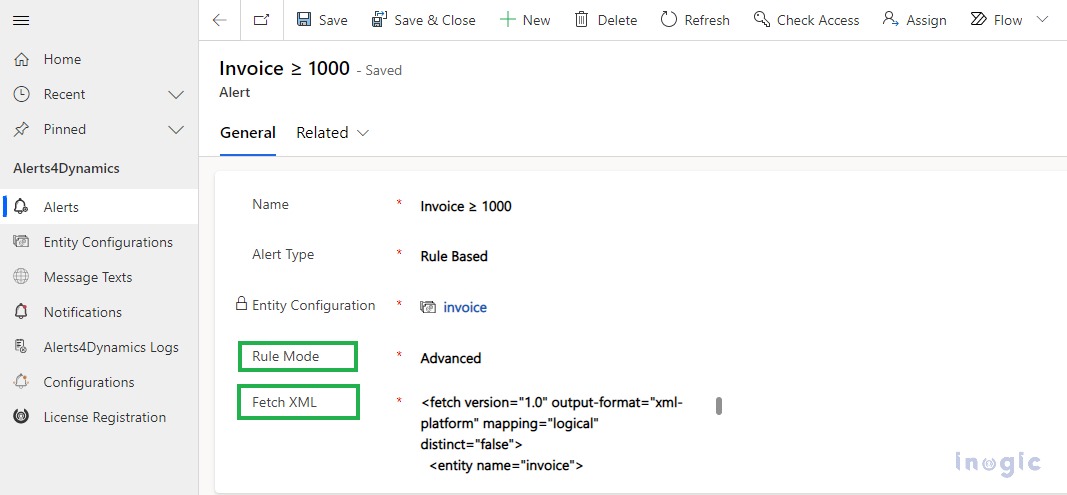 3. Announcements: Announcements are used to inform users at the organization level within Dynamics 365 CRM. There are times when you have to inform people about upcoming important meetings or issue warnings. In such scenarios, you can create announcements that are not based on any record, view, or condition. Additionally, announcements can be viewed globally in CRM.

4. Event-based alerts: Event-based alerts can be created to show an alert with respect to any sales-related events in Dynamics 365 CRM.
For example, if there is an invoice with a related account and associated contacts, you can show an alert to these contacts once the invoice is paid to inform your target audience that the invoice is paid.
Event-based alerts are created using workflows. So, you can set up the workflow, define the notification audience, and automate the process of sending alerts to the desired target audience. This proves helpful in reducing the risk of human error and confidential sales alerts being delivered to unauthorized users while sending sales alerts.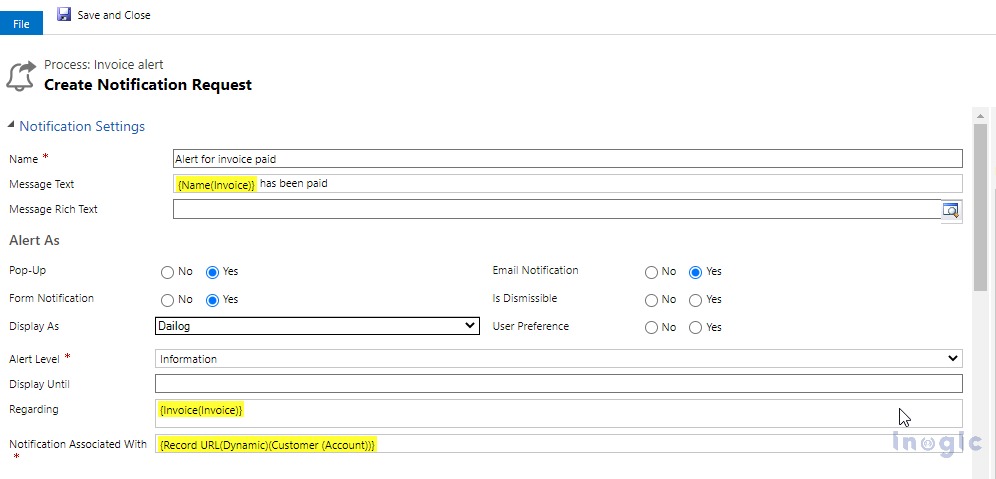 This is how you can maintain data confidentiality while sending alerts for important sales activities within Microsoft Dynamics 365 CRM using Alerts4Dynamics. And all of this within your Microsoft Dynamics 365 CRM. There's no need to host another third-party installation outside your CRM.
To learn more about the features of Alerts4Dynamics that aid in creating sales alerts in Microsoft Dynamics 365 CRM, please visit our online help site.
If you want to try the app's features first-hand, you can download it for a 15-day free trial from our website or Microsoft AppSource. No credit card is required for the free trial. Just plug and play!
If you want to ask us any queries related to our app or want a free personalized demonstration of the app, then you can mail us at crm@inogic.com.
Until then, deliver crucial sales notifications to your selected users.