Microsoft Dynamics 365 CRM has revolutionized the way organizations manage customer relationships, enabling businesses to streamline processes, enhance productivity, and drive growth.
However, the success of your Microsoft Dynamics 365 CRM implementation relies on successful user adoption. Without widespread acceptance and utilization by employees in an organization, the full potential of Microsoft Dynamics 365 CRM remains untapped. So how can you ensure the successful adoption and implementation of Microsoft Dynamics 365 CRM in your organization?
This is where our User Adoption Monitor comes to use.
User Adoption Monitor is a Microsoft AppSource Preferred solution for monitoring and improving user adoption of Microsoft Dynamics 365 CRM. It enables organizations to track, monitor, and review user actions within the CRM system. By leveraging the capabilities of the User Adoption Monitor app, you can gain valuable insights into user adoption rates and performance, enabling you to make data-driven decisions and boost overall CRM success.
Here are five best practices to improve Microsoft Dynamics 365 CRM User Adoption:
Provide Comprehensive Training and Support
One of the main reasons for low user adoption is a lack of proper training and support. Users need to understand the benefits of using the CRM system and how it can streamline their workflows and enhance productivity. The User Adoption Monitor app can monitor user actions such as Create, Update, Delete, Opening Records, login, Logout, etc., and help identify users who may require additional training or support, allowing organizations to proactively address their needs. To ensure users are well-equipped to utilize the CRM effectively.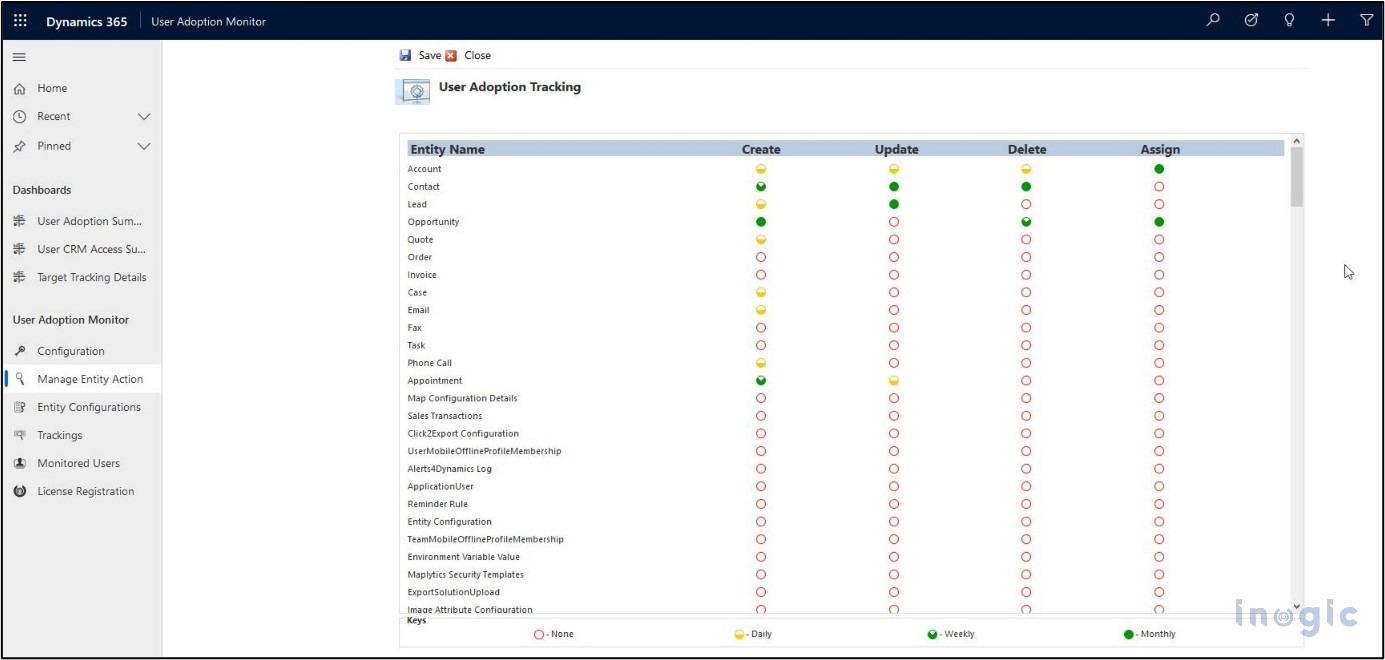 Track User Access and Ensure Compliance
It is crucial for organizations to track user activity within CRM to ensure compliance. This includes making sure that all user actions are well documented. With the Login/Logout and Check-in/Check-out tracking features of the User Adoption Monitor, organizations can keep track of user access to specific records and the amount of time spent by each user in the CRM. This can prove helpful for organizations to regulate user access and meet their compliance needs.


Set and Track Goals
Organizations need to provide clear and achievable goals/targets to their sales reps to keep them motivated. With the 'Target Tracking' feature of user adoption monitor, organizations can set targets/goals for users and track them within CRM. Targets can be set against the count of the respective entity action performed or the aggregate value of fields. Moreover, the ability to track targets encourages healthy competition among users and fosters a culture of accountability and excellence. Users become motivated to meet and exceed their targets, driving overall user adoption and maximizing the benefits of Microsoft Dynamics 365 CRM for your organization.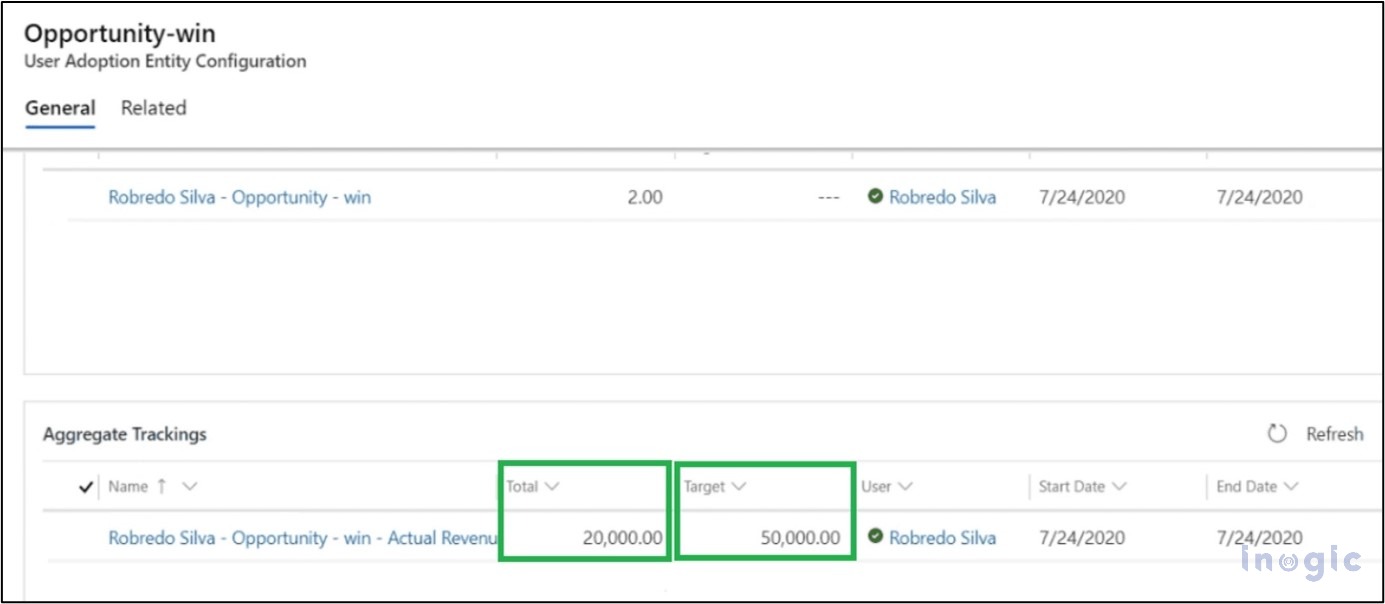 Ensure Quality of Data in Microsoft Dynamics 365 CRM
The app offers a powerful feature called "Data completeness" that assists users in ensuring the completeness of entity records in Microsoft Dynamics 365 CRM. Users can define specific fields within selected entities that must be filled in order for a record to be considered complete. By selecting the desired fields, users can set criteria for record completeness. If any of these defined fields are left blank, it will reflect the record as "Incomplete" until the specified field(s) have been appropriately filled.
This proves helpful for managers to maintain data quality and prevent incomplete data entry while adopting CRM. Ensuring that critical information is captured consistently without any errors.


Assess User Performance at a Glance
User Adoption Monitor offers intuitive dashboards that provide a comprehensive view of activity breakdown and individual performance for each member of your team. These dashboards are a valuable tool for assessing team performance, and they save time by offering a quick and convenient way to evaluate your team's achievements.
You can easily identify the volume and frequency of actions such as daily phone calls, record creations, updates, most used entities, and more. By analyzing the activity breakdown, you can assess the level of engagement and productivity of each team member.
The dashboards enable you to identify top performers, spot any gaps, and address any areas that may require attention or improvement.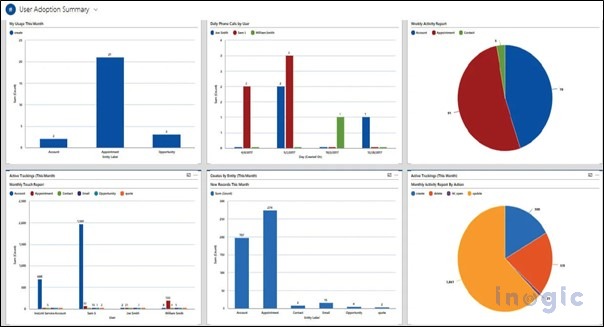 Quite impressive, isn't it?
There is much more to User Adoption Monitor's amazing features than this.
To learn more about User Adoption Monitor, check out this engaging product video.
If you are curious to try this app for your functional needs, then you can get it for a 15-day free trial from our Website or Microsoft AppSource.
Feel free to mail us at crm@Inogic.com to ask us questions about implementing User Adoption Monitor in your Microsoft Dynamics 365 CRM or to request a free personalized demo of the app.
PS: Inogic brings gamification back to Microsoft Dynamics 365 CRM with Gamifics365, a Microsoft AppSource preferred gamification solution. By combining Gamifics365 with User Adoption Monitor, you can use the data provided by User Adoption Monitor to create targeted challenges and competitive games that focus on specific areas where your team needs improvement. Did you know when you acquire Gamifics365, you'll receive User Adoption Monitor absolutely free of charge! Don't let this chance slip through your fingers – act now and seize the power of Gamifics365 with the added brilliance of User Adoption Monitor!